Polishing the Pulpit (PTP) was a huge success this year. With 250 speakers delivering 650 lessons to 5,300 attendees from 46 states and 14 foreign countries, it was a wonderful time of edification, education, and fellowship.
One of the great benefits of meeting so many brethren from so many locations is the stories we hear about conversions. Here are a few of those. 
---
Hico Church of Christ, Hico, Texas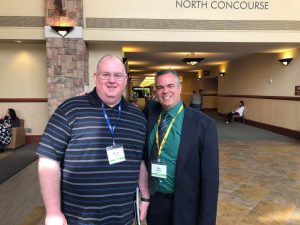 James Nash said, "We have eight baptisms using Back to the Bible at Hicco this year!" James attends PTP ever year and has attended many of Rob's evangelism classes. 
---
Roy Conner from Morganton, Georgia 
Eleven weeks ago we conducted a Personal Evangelism Seminar at Morganton and they have had eleven baptisms since! This congregation is on fire.
---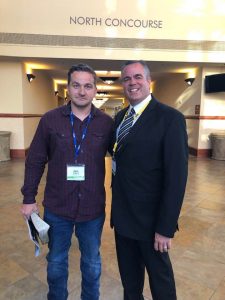 Meet Kayne
He is one of the hundreds of new Christians we have learned about as a result of HTHSOE just in a few days at PTP.
---
Don Blackwell at PTP
One of the most moving moments at PTP this year was when Don Blackwell got back into the pulpit to preach on lessons he has learned since he was injured in a 4-wheeler accident and lost the use of his legs.
With over 3,000 in the room and over 7,000 viewing in English and Spanish online, this was the largest live audience in PTP history, and Don did not disappoint. He delivered an important message about pain and suffering, but also about the frailty of life and how suddenly it can all be over. 
It makes sense that some would be pricked in their hearts to obey the gospel. The next day we heard about three young men who watched the sermon and were baptized into Christ. Don also studied with the men who are working to make his house wheelchair accessible and they also obeyed the gospel.
God can provide the opportunity for great things to happen even when tragedy strikes. Don's evangelistic spirit is a great encouragement to us all.
Tony Palazzolo, Baptized at PTP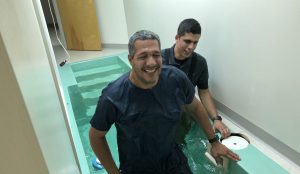 What a great way to cap our week at PTP! Tony Palazzolo is loved by so many of us. For the past five years, he has been part of the crew that comes to help run sound, video, and more behind the scenes. Tony checks on the childcare area and makes sure all the projectors and computers are running for all teachers. 
Over the years many have encouraged Tony to study. There were so many people involved in giving him resources, teaching him, and answering his questions. After PTP was over and we were breaking down sound equipment and cameras, Tony decided that he did not need to wait any longer. He was ready to commit his life to Christ. All work stopped and the crew made their way to the Sevierville church building, where his brother Roger baptized Tony into Christ. 
He was so happy after his baptism. He kept hugging people and telling them that they had helped him to decide to obey the gospel. It was a beautiful moment and an answer to the prayers of many.