REACHING THE LOST – STRATEGIES FOR SUCCESS
Redeeming the Time
Written by Rob L. Whitacre
One of the biggest reasons congregations fail to successfully execute the HTHSOE evangelism model is probably not what you think. Our brethren do not lack love, compassion, knowledge, desire, ability, or resources. The one thing that seems to unhinge and dislodge evangelism training is time.
Elders, deacons, preachers, and church members are busy. Our culture wants everything now. Patience is on short order. Work, hobbies, family, vacations, children, and life's problems consume us to the point we do not have time for the lost. Congregations are looking for the Golden Arches of evangelism, and sadly a few are willing to compromise principle to get results. In short, successful evangelism takes time, and if you are not willing to invest your time, evangelism will fail.
How do we redeem the time when it comes to evangelism?
Leaders MUST schedule a time to meet each week to go over the HTHSOE model.
Make use of the checklist to keep yourself on track.
Ensure the point man is organized, motivated, and determined.
Set up coordinators. Going it alone is not a winning strategy.
Set realistic goals for the congregation.
Make it congregational and not individual.
Publicize your plan in some way every time the church meets.
Train, train, and train the congregation. Show the congregation how to evangelize and what it looks like for them.
Focus on success, and members will make time for it.

Having too much to do (programs) or too many projects to manage leads to obstacles that prevent success in reaching the lost. If you are too busy to focus on evangelism in your local work, you are just too busy. Our Lord's mission is worthy of our time so therefore we must make time for what is important. The mission is clear, and the model for success has been placed at your feet. Now it is time to listen to Paul: "Redeeming the time because the days are evil. Wherefore be ye not unwise but understanding what the will of the Lord is" (Ephesians 5:15-17).
If you need more information on the three booklet study series or the new training/evangelistic video, please contact me at: Rob@housetohouse.com.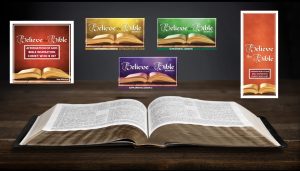 https://www.dropbox.com/s/wo94b4r7ju2qj4w/6%20Tips%20for%20Evangelism%20Compassion%20Cards%20%2810D%29.pdf?dl=0