REACHING THE LOST – STRATEGIES FOR SUCCESS
The Back Door Bible Study
Written by Rob L. Whitacre
It is the number one question we receive during House to House School of Evangelism training seminars. "How do I get my family or friend to study the Bible?" For some, these studies are more difficult because past attempts have gone poorly. Perhaps it ended in an argument and a closed door. For others, it just feels awkward to approach someone with whom you are close for fear of harming the relationship.
When someone knocks on your door, it almost always means the person on the other side is unfamiliar. When someone walks in the back door, it is the opposite. This is a person who knows you well, and you have extended trust and confidence to a point where they do not need permission to enter your home. Backdoor guests are always welcome and do not need to ask.
Back door studies are built on relationships. If the relationship is not strong, it will not work. Consider the following conversation between a father and son:
Son: "Dad, I have completed an evangelism training seminar at church. I am learning how to teach others about Jesus. One of my assignments is to practice on someone who is not a member of the same church. I need feedback. I do not want to mess this up. Would you allow me to practice on you? Would you give me feedback? I feel comfortable with you as I know you will not laugh at me."
Dad: "Son, you know I would always help you if I am able. Just tell me what I need to do, and I will be glad to listen and provide feedback. As long as you do your best, I am sure it will be great."
Now is the time to use Back to the Bible and learn how simple it is to teach someone the gospel of Christ. Allow the study to do the work. God's Word will soften a person's heart. Conversion is the result of planting the Word and allowing God to give the increase (1 Corinthians 3:6).
Contrary to popular belief, those with whom we have a close relationship are not hard to approach and secure a Bible study. The relationship already has trust and confidence. Therefore, you just need to walk through the back door and secure the study.
If you need more information on the three booklet study series or the new training/evangelistic video, please contact me at: Rob@housetohouse.com.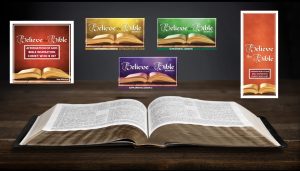 https://www.dropbox.com/s/wo94b4r7ju2qj4w/6%20Tips%20for%20Evangelism%20Compassion%20Cards%20%2810D%29.pdf?dl=0