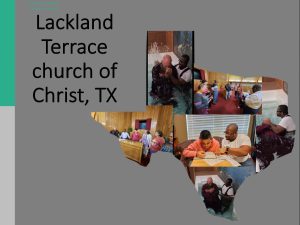 Reaching the Lost- Success Stories
Statistics
Total baptisms (2018-2022) reported from U.S. Congregation: 2,345
Total Seminars Conducted (2018-2022): 181
Personal Seminars in 2023: 5
Digital Enrollments for 2023: 20
Total baptisms reported from U.S. Congregations, 2023: 146
Upcoming Seminars
March 5-7: Peachtree City church of Christ, Georgia
March 19-21: Lake City church of Christ, Florida
March 23-24: Florida School of Preaching, Lakeland, Florida
Featured Congregation: Lackland Terrace church of Christ,
San Antonio, Texas
Editor's Note: Evangelism takes courage. It would be easy to overlook one's sins to reach, " baptism." Few people enjoy confrontation, so it is much easier to ignore repentance prior to baptisms when the change of life is difficult and problematic. This week, we want to commend Greg Campbell, a graduate of the Southwest School of Biblical Studies (Austin, Texas) for following the plan of salvation.
Repentance Before Baptism
Repentance allows for amazing changes to take place in the lives of those who are seeking Him. Brother Howard is living proof. He had a beautiful Bible that was rarely, if ever, opened. That all changed one Saturday night when he watched an apocalyptic-themed movie with his girlfriend. Thoughts of true judgment of the souls of man sparked in him a desire to make his relationship right with God. He sought out the nearest church he could find the next day. After a Google search, he discovered the Church of Christ was right around the corner. Along with his girlfriend, they were the first to arrive at the church building on Sunday morning. Upon hearing the Gospel preached, they were both intrigued about what they heard, but Howard was cut to the heart the most.
They stayed after worship for a fellowship meal, and Howard was already beginning to feel at home. The people of the congregation were warm and inviting. The fellowship was sincere and inclusive of all walks and ages of life. The next day, he even showed up for Monday Night for the Master. He also became a regular for our Wednesday night bible study on Ezra-Nehemiah. Since he joined the study right in the middle of Ezra, he sought out the worksheets/notes from the classes he had missed. Howard wanted to be a Christian. Therefore, immediately we began studying the Bible with him.
As we were closing the second Back to the Bible study on The Church, he revealed that his girlfriend, who was living with him, was a married woman awaiting a divorce. With the sin condition lesson of Book 3 looming on the horizon, we prayed for them throughout the week.
The air was heavy in the library when he showed up for the bible study. We took our time to carefully explore Scriptures and questions that confront our sins. Suddenly, he shared with us his need to repent of his current situation with his girlfriend.  When asked if he was willing to do what was necessary, he made it clear that he wanted to do what the Lord wanted him to do. For so long, his soul had been pondering the meaning of this verse: "There is also an antitype which now saves us—baptism (not the removal of the filth of the flesh, but the answer of a good conscience toward God), through the resurrection of Jesus Christ"  (1 Peter 3:21 NKJV).
This man earnestly wanted to have a clear conscience before God. Moments after being asked if he was willing to do what was necessary to obey God, he did. Howard called his girlfriend and asked her to come to the church building. He wanted to discuss their need to stop living in sin, and he wanted to be added to the Body of Christ. He learned from the bible study that baptism was the only way he could be added to those being saved.  Arrangements were made to end their sinful lifestyle, and she left, unable to emotionally endure the baptism that would wash away his sins.
However, Howard was staunch and ready to be justified before God. Although it was late in the evening, and many members were prepping for bed, many returned to the church building to share in the joy of the birth of a new Christian. Although she repudiated his baptism, the woman is still on the compassion card list. God wants her heart to be penitent as well.
The Bible says, "For godly sorrow produces repentance leading to salvation, not to be regretted; but the sorrow of the world produces death" (2 Corinthians 7:10 NKJV). Howard exercised his understanding of this vital step toward salvation. For many, repentance may be the hardest step in the right direction toward God. Repentance involves an unmolested honesty that God demands of us all (Acts 17:30). The appropriate response to hearing the Gospel is best manifested in the actions that follow what was heard: hearing (Romans 10:17), believing (Hebrews 11:6), confessing (Romans 10:10), being baptized (Mark 16:16,) and living faithfully (Revelation 2:10). All of these are essential for one's salvation. However, if our repentance does not bear the fruit of a change in our heart, God will not accept us (Genesis 4:7). The change will be seen in doing the will of our Father in heaven (Matthew 7:21). Where there is no repentance of sin (lawlessness), there is no reward from the Lord. (Matthew 7:23; Luke 13:3, 5).
Congregational Reports
Welcome Mossy Head church of Christ, Florida (digital): We welcome the Mossy Head church of Christ (Defuniak Springs, Florida) to the House to House/Heart to Heart School of Evangelism. Brother Phillip Gaither is our point of contact. This small congregation of 15 is dedicated to reaching the lost in their community. Please keep them in your prayers.
Welcome Carrollton church of Christ, Georgia:  We welcome the Carrollton church of Christ to the House to House/Heart to Heart School of Evangelism. The training was well attended by the members. The congregation is very hospitable. They have a visible desire to reach the lost. Their preacher Dave Leonard is committed to evangelism.
Glencoe church of Christ, Alabama: David Marker (elder) reports, "This past week we concentrated our efforts on our New Movers program. We delivered gift bags to our 42 contacts. As a result of that effort, we have seven that were moved to our contact list to receive compassion cards.
"We also met for Transition Thursday. We made assignments and visited those contacts. We will follow up with several others soon.
"It is important that we continue to communicate our efforts before the congregation. As a result of that, we are having more contacts submitted each week. It is very encouraging to see everyone working together!"
Hatton church of Christ, Alabama: Chris Miller (preacher) reports, "God gives the increase! Praise God that both Dara Cummings and Addie Pierce obeyed the gospel this weekend! God's work continues."
Canal Heights church of Christ, Demopolis, Alabama: Bryan Cook (preacher) reports, "This last week we have been using the same subject to target a certain family in the loss of their mother. This week we will make the transition to something else. It seems the card program is more effective if we focus on the same families for several weeks before moving forward to others. This seems to work better for our congregational personality; we struggle with organization. We have determined that our VBS is going to be another opportunity to teach Back to the Bible to the adults while their children are in class. Our monthly door knocking is coming up on the second Saturday of the month, and Mission Mondays will start the following Monday regardless of cancellations due to weather, which has been a true hindrance this year."
Highway church of Christ, Benton, Arkansas: Terrell Milks (elder) reports, "We had a great Sunday. We heard some wonderful lessons and several visitors attended. Card group 4 wrote the compassion cards this week, and for the first time, nearly all the cards went to visitors. Now it is time to knock on doors and attempt to set up some studies."
LaFayette church of Christ, Georgia: Jesse Teague (deacon) reports, "We started compassion cards this week. We asked for names from the  contact lists of our members to create prospect cards.  We received 12 names Sunday morning.  There were approximately 30 members who stayed after service to fill out cards. Sister Charlotte Ann, our church secretary, will stamp the return address and apply postage and then stagger the mailings.
This week we had our monthly fellowship meal. A man named Robert Craig walked in the door as we were getting ready to go eat, asking for David Paden. We found David for him; he just wanted to thank David for the Bible verses on the church sign (David's name is on the sign). He is from out of town but may be moving in the area. Previously, he had attended a local Baptist church. Of course, David asked him to eat with us and he accepted. His name was on the list of cards we sent out, and we look forward to meeting him again soon.  I expect he will be back.
"We are still looking for more engagement from the congregation, but we have a solid start on the compassion cards, even though it was a little chaotic getting things going!"
Woodstock church of Christ, Georgia: Greg Garner (deacon) reports, "WCOC collected one contact card to prospect this week. Our congregation meets on the second, third, and fourth Sunday evenings to conduct the Actively Caring Teaching Serving (ACTS) workshop (i.e. Evangelism). During our workshop, the Compassion Group created 29 compassion cards and sent out 23 cards last week. The Visitation Group visited and delivered six coffee stations to the new movers within our community. "The Service Group is planning a service work for the next ACTS workshop. The Practical Applications Class had 14 attendees. The Youth Prison Ministry had 11 boys in the class attendance and bible study. WCOC received six visitors yesterday for worship. The elders and the minister are contacting four lost souls to discuss conducting bible studies with them. WCOC has four bible studies.  We welcome to the fold two beautiful souls. Addie Stephens was baptized on February 21, 2023, while on a St. George Mission trip. She was baptized by Jeremy Powell, Youth Coordinator. Lauren Finale was baptized on February 22, 2023, after realizing she may not have been baptized for the right reason as a child. Matt Amos baptized her."
Monroe church of Christ, Georgia: Charles Harris (regional instructor) reports, "Henry Morgan was baptized into Christ in 1997 but then fell away. A couple of months ago, he visited our services. He was put on our Contact List and began being "card bombed." Receiving the multiple cards along with being shown hospitality, he continued attending. This gave me an opportunity to study with him. Yesterday during our morning worship service, he came forward to let the church know he has asked for God's forgiveness and desires to be a part of the work in Monroe. Henry is an example that shows the HTHSOE principles work to reach the unbaptized, but they also work to restore the erring."
Warner Robbins church of Christ, Georgia: Daniel Stearsman (preacher) reports, "Last night during our Equip Sunday night (a time devoted to evangelism), Steven, one of our elders, presented the plaque you sent to us. Thanks so much for all your kindness!"
White Oak church of Christ, Chattanooga, Tennessee: Austin Fowler (regional instructor) reports, "At White Oak on Sunday, I preached the first part of the John 4 sermon on the Woman at the Well. We handed out the bookmarks before I left for Costa Rica. We are encouraging everyone to complete them before next Sunday so we can start our compassion card groups when I finish the sermon's second part. The congregation is doing a great job of greeting visitors when we have them. We had several over the last few weeks. We are averaging attendance in the upper 30s. It is a very encouraging time."
Honolulu church of Christ, Hawaii: Tagiilima Esene (preacher) reports, "Aloha from the Honolulu congregation! We are preparing for a congregational meeting that will focus on "sharing the workload in service to God." Our elders will lead each group to ensure that the church is equipped to do the work and be edified to remain faithful to God.
"We currently have two Bible studies ongoing with many prospects and visitors attending services. We recently had a funeral for our dear Mama Emma. We comfort our family, but at the same time, members were focused on the visitors (Mama Emma's family) who came. Funerals can be a place where souls can be reached. Please continue to remember us in your prayers."
Jerseyville church of Christ, Illinois (digital): Jake Medford (preacher) reports:  "We finished the third video yesterday. Everything went well. We had no new visitors this week, but everyone was closely following the lesson. We are all excited to see what fruit comes as a result of doing what these lessons teach us!"
Beloit church of Christ, Kansas: Dustin Dougherty (regional instructor) reports, "We studied Book 1 of BTTB with a new couple. It went great, and we will be continuing it this coming Friday with Book 2.  We are still looking for prospects and cultivating the soil for studies."
Coldwater church of Christ, Murray, Kentucky: Luke Puckett (preacher) reports, "We continue to work with our new converts. We are going over the new convert book with them. We pray this will help them to be grounded in truth so they will grow. We also focused on our contact list and sent out several compassion cards this week. Our plan is to follow up with cards, calls, and visits, hoping our efforts will lead to studies with them."
Paintsville church of Christ, Kentucky: Zach Collins (preacher) reports, "This past Sunday, we had many visitors present in our worship service. One of our visitors was named Calvin. He has just relocated to the area and heard of our congregation by receiving a copy of House to House / Heart to Heart from our congregation. We gave him a new visitor bag and filled out a contact card. In addition, we sent cards to five other souls who were recently added to our contact list. Please pray that opportunities for bible studies will be made possible with our visitors."
Aberdeen church of Christ, Maryland: Will Brown (preacher) reports, "We are taking the month of March to teach each evangelism lesson book and Does It Matter during the Bible class hour to help the congregation become more confident in doing bible studies. We are overjoyed to report an active member of our youth obeyed the gospel. Our new covert class has been successful in retaining our new Christians."
Hwy 160 church of Christ, West Plains, Missouri (digital): Marvin Hatley (elder) reports, "Our Compassion Card group wrote 90 cards Sunday and will be sending them out this week. We continue training the congregation using HTHSOE materials. There are currently two personal bible studies being conducted; one is virtual. We are preparing to start the study of Book 3.  Our congregation requests the prayers of our brothers and sisters in Christ for continued success. Attached is a picture of a workday that we had Saturday. We cut and delivered firewood for a prospect who has an ongoing battle with cancer."
Fordland church of Christ, Missouri: Josh Romo (preacher) reports, "I continued to preach from John 4. I should finish the series this next Sunday. We are beginning our congregational prospecting! We have eight new contacts who will soon receive compassion cards."
Samford church of Christ, Steele, Missouri: Kyle Imel (deacon) reports, "We sent Compassion Cards to three families this week. Visitor bags have been assembled with the anticipation of having visitors from the cards. There is one study with a mother and daughter ongoing. They should finish Book 3 by the end of the week."
East Flushing church of Christ, Flushing, New York (digital): Clarence Jenkins (evangelist) reports, "We continue to have several ongoing bible studies. We are staying engaged with the new converts.
We also assure that they have transportation to worship services, and we encourage them to attend congregational fellowship events. We are intentionally staying engaged with visitors to the congregation, and we have received positive feedback from them about the congregation's energy, warmth, and welcome. We appreciate all your prayers."
Carthage church of Christ, North Carolina (digital): Randy Chambers (preacher) reports,  "We pray that all is well with the brethren throughout the land. Our congregation is doing well for the most part. We conducted three studies last week, using BTB and BTTB. Two of them are new studies by Cynthia, who is doing a great job of establishing relationships and renewing old relationships to set up bible studies and teaching them.  She is not easily discouraged when some prospects cancel at the last minute.  When people from religious groups like Lutherans want to study, we talk about their beliefs and devise a strategy to study with them using BTB. We are keeping that study in our prayers, hoping that the truth will be accepted during the study.
"We have a couple of studies that have stalled, but we are not giving up. We will keep the door open while seeking the good soil. We are still praying and planning to reteach members who have not totally bought into the process, and we are teaching and training new members. We are thankful for the prayers and the spiritual resources to be soul-winners for Christ."
Linville Forest church of Christ, Kernersville, North Carolina: Kelly Brown (preacher) reports, "I'm overjoyed to send another report from Linville Forest.  Marjorie Johnson was baptized Wednesday evening after studying with her fiance Anthony Rutherford and Bernard Revel. This makes our 5th baptism in 2 1/2 weeks.  We have more studies going on also.  Praying for more in the very near future."
Coweta church of Christ, Oklahoma: Keno Shrum (elder) reports, "Our study went well Friday night. After completing the survey, I decided we should start with  Believe the Bible Lesson B. I cannot state strongly enough how important that survey is before beginning a study. In this case, it revealed that  these people were confused by all the false teachings they have heard throughout their lives. Confusion causes doubt, so we will work to understanding that although confused, they do have open minds. I believe and pray that they will recognize the truth as we navigate through these studies. That being said, I would ask all readers of RTL to keep the Alexanders in your prayers."
York church of Christ, Pennsylvania: Mark Raschke (deacon) reports, "It was another great week! Frankie, the adult son of one of our long-time members, was baptized on Friday! I have included some photos. Frankie was raised in the church, but as he grew up, he was pulled away by worldly influences, which unfortunately happens to so many. However, his mom, Helen, never stopped working on him and praying for him.
"Through her influences and other factors in his life, Frankie recently bought a Bible of his own and started studying at home. Due to his work schedule, he started attending worship services on Sunday evenings, and he has become very faithful. Frankie called Fred on Friday evening and asked if he needed to come forward in front of everybody on Sunday to be baptized, to which Fred responded that they could meet in private at the church building that evening. Since nobody other than immediate family was able to be present for the baptism, we projected the photos and made a special announcement after the invitation song on Sunday morning.
"We continue to send compassion cards and make visits. We had one prospect attend game night at the church building on Saturday, and I am told that another prospect wants to visit a service soon. I can tell that there is some excitement building in the congregation."
Madison County church of Christ, Jackson, Tennessee: Steven Sprouse (preacher) reports, "We have a lot of members who are sick right now. We were able to send 50 cards last week. We have finished training on BTTB 2. We are having our first Transition Tuesday and plan to begin visiting our first prospects. Among these are the hosts of the group study we had in January."
McKenzie church of Christ, Tennessee: Chance Steen (preacher) reports, "Our card room is nearly complete and ready for use. Our team leaders have a plan to make certain everything flows smoothly and efficiently. Our youth attended CYC over the weekend, and two obeyed the gospel. Brody and Hailee were baptized into Christ for the forgiveness of their sins."
West End church of Christ, Knoxville, Tennessee: Adam Wilson (member) reports, "West End will cover the Back to the Bible series during Sunday morning class this quarter. This will familiarize the congregation with the tool and the surprising ease with which this study can be conducted.
"Jeremy Weekley (preacher) was able to cover half of the first study with a contact before she was too tired from her health struggles to continue. Jeremy said that she became emotional throughout the study and asked to worship with us in addition to continuing the study.
"Another contact who recently lost his wife said that the cards are helping him grieve. He said that once the dust settles, he would like to visit us as he is looking for a new church home. Please pray that we begin to see the people in our lives as souls to be loved and saved and not just co-workers, neighbors, and family members."
New Hope church of Christ, Middleton, Tennessee:  Cole Wade (preacher) reports, "We planned a bowling event this Sunday and had 18 people from church attend. It was a great time, and we all laughed together and grew our relationships. The wonderful news about this trip was that 6 of those who went were new to New Hope. They seemed to have a great time and loved it! Bible studies coming soon!"
East Main church of Christ, Murfreesboro, Tennessee: Brad Rowley (elder) reports, "Last week we had four new contacts.  One of the contacts is a family looking for a church home. David Brown started a new bible study Wednesday evening. Feedback from the bible study was good. Our compassion card team wrote 61 cards last Sunday.
"We had 17 people present for Mission Day. During Mission Day, we watched two videos focused on the visitor strategy. We discussed utilizing our We Care Teams to host a small dinner each Sunday for visitors. We made several changes to our strategy.  For those who did not attend Mission Day, we plan to train the rest of the volunteers this next week.
"It was a busy weekend for our college ministry at the Challenge Youth Conference in Pigeon Forge. Seth Ferguson, our college minister, along with Westin Horn, Mataya Carter, Mattie Wilson, Grace Tucker, Jeffrey Smith, and Avery Lacroix, set up a booth to educate youth in our college ministry.  We made some contacts who are interested in attending our college ministry when they go to school at MTSU.
"David Brown is scheduling a meeting this week for our discipleship group. Cherie Carroll has volunteered to help in our discipleship team. Avery Bayes, our youth and family minister, is gaining some ground with the bookmarks in the high school class."
New Union church of Christ, Manchester, Tennessee: Paul Fulks (elder) reports, "At New Union, we continue to review the Bookmarks at the close of Sunday morning worship services. We ask members to submit contact cards for those who have had recent life events that would create a need for compassion. We also include others we know (friends, families, and neighbors) in similar situations."
"We have congregational prayer specifically for those we are prospecting. Our members have been very consistent in completing and submitting new contact cards. This week, they submitted seven contact cards."
"Card Team 4 met after Sunday evening services and completed 32 compassion cards. Last week, four members made ten follow-up visits and contacts. We had one set of visitors on Sunday to whom we are sending cards; we will try to follow up with a visit.
"Two of our elders and our preacher meet every Monday for Mission Mondays to review contact cards and visits and make plans for follow-up and visits during the week. We also reach out to specific members to include them in assigning visits and follow-up. We use a spreadsheet to keep up with all contact cards, follow-up visits, assignments, and other pertinent information."
Covington church of Christ, Tennessee: Wayne Dalrymple (elder) reports, "On Sunday, we had several visitors again. The couple who came last week came again and stayed for lunch. They are very private, so we are proceeding carefully so we will not push them away.
"Another visitor is a teenage girl who has visited several times. She expressed a desire to be baptized, but we want to make sure she understands why she should be baptized, so Kaitlyn, her friend who invited her to the services, started a Bible study Sunday night with her using Back to the Bible.
"The older gentleman who visited last week visited again Sunday. We will be prospect him this week. One of our new converts, Dustin, is continuing to bring his mother to services. He told me that his brother also wants to come. We hope to see him Sunday. A few of us also delivered New Mover baskets Sunday afternoon. On Monday evening, we wrote many compassion cards. We are continuing the process and hope to see the fruits of our labors soon."
East Ridge church of Christ, Chattanooga, Tennessee: Charles Cochran (preacher) reports, "My wife and I had lunch with a man and his wife today. He is not a member, but she is. We set up the Back to the Bible study to begin next Tuesday. Also, my wife and I have finished a recently with an HTH contact.  She attended worship on Sunday. We are praying for a conversion soon.
"One of our deacons has studies with a young man who is engaged to one of our young ladies. The mother of the young man studied also! Two of our men are on a mission trip to Kenya, Africa.  Things continue to go well at East Ridge."
Bargerton church of Christ in Lexington, Tennessee (digital): Robert Pruett (member) reports, "Due to some technical issues, we were unable to watch Lesson 3. Lord willing, we will watch it next week. Our preacher, Jamie Richardson, instead gave an evangelistic-themed sermon that incorporated some of the points made in the previous two lessons."
Freewill church of Christ, Gainesboro, Tennessee (digital): Andrew Scott reports, "We had a very successful day with our evangelism efforts. We were blessed with visitors today and have a meal planned. Tonight, we finished the lesson on the ten-step plan, and it was received very well, as it has been with all of the lessons. Two of our members have a bible study tentatively planned this week with a family member. We are praying for open and honest hearts. Our training continues! To God be the glory!"
Highway 95 church of Christ, Taylor, Texas: Benjamin Dossey (preacher) reports, "We once again went out into our community and delivered welcome baskets to those new to the area this past week. As a whole, we had a number of great conversations and interactions, laying the groundwork for future follow-ups. What a great encouragement it was for us when one of the families that we welcomed to the area showed up on Sunday for Bible class and worship."
Eisenhower church of Christ, Odessa, Texas: Allen Weakland (elder) reports, "We are happy to announce that we are starting a study with Sam and Amber. They are a young couple who have two daughters and have been attending worship services with us over the past several weeks. They have agreed to a study, and it has been scheduled. We ask for prayers as this young family come to know their God. We also have the pleasure in continuing our study with Rios. He has displayed a great desire to know more about God and this new life found in Jesus."
Southwest church of Christ, Austin, Texas: John Garza (preacher) reports, "This week we begin our Arise workshop, so we have been very busy recently. We hope that this workshop will edify members and non-members as they study the Word of God.  Sadly, a few studies have fallen by the wayside, but we also gained three new studies that began last week! Please pray that  these souls will accept the Word that we will plant in their hearts."
Fruitvale church of Christ, Texas: Carl McCann (elder) reports, "The work continues. Compassion Cards, prospecting and visiting New Comers continue with fervent activity. We are praying that we may find interested individuals who are willing to study."
Beacon church of Christ, Gun Barrel, Texas (digital): Dan Baum (preacher) reports, "We are so glad for the recent baptism of Carol-Lou. We first met Carol-Lou at a community door knocking we had in October of last year. Carol-Lou told our door knockers that she had been looking for a church to attend in the local area. She started visiting our services right away. Carol-Lou has an honest and out-going attitude and was warmly received by the church. Carol-Lou and our member who knocked her door (Jennifer) became friends.
"After a short period of time, Carol-Lou expressed her interest in learning more about the Lord's church. Jennifer and her husband Ralph started a Bible study with her using Back to the Bible. Despite a few setbacks, Carol-Lou wanted to keep the study going. Her determination plus Ralph and Jennifer's support and the acceptance she felt from the church all led to Carol-Lou being immersed for the remission of her sins on Saturday February 25.  Carol-Lou "went on her way rejoicing" as seen in the picture below. We praise God for her and all that went into bringing her to Christ!"
Schertz church of Christ, Texas: Jay Stewart (elder) reports, "On the evangelism front, we added one name to our compassion card list and will pursue future studies with the prospect. Brother Stan Crowley is on a mission trip to Northern Africa with Justin and Leah Hopkins. They are conducting studies as contacts are made."
Midtown church of Christ, Victoria, Texas: James Cammock (deacon) reports, "God added four more precious souls to the church this week! On Thursday our preacher, Brandon Starling, studied with a young man named Josiah, who is the teenage son of one of our members. After studying the Gospel, Josiah obeyed it by being baptized for the forgiveness of his sins.
"Immediately following Sunday morning worship, Geronimo, Clarissa, and their teenage son Jerry were also baptized. The family had been attending a large denomination here in Victoria and became very dissatisfied with the emphasis on entertainment and the lack of teaching the Bible. Brandon invited them to attend worship, and they did this past Sunday. After worship, Brandon studied with them and baptized them! We formed a circle, held hands, and one of our elders prayed for the new family."
Chesapeake church of Christ, Virginia: Ernest Benjamin (preacher) reports, "I completed Lesson 3 with a young man last Wednesday. I plan to continue the studies for as long as it takes. Nivea and I are scheduled to reconvene the study this Friday."
Central church of Christ, Martinsburg, West Virginia: Robert Veil (preacher) reports, "We sent compassion cards Sunday evening to two local contacts who are "looking for a church." Also, one of two ongoing studies has been completed, and we are awaiting further response on that. The other study is continuing at this time."
NOTE: These reports are from Christians and congregations enrolled in the House to House/Heart to Heart School of Evangelism. These emails are sent to teach and provoke one another to remain focused on the mission of Christ. Each week, we share several reports and highlight one with more details. We hope you enjoy reading them.