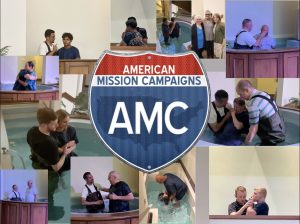 Reaching the Lost- Success Stories
Statistics
Total baptisms (2018-2022) reported from U.S. Congregation: 2,345
Total Seminars Conducted (2018-2022): 181
Personal Seminars in 2023: 7
Digital Enrollments for 2023: 20
Total baptisms reported from U.S. Congregations, 2023: 205
Upcoming Seminars
March 23-24: Florida School of Preaching, Lakeland, Florida
April 2-4: Dellrose church of Christ, Tennessee
Featured Congregation: Karns and West End church of Christ, Knoxville, TN

Editor's Note: American Mission Campaigns has outperformed every metric and plan we originally made for conducting domestic mission efforts. Last year, we conducted our second AMC in Knoxville. Two congregations came together for the training and execution. Karns and West End have done a spectacular job maintaining their focus. Since AMC, over 25 baptisms have occurred. Ironically, both of their reports this week stem from the work started last July. We hope you enjoy these two featured congregations.
AMC: A Catalyst for Congregational Evangelism
Adam Wilson (West End)
We have a new sister in Christ! Sandy was baptized by Jeremy Weekley (preacher) and Geoff Johnson (elder) last Wednesday afternoon. She was our first soul to go from contact card to baptism! Sandy is the neighbor of Juanita, who was baptized after we met her through last July's door knocking campaign (American Mission Campaigns). Juanita requested compassion cards for Sandy last November while she was in the ICU. Our first visit to her was in December, but she wasn't home. Jeremy Weekley tried to visit her several times throughout the following months before finally reaching her and setting up a study in late February. It took Jeremy and his wife Sally four studies to get through the three Back to the Bible lessons, but Sandy was faithful to obey our Lord!
The congregation could have easily given up when faced with multiple delays due to Sandy's medical appointments and struggles to frustrate the effort, but her soul was worth the effort. I hope this is an encouragement to others to make yet another follow up visit or to set up another bible study following a short notice cancellation.
Terry Clark (Karns)
Each year, the Southeast Institute of Biblical Studies (SEIBS) conducts a stateside door-knocking campaign in March. SEIBS dedicated this year's campaign to the AMC follow up in the Knoxville area. This past week, the Southeast students conducted a follow-up campaign on our AMC HTH contacts. They made a total of 249 visits. Though 138 were not home, five people expressed interest in studies. Two studies utilizing BTTB booklets took place. About 25 seemed receptive for follow-up visits, and some of the students plan to make return visits. We also identified six people in need of Compassion Cards. We are very thankful for the efforts of Southeast and the prospects that were developed.
Congregational Reports
Welcome Lake City church of Christ, Florida:
We welcome the Lake City church of Christ to the House to House/Heart to Heart School of Evangelism. After our Sunday morning lesson titled, "Let's Stay with the Message," Joe responded to the Gospel. This paved the way to an excellent seminar, and we are excited to work with this great congregation as you reach out to the community to save souls.
Glencoe church of Christ, Alabama: David Marker (elder) reports, "We received 23 New Mover contacts for the month of March. We are in the process of delivering the gift bags this week. So far, we have received very positive feedback from those who have been recipients. We are also looking for more ways to reach out into the community. We have two benevolent projects that are ongoing, and we are planning a fellowship meal for April 2. We will use that occasion to invite our New Movers and contacts. It is very encouraging to see our members working together in preparing gift bags, writing compassion cards, and making visits. As we continue to prospect the many, we are praying for the few to have receptive hearts!"
Hatton church of Christ, Alabama: Chris Miller (preacher) reports, "There is power in the blood! We continue to see results as Ricky Peoples obeyed the gospel this past week. Ricky has lived in our community and had suffered a stroke some time ago. He said he was tired of living his life for the devil and wanted a change. He said he would do anything God wanted him to do in order to be forgiven. We rejoice with his decision to put on Christ in baptism!"
Canal Heights church of Christ, Demopolis, Alabama: Bryan Cook (preacher) reports, "This Sunday was our first Sunday after our Mission Monday. Our number of cards that went out have drastically changed. It seems that our winter slump is coming to an end with the coming of spring. Our number of visitors has increased as members have actively started looking for these opportunities to invite people. Our VBS is being planned to focus entirely on our end-goal efforts to get Bible studies. Our adult class during the event will be teaching the Back to the Bible course while the children have their classes. This year, we will repeat our training to encourage our members and encourage the whole congregation to make evangelism a habit."
Mossy Head church of Christ, Crestview, Florida (digital): Phillip Gaither (member) reports, "We watched another video last night (the method) and issued everyone the Evangelism Simplified and Back to the Bible books. We will begin the course on the thumb drive at our next session."
Peachtree City church of Christ, Georgia: Lew Foshee (elder) reports, "This Sunday we passed out prospect cards and evangelism books to those not in attendance last week. We issued the same directions to provide names and gave everyone one more week to get this task completed. Next Sunday we will move to the contact cards and collect personal information for two or three from each member.
"We have identified a family in need, and they will be the first on our list. We have a tremendous lady, Lana Parker, coordinating our compassion card outreach, and she is in the process of assembling a team who will mail compassion cards this week to the family in need."
Carrollton church of Christ, Georgia: Dave Leonard (preacher) reports, "We will focus on compassion cards next Sunday! We are continuing to add names to our personal contact bookmarks and pray for them. We are in the process of moving some to the congregational prospect list. Our previously arranged groups have prepared and delivered baskets to some who are having difficulties, and we are ready to continue to prospect them. The excitement of the congregation is palpable!"
LaFayette church of Christ, Georgia: Jesse Teague (deacon) reports, "We had eight names on the contact list that had received fewer cards than the other names, so we decided to send more cards to them. We also did three "group sign" cards for visitors passing through.
"Our compassion card organization has improved. Lori McClure reviewed the process to smooth things out, and Terra Jackson laid out all the cards in stacks to be ready for filling out. Charlotte-Ann Busby sealed envelopes as needed, stamped the return address on the envelopes, and added postage stamps.  Group 2 had 17 members who stayed to write cards. Based on participation, Group 1 will meet on the first Sunday of the month, and Group 3 will meet on the third Sunday. Cards from each group will be sent over two weeks so the recipients get the cards for two weeks straight.
"Next, we will plan visits for the folks that received cards, adjusting organization as needed. We will review the list to identify prospects and plan visits."
Monroe church of Christ, Georgia: Charles Harris (regional instructor) reports, "Today (Monday), my wife and I will have our second study with Angela. We met her through our addiction recovery work. This evening, my wife and I will begin studying with Carolyn Coleman and hopefully her husband. We recently began offering a bible correspondence program. Carolyn had signed up for that, so she was on our contact list. After receiving multiple cards and being in communication over correspondence lessons, she called and asked for a bible study. Please pray for these efforts."
Woodstock church of Christ, Georgia: Greg Garner (deacon) reports, "WCOC collected six contact cards that we will prospect this week. Our congregation meets on the second, third, and fourth Sunday evenings to conduct the Actively Caring Teaching Serving (ACTS) workshop (i.e. Evangelism). During our workshop, the Compassion Group created 46 compassion cards and sent out 16 cards last week. The Visitation Group visited and delivered coffee stations to 15 new movers within the community. The Service Group is planning a service work for next ACTS workshop. The BTTB Practical Applications Class had ten attendees. The elders and the minister are continuing to contact the eight lost souls to discuss conducting bible studies with them. WCOC has five bible studies in progress."
Riverbend church of Christ, Dalton, Georgia: Austin Fowler (regional instructor) reports, "We continue mailing compassion cards to people in our community. Jason Duggin and I are planning a Spring Door Knocking for our areas. We are looking at the first weekend in May. The Youth Group helped us label some materials for our upcoming American Mission Campaigns on Sunday afternoon. It was a great help!"
Honolulu church of Christ, Hawaii: Tagiilima Esene (regional instructor) reports, "Aloha from the Honolulu congregation. We are encouraged by the reports we see on Facebook and also through the weekly reports. Praise God for the great work being done and for workers who have put their hands on the plow.
"We currently now have three bible studies ongoing, and several members are prospecting friends and family. The truths shared in the studies are well-received at this point. Please keep Katelin, Bobby, Nathan, and Jaime in your prayers. We have a new converts class ready to graduate soon. It has been a joy to see our new brothers and sisters in Christ faithfully coming to worship service, and some of the men are leading in worship. The highlight this past week was seeing one of our elders leading his group to make contacts through the new movers program."
Jerseyville church of Christ, Illinois (digital): Jake Medford (preacher) reports, "We have watched the congregational plan. Attendance was up this week, and everyone is starting to get more excited about putting the plan in place. We are working though the checklist and have started the modules on the website."
Westside church of Christ, Yorktown, Indiana: Gary Reynolds (elder) reports, "We are continuing with the Compassion Cards. We are planning a Spring Fling night with dinner and games afterward on April 1. We are praying for additional contacts to come from that effort.
Beloit church of Christ, Kansas: Dustin Dougherty (regional instructor) reports, "I think everyone is well and feeling better, so we will be able to resume our paused bible study this coming Friday. We continue to work the plan and look for more contacts."
Paintsville church of Christ, Kentucky: Zach Collins (preacher) reports, "This week, we have two bible studies with individuals who are in advanced stages of cancer. Both of these studies were brought to us through two different members of our congregation. Both studies are with individuals who come from a denominational background. Since both individuals believe they are in a saved condition, we will be using the curriculum Does It Matter? to help both individuals to re-evaluate their spiritual condition. Please pray for receptive hearts in these studies!"
Parkway church of Christ, Fulton, Kentucky: Will Hester (preacher) reports, "We continue to gear up for the relaunch. Due to sickness and other circumstances, we have had to push it back some; however, we continue to press forward. Satan has been pushing hard to stop us from this relaunch, but our resolve will not wane. The elders, deacons, minister, and men have committed to saving souls, and that is what we intend to do!"
Coldwater church of Christ, Murray, Kentucky: Luke Puckett (preacher) reports, "This past week we continued to work the program and receive help from the on-line tools. We sent several cards to a few contacts with hopes of visiting them soon. We also continued to work with our four new converts we have had this year. We had them fill out their bookmarks with hope of developing new contacts from them.
"Two weeks ago, HTH contacted us about a woman who has requested materials. We hand delivered those to her, but since she was sick, we were unable to meet with her. We did leave the material on her door.  We immediately put her on a contact card and sent her cards. The plan is to visit her again this week."
LaPlata church of Christ, Maryland: Eric Sykes (regional instructor) reports, "We have decided to have our Evangelism Training Seminar on April 14-16, 2023. This will be my first time teaching it. After years of practicing evangelism, I believe I am ready. I request prayers for myself as I prepare the lessons, and also for the congregation."
Aberdeen church of Christ, Maryland: Will Brown (preacher) reports, "We are on week three on Sunday morning Bible class going through Back to the Bible,Lesson One and other evangelism tools. We have had many questions as well as good responses to the study. We had to slow during the study and adjust the goal to have everyone comfortable enough to begin conducting studies. It has been encouraging for all present."
Samford church of Christ, Steele, Missouri: Kyle Imel (deacon) reports, "Samford has had a great few weeks. We baptized Sky, Jeannie's daughter, who was baptized the week before. We have been sending compassion cards to 15 people. A couple who had received cards asked to be restored.  The congregation is energized!"
Fordland church of Christ, Missouri: Josh Romo (preacher) reports, "We had three visitors from the community yesterday! All three said they would be back next week! We have been sending out compassion cards for two weeks now, and one person who received cards sent a text to one of our members. I started preaching through Back to the Bible last Sunday."
East Flushing church of Christ, New York (digital): Clarence Jenkins (preacher) reports, "Irene Richardson has been faithfully visiting the congregation for eight months and has been studying the Back to the Biblebooklets with one of our members. Glory be to God, she decided to put on Christ in baptism this past Saturday. May we continue to pray for one another as we seek to reach out to save the lost."
Coweta church of Christ, Oklahoma: Keno Shrum (elder) reports, "Our study with Lela went very well last week. We are scheduled to continue the study tomorrow evening. She has been very receptive to everything we have discussed so far. She is confused about what she has heard from the various denominations she has attended, but she sees that Back to the Bible is coming straight from the Scriptures.  Reading the Bible for herself makes it easier for her to understand. She is doubting what she had learned from various denominations.  She is hoping to have her daughter and son-in-law agree to a study soon. They are non-believers, so we will start with Believe the Bible with them."
York church of Christ, Pennsylvania: Mark Raschke (deacon) reports, "This week we continued to send compassion cards. We received a number of thank you cards in response. We continue to work with our prospects with the goal of setting up Bible studies with them. Fred and others continue to bring messages related to evangelism each Sunday."
Rogersville church of Christ, Tennessee: Ethan Tate (preacher) reports, "This past week we spent time with a family who desired to have a Bible study with us. We are arranging a time to meet with them. We also have been given the chance to help a man who recently came out of rehab. We ask for your prayers with these two families and our labors in training our newer members to learn how to evangelize. We cannot emphasize enough how effective the compassion cards have been the past few months! Please pray for these continued labors and soon more opportunities will develop."
Greenfield church of Christ, Tennessee: Clint Monroe (elder) reports, "Glenn Ary, one of our elders, will start our new converts class in April.  We plan to visit three of our new movers this week or next. The teen class is continuing its study of Back to the Bible. We are working on the third book now. Prayerfully, we will baptize some of them and encourage them to generate contacts for more Bible studies."
Madison County church of Christ, Jackson, Tennessee: Steven Sprouse (preacher) reports, "Things are going very well at Madison County. We are getting the New Movers ministry started. We have heard good things during our visits. One couple that we visited had just lost their son and said that we were the only ones that had cared about them. They both have health problems, and we think we will be able to help them with some chores. They said they might come and visit us."
McKenzie church of Christ, Tennessee: Chance Steen (preacher) reports, "Group B has cards for 11 contacts ready to be mailed this week. Group C will be coming in this week to organize their group for the upcoming week. We are working the program, and all who participate are praying for Him to give the increase."
White Oak church of Christ, Chattanooga, Tennessee: Austin Fowler (regional instructor) reports, "Ron Payne said that his study went well. He learned that the person he is studying with has some doubts about his belief in God. He went through some proofs of God with him. I plan to bring Believe the Bible to Ron on Wednesday, plus a DVD that will show him how to use it.  They had to postpone their schedule this week because Ron's great-grandbaby was born."
New Hope church of Christ, Middleton, Tennessee: Cole Wade (preacher) reports, "I have recently had a request from someone to speak with me about the church, and we have been attempting to set up meetings. Circumstances have become a barrier, but we are still determined to meet. I believe great things will come from our discussion. Also, we are visiting a family soon to talk about the church and study."
East Main church of Christ, Murfreesboro, Tennessee: Brad Rowley (elder) reports, "Last week we had three new contact cards. Team three wrote 64 compassion cards. The elders are meeting with five new members this week. Most of our new members commented on how much they appreciated the cards. We had four Bible studies with six people. Wayne Lankford, our associate minister, is going to work with a small team of our members to look through some older directories to obtain more contacts.
"We had 16 people present for Mission Day on Saturday. We watched the Redeeming the Time video and discussed how to show the video to the entire congregation.  We also discussed the change in the Mission Day schedule in April. We will change from Saturday morning to Tuesday evenings at 6:00 since spring has longer days, so we will have more time to deliver baskets and have follow up visits. We hope to have more members attend Mission Day this summer."
Freewill church of Christ, Gainesboro, Tennessee: Andrew Scott (preacher) reports, "Several of our prospects are recovering from various illnesses and surgeries. We are continuing to send compassion cards each week. We are praying that doors will open to reach our goals.
"We have passed out the bookmarks and have made 200+ contacts. Two sisters in Christ, Teresa Goolsby and Ashley Smallwood, are working above and beyond to bring in contacts and make strategies for success. It has been very exciting to see the congregation fired up! Lord willing, this Sunday I will preach the second lesson on "Jesus: The Politically Incorrect Evangelist." We continue our efforts! To God be the glory!"
New Union church of Christ, Manchester, Tennessee: Paul Fulks (elder) reports, "At New Union, we continue to review the Bookmarks at the close of Sunday morning worship services. We ask members to submit contact cards for those who have had events occur in their life causing them to need compassion shown. We also include others we know (friends, families, and neighbors) in that same situation.
"We have congregational prayer specifically for those we are prospecting. Our members have been very consistent in completing and submitting new contact cards. This week we had three contact cards submitted.
"Card Team 3 met after Sunday evening services and completed 58 compassion cards. Last week four members made eight follow-up visits and contacts. No New Mover Baskets were delivered during the week.
"We had two families visit on Sunday to whom we are sending cards; we will attempt to follow up with a visit. Two of our elders and our preacher meet weekly for Mission Mondays. They review contact cards and visits and make plans for follow-up visits during the coming week. We also reach out to specific members to include them in assigning visits and follow-up."
Covington church of Christ, Tennessee: Wayne Dalrymple (elder) reports, "We are continuing to prospect and try to make new contacts. We are still having several visitors to our services. Wayne, Claudia, and Beth all continue to visit. We had a family place membership with us Sunday as well. They were worshiping with another church in the county but have decided there are more opportunities for their family to grow at Covington.
"Kaitlyn is still studying with Hannah. They had to pause this week but should continue soon. We have announced and promoted AMC to the congregation. We intend to take a group to Cleburne, Texas, in July. Just a few days after that, we will be taking a group to Honolulu, Hawaii, to help them do an evangelistic Vacation Bible School. We will be delivering new movers baskets this week to make new contacts also."
Bargerton church of Christ, Lexington, Tennessee (digital): Robert Pruett (member) reports, "We finished Lesson 5 and are looking forward to applying the method. Our preacher will be gone the next two Sundays on a mission trip to Brazil. The next two weeks we have a couple of evangelistic-themed lessons planned while he is gone."
Highway 95 church of Christ, Taylor, Texas: Benjamin Dossey (preacher) reports, "We have continued to build relationships with one of the families that we contacted through the new movers efforts. We also had a good foundation laid with a couple that visited the congregation. This Saturday, we will have our first meeting in preparation for our VBS this summer, and then after that meeting, we will be delivering welcome baskets for the month of March."
Southwest church of Christ, Austin, Texas: John Garza (regional instructor) reports, "I have great news concerning a recent prospect, Joshua Hanter. Recently, he sat in our pews because he had just been released from jail and was struggling with drugs and alcohol, but he is seeking God. Knowing his background, Weston Moses was the best suited to help him in that journey. Through Bible studies and Wes's connection with Aaron Anderson, Joshua decided to go to the Home of Recovery in Winnsboro, Texas. Joshua wants to do what is right. Therefore, please keep him in your prayers as he changes course in his life for the better.
"I understand that we may not be the ones who will teach him the gospel of Christ, but through Wes, the love of Southwest, and Aaron Anderson, we hope and pray that he will obey the gospel in Winnsboro. He will have a greater chance to make His life right with God there, and we rejoice for this opportunity for him.
"Concerning our current Bible studies, we have three that are in-congregation studies, and two that are our members teaching family members in another location. Our new converts continue to thrive and abound more and more in the knowledge of Christ, and for that, we thank God.
"Additionally, it has been a year since we started focusing on congregational evangelism, so we are evaluating results to revise and improve our plan to teach the lost, starting with re-doing our bible bookmark contacts. We look forward to future plans for evangelism!"
Fruitvale church of Christ, Texas: Carl McCann (elder) reports, "We are determined to work the model and pray for our efforts to bring forth glory to God. We are continuing to prospect as many people as we can."
Midtown church of Christ, Victoria, Texas: James Cammock (deacon) reports, "Several weeks ago, a new family visited Midtown. After hearing the gospel preached and having a Bible study with Brandon, the father, mother, and teenage son were baptized. At the time, their teenage daughter, Hailey, chose not to be baptized. This past Sunday, Hailey decided to obey the gospel! We are grateful to have the whole family in the body of Christ."
Schertz church of Christ, Texas:  Jay Stewart (elder) reports, "This week we held a training session for our door-knocking campaign. We had eight members attend who plan to participate in next week's event. Our planned event on March 25 will hopefully reach about 200 of our 1600 homes that receive our HTH mailer."
Peninsula church of Christ, Hampton, Virginia: Ben Phillips (preacher) reports, "It has been a while since our last update. We are still busy applying the model, and we are especially honing our follow-up efforts with contacts. After a weather cancellation, we were able to get our first door knocking of the year accomplished earlier this month. We made several contacts and have two potential studies. One of the studies had to be delayed due to illness, but we hope to reschedule.  We have two other ongoing studies now. We continue to pray for opportunities and hearts to reach our community."
Central church of Christ, Martinsburg, West Virginia: Robert Veil (preacher) reports, "We rejoice at the baptism of Virginia (Ginny) Powell on Sunday morning, March 19.  Here is a picture of Ginny. One of our members has been studying with her for approximately six months."
NOTE: These reports are from Christians and congregations enrolled in the House to House/Heart to Heart School of Evangelism. These emails are sent to teach and provoke one another to remain focused on the mission of Christ. Each week, we share several reports and highlight one with more details. We hope you enjoy reading them.