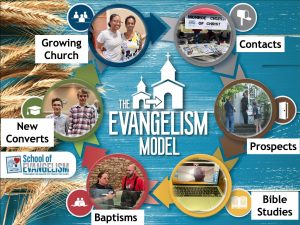 Reaching the Lost- Success Stories
Statistics
Total baptisms (2018-2022) reported from U.S. Congregations: 2,345
Total Seminars Conducted (2018-2022): 181
Personal Seminars in 2023: 16
Digital Enrollments for 2023: 20
States Reporting: 18
Total baptisms reported from U.S. Congregations 2023: 350
Upcoming Seminars
May 18-19 Memphis School of Preaching, Tennessee
May 19-21 Looxahoma church of Christ, Mississippi
May 22-26 Georgia School of Theology, Warner Robins, Georgia
Featured Congregation: Monroe Church of Christ, Georgia
Editor's Note: Charles Harris serves as one of our regional instructors. He has studied the HTHSOE model and is implementing it at the Monroe church of Christ. The results have been exactly what God promised; we plant, and He gives the increase! The following story mirrors HTHSOE training and provides encouragement for all congregations and soul winners.
The "Monroe Model"
Written By Charles Harris (Regional Instructor)
Several months ago, I door knocked the neighborhood of Yvette and Brianna. I do not recall speaking with this mother and daughter, but I always leave material whether someone answers the door or not. Having the material, I had left, they visited us for Easter.
It can be a temptation to think that individuals who only come to church services on Easter, Christmas, Mother's Day, or other holidays are not really concerned about spiritual matters. However, Yvette and Brianna were added to our prospect list and began receiving multiple cards. They visited again the following Sunday and continued receiving cards for the next two weeks.
The next Sunday we had a congregational meal after morning service, and we invited Yvette and Brianna to stay. They sat at a table with members. When I noticed they were leaving, I walked them outside, thanking them for staying with us. They both were appreciative of all the cards they have received and the hospitality that had been shown to them. This gave me an opportunity to ask them if they would like to know more about what we believe and practice. They both immediately said yes. The next day, my wife and I began studying BTTB with them. Our studies went great; they both were eager to learn what the Bible teaches. Last Tuesday after studying BTTB Book 3, Yvette and Brianna were baptized into Christ.
It would have been easy to write Yvette and Brianna off by saying, "They only came to service because it was Easter. They do not really care." However, because the church at Monroe knows we are seed planters, not seed pickers, we now have two sisters in Christ.
Welcome Iuka church of Christ, Mississippi: We welcome the Iuka church of Christ to the House to House/Heart to Heart School of Evangelism. We were impressed with the focus of the elders and preacher during our meetings together. The attendance and energy were palatable. We have high hopes for these brethren as they seek the lost in their community.
Glencoe church of Christ, Alabama: David Marker (elder) reports, "We are getting more and more folks involved in the work, and that is encouraging. We have been focusing on contacts. One gentleman has been attending about six weeks, and we will be setting up a study soon. We have had numerous visitors in the last several weeks. Ted Brooks has been having a good number in the New Converts Study, and that class is progressing well. We have five hot contacts who are studying in our youth class. I am overwhelmed by the power of the gospel and humbled by the attitude of Miangel Macon, a young lady who called tonight and expressed her desire to put Christ on in baptism. Several members came to witness her good confession and baptism. It was indeed a very special night!"
Winfield church of Christ, Alabama: "The elders have asked Jerry Fann to serve as their point of contact and coordinator for the evangelism program. The congregation is currently organizing and preparing to launch the work."
Fayette church of Christ, Alabama: Josh Taylor (member) reports, "Fayette continues to work our plan. We have made the model our own by molding it to our congregation's strengths. Benevolence is our strength, and we have incorporated that into our plan. We have two Bible studies currently ongoing. We are completing our benevolence on our next round of contacts, and our Special Forces Team will then make plans to reach out to them. The engagement of our congregation over evangelism has been wonderful. We have planted, and we are continuing to water. We request prayers that God will give the increase to our efforts. May we never lose sight of the Master's plan for us. To God be the glory!"
Hatton church of Christ, Alabama: Chris Miller (preacher) reports, "We have a Bible study that is just beginning; other studies are ongoing among those who have received cards and visits. We have numerous service projects underway as a part of the process. The church continues to love the work!"
Chase Park church of Christ, Huntsville, Alabama: Pat Cowden (preacher) reports, "After visiting our services about two months ago, Jordan decided he would like to study the Bible. That study concluded Monday night when he obeyed the gospel. John Denney, who assisted with the Bible study, baptized him. We know Jordan had been searching for a church and for the truth with an honest heart, and he recognized the truth when it was presented to him. We rejoice with the angels at his repentance and obedience to our Savior, Jesus Christ. Please pray for Jordan as he begins his walk with Christ. We had a new visitor, Anna, to services Sunday. She went to lunch with several of us, and she has agreed to come to our house next Sunday for lunch (always eat) and to study the Bible. Having been born and raised in Egypt, Anna has zero understanding of the Bible. She has only been in the US for a little over three months. Please pray for her to be open to the gospel as well."
Mossy Head church of Christ, Defuniak Springs, Florida (digital): Phillip Gaither (member) reports, "Good morning. We began the John 4 lessons yesterday and progressed through the website steps further."
Lake City church of Christ, Florida: Jim Flegert (elder) reports, "Last Sunday, TJ concluded the BTTB Bible study with an excellent lesson reviewing book three. Monday evening, we will have Mission Monday orientation with members who volunteered to participate. The next step is to move our contacts to our prospects list by giving our contacts the opportunity to spend time with our members. After a meal together, our members will make home visits with the important objective of securing a Bible study. The following Monday will be our first official Mission Monday. We are excited that we have reached this important step in the curriculum!"
Riverbend church of Christ, Dalton, Georgia: Jason Duggin (elder) reports, "We have a visitor named David who has attended the last three services. He has been approached about a Bible study, but he wants to wait at this point. Dale Puryear gave him a Bible. David has enjoyed being with us, and we look forward to growing that relationship in hopes of winning a soul and gaining a brother in Christ. Our compassion card work has been helpful in making us a more compassionate congregation. We are doing better with engaging visitors and becoming a more friendly congregation due to the influence of House to House and Heart to Heart School of Evangelism. We will be revamping our efforts to gain more contacts in the coming days."
Monroe church of Christ, Georgia: Charles Harris (regional instructor) reports, "My wife and I studied BTTB Book 3 with Carolyn on Friday. Carolyn has a great love for God and His Word. She recognized that according to the Bible, she is not saved. However, it can be difficult to suddenly drop what she has believed for decades. We are thankful that she wants to continue studying. I believe if we work through Does It Matter, she will make the right decision."
Peachtree City church of Christ, Georgia: Lew Foshee (elder) reports, "We continue to emphasize the importance and priority of evangelizing our local area, and we are diligently striving to involve all members in some facet of evangelism. Several of our deacons are developing plans to incorporate evangelism into their respective areas of work. Our compassion card team is sending cards to the 193 participants from our WALK4WATER event that are not members of the church. We are fervently praying that these efforts will lead to further contacts and Bible studies. Unfortunately, we are continuing to deal with building repairs that have precluded us from setting up our evangelism table and compassion card room, but repairs are finally scheduled to begin next week."
Carrollton church of Christ, Georgia: Dave Leonard (preacher) reports, "We are in week 11. So far, we have 33 prospects and four Bible studies. We have sent around 500 compassion cards. We are working to install the modular organization for our evangelistic materials. We look forward to engaging other aspects of HTHSOE, including mailing HTH, targeted door knockings, and community engagement events."
LaFayette church of Christ, Georgia: Jesse Teague (deacon) reports, "We had our three-month virtual meeting last week. It was a productive meeting as we added to the training and evaluated the progress. Twelve people knocked doors on Saturday. At least one name was added to the compassion card list. Ken is going to ease into helping more with arranging visits after a wave of cards. The elders will provide a list of capable volunteers for him as a source for Ken."
Rabun County church of Christ, Tiger, Georgia (digital): McKinley Pate (preacher) reports, "We are still plugging away with our evangelism efforts. We spent our Bible class hour this past Sunday looking at Scriptures about evangelism and talking about the need for every member to be actively involved in our evangelism program. We continue to have local visitors, and the members are stepping up to welcome them and make sure they get a visitor bag.
"A surprise prospect arose Sunday during a visit after services with a couple who are home bound. The couple's nurse stated that she grew up as a part of the Baptist church, but she had left the church and began studying on her own. She said she had realized there were things in the Bible that were not being taught by the Baptist church. She stated that she wanted to make sure she was saved. I asked her if she would be interested in a Bible Study, and she enthusiastically accepted. Yesterday we went through Lesson 1 of Back to the Bible. She was so excited to learn that Christians are not under the Old Testament. She agreed to a second study for this coming Sunday.
"Twice a week, we go to local restaurants and seek opportunities to encourage those in the public to join us for Bible Studies. We continue to move forward with efforts to spread the gospel in Rabun County. As a small congregation and the only congregation in the county, we realize the enormous task ahead of us. We accept the challenge because we realize God's Word will not return void!"
Woodstock church of Christ, Georgia: Greg Garner (deacon) reports, "The Compassion Group is working with Renew Rehabilitation to start sending encouragement cards to their patients.  The Youth Prison Ministry spent Mother's Day with our 12 Bible study students. WCOC has two Bible studies in progress; that is 15 for the year."
Honolulu church of Christ, Hawaii: Tagiilima Esene (regional instructor) reports, "We continue our efforts for our New Mover's program. It takes time before we begin to see the fruits of our labor. One of the things unique to Hawaii is the custom of giving people leis when they visit. Our church greeted and welcomed all visitors with a lei, and then all the mothers who attended received special leis for Mother's Day. One soul is near to the kingdom as we are praying and persuading her to make her decision soon. We prospected a visitor this week by offering a meal invitation. We have a total of seven prospects who are local visitors. Please pray for these souls to start studying the Bible."
Jerseyville church of Christ, Illinois (digital): Jake Medford (preacher) reports, "This Sunday we witnessed fruit from some of our efforts. One soul who was on our compassion card list publicly came forward and repented from leaving the church. Another person who had left months ago came back after visiting again. Both had received cards for two weeks straight and came on the same day. It was very encouraging! We are charged up and pushing forward."
Beloit church of Christ, Kansas (digital): Dustin Doughtery (regional instructor) reports, "We are still cultivating a few prospects as well as a few members that we have not seen in a while. I am trying to schedule a study with the husband/dad of two new recent converts. We are trying to schedule a seminar with the congregation in McPherson, Kansas, in the near future. They were very receptive to the information presented. One of the brothers had already completed Book 1 of Back to the Bible. To God be the glory."
Coldwater church of Christ, Murray, Kentucky: Luke Puckett (preacher) reports, "We have been using the website and videos. They are great tools. We have planned to deliver messages on Sunday mornings to refocus us on the bookmarks so we can develop new contacts. This week we sent several compassion cards to contacts on our list. We plan to follow up with in home visits."
Paintsville church of Christ, Kentucky: Zach Collins (preacher) reports, "Our new converts and Bible classes are busting at the seams! We are creating and organizing new Bible classes based upon the new growth in our congregation. There is also new conversations about moving our new converts and teen classes to different rooms in order to accommodate the larger classes. I'm addition, this past week, we had a wonderful youth event where each of our young people were challenged to invite a friend. We are learning that our new converts and their families seem to be soul winners! Every single service and event, we have new opportunities to develop contacts for our evangelism efforts. Please continue to pray for our family at Paintsville!"
Blanchard church of Christ, Louisiana: Pat Cella (elder) reports, "A very nice lady called our building a few weeks ago. She had lost her husband last November. Unfortunately, she told me that she was looking for 'a church with music.' This has proven to be a little bit of a hurdle, but I have been keeping the lines of communication open. She told me during one of our phone conversations that she loved to play corn hole. So, we had a congregational get together Saturday and played corn hole, and she attended. She said that it was the most fun that she has had since her husband passed. Although she did not come Sunday because she already had Mother's Day plans, she assured me that she would visit soon. We wrote cards to her as a congregation yesterday and will start mailing those today. She is very nice, and though there is more work to do, we feel like she is a wonderful prospect. Her name is Janis, and we would appreciate any and all prayers for her."
LaPlata church of Christ, Maryland (digital): Eric Sykes (regional instructor) reports, "Last week we trained the congregation on the use of compassion cards, bookmarks, and contact cards as the maintenance and use of our prospect list. We are going to ask the congregation to fill out their bookmarks and start building the prospect list. We still have three active Bible studies."
Fordland church of Christ, Missouri: Josh Romo (preacher), "We continued preaching from Back to the Bible Book 3. We have two ongoing Bible studies and have added five new prospects that seem to be very promising."
Samford church of Christ, Steele, Missouri: Kyle Imel (deacon) reports, "We had a baptism Wednesday. The son of one of our deacons put on Christ. The church is encouraged by his decision. We had a celebration of our seniors Sunday night and made a few contacts from the seniors' teachers. We have a study scheduled for Thursday with a couple. We will go through the second BTTB book."
West Hwy 160 church of Christ, West Plains, Missouri (digital): Marvin Hatley (elder) reports, "One of our elders has been involved in a virtual Bible study using Back to the Bible with a former co-worker named Jacob. The study resulted in Jacob recognizing that his current life and denominational background was not compatible with biblical teaching. Honesty and sincerity for God's word motivated Jacob to recognize his need to be baptized correctly. He traveled to West Plains Tuesday to meet with the elder and was baptized into Christ. May God continue to bless the efforts in West Plains, Missouri, across the U.S., and around the world."
East Flushing church of Christ, New York (digital): Clarence Jenkins (preacher) reports, "We are consistently sending out compassion cards and have several ongoing Bible studies. By God's grace, we are confident that the Lord will be adding another precious soul to His church soon. We appreciate your prayers."
Carthage church of Christ, North Carolina (digital): Randy Chambers (preacher) reports, "We plan to start the training again in June to teach the new members how to use the material. We are conducting several Bible studies. We are revamping our HTH/HTH New Movers program. Cynthia conducted lesson two with her neighbor using BTTB. The studies are going well. We are thankful to God for the school of evangelism program. We appreciate all who are involved with the program for the great work that is being done, and we appreciate all prayers."
York church of Christ, Pennsylvania: Mark Raschke (deacon) reports, "We had another baptism this week! God gets the glory. A member of the church who recently moved to our area and has been attending our congregation has been studying with one of her coworkers. The coworker visited this Sunday, and after some conversation with Fred, she was baptized. Additionally, we made pleas to continue to educate on the process of using bookmarks to identify contacts, to bring forward names and addresses of those who have needs, to develop relationships with those prospects, and to continue to write cards with the goal of inviting people to church and studying the Bible with them. Terry and Carol made some new visitor bags, as did the ladies' class. We have been handing out a number of visitor bags recently and collecting contact information from those who come our way. We also have a bin set up for members to donate items to include in the bags."
East Ridge church of Christ, Chattanooga, Tennessee: Charles Cochran (preacher) reports, "We are happy to announce the baptism of Luke and Kristi Griffin's son, Luke, Jr. He was baptized in Iola, Kansas, while they are on a mission trip there. They are trying to encourage the small congregation there. We continue to send compassion cards. We had a great Victory Sunday with Mike Hixson. We continue to reach out. A group of our teens and adults are planning a VBS in Panama in a few weeks. We will have a report of a mission trip by two of our men who went to Kenya in February of this year. They will speak Sunday night."
Madison County church of Christ, Jackson, Tennessee: Steven Sprouse (preacher) reports, "We have had a restoration as a result of the compassion cards and BTTB. We have visitors returning each week. We are hearing good things about the church."
Rogersville church of Christ, Tennessee: Ethan Tate (preacher) reports, "We began two Bible studies with different people. We had a surge of visitors Sunday and received their contact information. We will begin sending compassion cards to thank them for their visit. We are excited for one of the families who have been praying and working with their own family for over a year. Their small victory came when a family member came to worship without any prior notification. We ask for your prayers that this person will continue to come, and we can provide the help needed. Please pray as many doors are opening; we simply need patience and continued diligence to work with those who need to hear the gospel."
Westend church of Christ, Knoxville, Tennessee: Adam Wilson (member) reports, "New Christians are not keeping Christ a secret! Fernando visited last summer after he moved into the apartments next door. He was baptized a couple of months later by Matt Ward following three Back to the Bible studies. Immediately after he was baptized, I asked him if he was ready to study with someone else, and he said he was as long as he had a copy of the study books. I handed him two of each! Last week, he requested two sets of BTTB in Spanish because his mother agreed to study with him. Please prayer for Fernando and his mother as they search the Scriptures."
McKenzie church of Christ, Tennessee: Chance Steen (preacher) reports, "Group 3 (C) met Sunday to get their assigned contacts for the week. New contacts will be chosen this week in anticipation for the next round of mail outs. Going back through the training material/guides, we will begin to tweak what we are currently doing to better reflect the material."
Bargerton church of Christ, Lexington, Tennessee (digital): Robert Pruitt (member) reports, "Our preacher continued his sermon on Jesus, the Politically Incorrect Evangelist. We prayed for those on our contact lists and will be visiting the new movers in our community soon."
White Oak church of Christ, Chattanooga, Tennessee (digital): Austin Fowler (regional instructor) reports, "We continue to work the plan. Our visitor who had to reschedule her study was back Sunday. She and Ron are working on a date to study. This coming Wednesday, we will meet to send cards to our new movers for this month and others."
Old Jefferson church of Christ, Smyrna, Tennessee: Bob Horn (preacher) reports, "This weekend has been filled with frustrations, including the news that a member lost her mom on Mother's Day. Then I received a call that makes all the frustration go away. One of the members called and asked to meet after work so that his wife and son could be baptized. They have been studying together since the workshop, and he said that his wife realized that she was baptized young and did not do it for the right reason. His son has come to make this decision himself as he is now older. That is a wonderful call to receive, and I can't wait to meet with them this afternoon."
East Main church of Christ, Murfreesboro, Tennessee: Brad Rowley (elder) reports, "Last week our compassion card team wrote 55 cards. We received three new contact cards. We had four Bible studies last week. Dillion Pewitt, the recent convert we mentioned previously, has set up a second Bible study. He has been studying with Jon Mitchell, to improve his soul-saving skills. Dillion is an encouragement to our congregation. Billy Hutchens will be starting a new Bible study soon with a recent visitor to East Main. Last week the elders met with Thomas and Emily Cooper who had decided to identify with East Main. We are thankful to have another young Christian family worshipping with us. Seth Ferguson, Chris Taylor, and Brad Rowley will be experimenting with a new church software to see if it can help in our evangelism. Wayne Lankford will be meeting with a team to identify some contacts from old directories. We are thankful for our members who work so hard to save souls. To God be the glory!"
Covington church of Christ, Tennessee: Wayne Dalrymple (elder) reports, "We had several visitors again this week to our services. Nikki, our newest convert, had her parents visit us again. We will be prospecting them with cards and a phone call this week. Frank Brown will be starting a study with Brenda this week. He will be using the Jule Miller filmstrips. I visited Lori Dowdy Sunday afternoon. She is a widow to whom we delivered a new mover basket a few months ago. She needs help with some things around her house. I offered for a couple of our members to help her, and she accepted. We will be helping her next week. I pray this is what we need to get her into a Bible study. We met Monday evening to write cards and to make visits."
New Union church of Christ, Manchester, Tennessee: Paul Fulks (elder) reports, "We had four contact cards submitted. Card Team 2 met after services and completed 46 compassion cards. Four members made five follow-up visits and contacts. We had one visitor from the community that a member invited, and we added that name to our card list. New Mover Basket assignments were made for approximately ten addresses. We have five Bible studies in various stages of progress. Two of our elders and our preacher meet every Monday for Mission Mondays."
Dellrose church of Christ, Tennessee: Mike Hovis (member) reports, "We continue each Lord's Day to ask for new contacts and potential prospects. We then allow members to pray for their contacts. The congregation is divided into two groups for sending cards. Several members spent time Sunday evening after services organizing cards."
Highway 95 church of Christ, Taylor, Texas: Benjamin Dossey (preacher) reports, "We are looking forward to delivering our new movers' baskets Saturday as well as continuing to prepare for our upcoming VBS. We appreciate prayers for an ongoing study."
Southwest church of Christ, Austin, Texas: John Garza (regional instructor) reports, "We have eight active studies in progress. Recently, I expressed excitement concerning a few studies and the possible result in obedience. They have not come to fruition, but we are still watering the seed so that it may root and bear fruit in their lives. We appreciate prayers for the studies as this is a vital point for their salvation. We are continuously working toward molding our program according to the online School of Evangelism curriculum, but more specifically, we are using the Believe the Bible series for our summer camp. We are working toward a better approach to our visitors. The online program has been such a great tool, and we are blessed that it is available to all congregations that have learned from the seminars."
Northern Oaks church of Christ, San Antonio, Texas: Mel Hutzler (elder) reports, "We have several who are making visits to new movers and prospecting potential Bible studies. Cards from the congregation and HTH issues have been going to our community regularly. Visitor information is taken often, as we have several visitors every Sunday from our city. We have a lot of future events that will include evangelism. There are a few ongoing Bible studies. We will knock doors right before VBS and again before our gospel meeting later on."
Fruitvale church of Christ, Texas: Carl McCann (elder) reports, "Fruitvale members remain committed to the Evangelistic Model. Contacts continue to be made, and we are blessed with several visitors recently. We appreciate all prayers."
Bridgewater church of Christ, Katy, Texas: Bob Lanham (elder) reports, "We are teaching our new convert. We are orienting and getting to know our new members who have placed membership in the last eight days."
Midtown church of Christ, Victoria, Texas: James Cammock (deacon) reports, "We are thankful to report a baptism this week! One of our members invited a friend to our recent Family and Friends Day. After attending, the friend went home and encouraged her husband to study the gospel. Brandon studied with him, and he was baptized Wednesday! We look forward to getting to know our new brother in Christ. Our compassion card program is having a good effect. Recently a non-Christian card recipient attended worship. A young Christian man who was receiving cards began attending worship again."
Graceton church of Christ, Diana, Texas: Johnny Willeford (elder) reports, "We had a good service Sunday with several visitors, but most were not from the local area. With Mother's Day many families held get-togethers. We did have two local couples who visited. On Saturday afternoon, one of our members hosted the quarterly Body Builders event, including a fishing tournament in his stocked pond for all ages. We had hotdogs and 'smores for the meal. Two prospects attended. Sunday night our Group A met for the first time to write Compassion Cards. We have fifteen prospects who will receive cards this week. We have set coordinators over different sections of the evangelism model. Our VBS planning group will meet this week to start the work on this summer's Family Bible School Day. Our prayers are always offered for all of the Lord's families working in this fallen world to bring souls to God."
Central church of Christ, Martinsburg, West Virginia: Robert Veil (preacher) reports, "We have two new Bible studies that began recently. The new converts class continues. Zach Johnson has been attending that class and was baptized Thursday evening after our gospel meeting with Allen Webster ended. "
HTHSOE: Austin Fowler (regional instructor): David Webster reached out to me a few weeks ago, asking me to join him in a study. Eileen contacted us on Instagram, wanting to learn more about the Bible. We met last week and went through Book 1. She asked one question, but I deferred it and told her I would answer it later. It went well. Tuesday, we met again and went through Book 2. It went well, too. She said, "I didn't know we were supposed to take the Lord's Supper every Sunday." She did not know about singing in worship, either. She was shocked about what other churches do with verses from the Bible. We will have our third study tomorrow. Please pray for David and me as we teach and for Eileen to have a receptive heart!"
NOTE: These reports are from Christians and congregations enrolled in the House to House/Heart to Heart School of Evangelism. These emails are sent to teach and provoke one another to remain focused on the mission of Christ. Each week, we share several reports and highlight one with more details. We hope you enjoy reading them.
For additional HTH speaking appointments, go to:
https://housetohouse.com/house-to-house-speaker-schedules/