REACHING THE LOST – STRATEGIES FOR SUCCESS
Bible Studies: Illustrating Communion
Illustrations can be powerful when used at the right time. In our experience, the Communion/Contribution illustration is one of the most effective ways to draw a clear contrast between what the Bible teaches and error. This illustration is designed to be used with Back to the Bible or Does It Matter, but it can also be used with other studies or stand-alone. Here are a few suggestions to help you use this tool effectively.
Obtain the Communion/Contribution bookmarks.
Watch our YouTube training video.
Practice using the illustration with a family member or friend.
Provide each prospect with his/her own copy to keep.
Always read Acts 20:7 and have the prospect correct your errors.
Have the prospect circle the right answer.
Point out the similarity between the two verses: "Upon the first day of the
week . . ."
Be compassionate as you read; this can be a shocking moment.
Memorize your concluding statement and say it slowly: "Isn't it interesting that when it comes to taking your money, they always get it right, but when it comes to memorializing the Son of God, they get confused."
Do not ever get bogged down at any point of the study. Although this is an important point and clearly shows a contrast, the converting battle is at the Cross.
Using too many illustrations can make a Bible study cumbersome. Illustrations are used to help a prospect understand a difficult concept or to emphasize an important point. The illustration is not the Bible study; it is an aid to help facilitate learning. The Communion/Contribution comparison can be impactful and even a turning point within Bible study. Take time to learn it and use it to bring souls to Christ.
If you need more information on the three booklet study series or the new training/evangelistic video, please contact me at: Rob@housetohouse.com.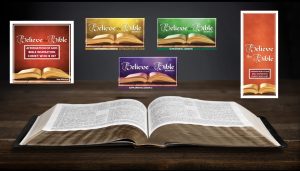 https://www.dropbox.com/s/wo94b4r7ju2qj4w/6%20Tips%20for%20Evangelism%20Compassion%20Cards%20%2810D%29.pdf?dl=0