REACHING THE LOST – STRATEGIES FOR SUCCESS
Baptisms Basics
Written by Rob L. Whitacre
Baptisms are the fuel for the church. If you lack fuel, you starve the congregation of what is needed to run effectively. Our mission is not to entertain the church members, host family events, or keep house. Baptisms form the center of our mission, so everything else should revolve around them (Matthew 28:18-20). Baptisms should be planned for and highlighted by elders, preachers, and evangelists. They are not secondary; they are PRIMARY!
Here are a few points to consider as you develop a basic baptism strategy:
The most important room in the church should not be the most neglected. Someone should be appointed to maintain and keep the baptistery and its associated rooms clean and easily accessible. The baptistry is not a closet or storage room.
Ensure proper garments of all sizes are kept for both men and women. These are easily ordered from Christian bookstores.
Garments for the person who conducts the baptisms should also be maintained.
Accessory items like combs, brushes, mirrors, handkerchiefs, towels, and other items should be fresh and ready.
Water should be clean, warm, and ready. A baptistery should not look like a pond on the farm.
Baptisms should be announced after the invitation song if they occurred during the week.
Teachers who lead Bible studies should also receive some training on how to baptize. Practicing baptisms prior to conducting a baptism is recommended.
Since most baptisms do not occur on Sunday morning, a video of the baptism should be recorded and then played to the congregation so that everyone can rejoice together.
A Bible, baptism certificate, and any other gifts should be given to the new convert on Sunday morning after the invitation song.
The new convert should be recognized and warmly greeted by the congregation.
A congregational prayer should be offered on behalf of the new convert.
We need to spend some time preparing for baptisms. Baptisms are the God-ordained fuel that provides the church the forward momentum needed for growth. According to the Great Commission, baptisms are a central part of our mission. Our mission is not to just teach but to teach and baptize (Matthew 28:19). If we teach but fail to baptize, we do not fulfill our mission.
If you need more information on the three booklet study series or the new training/evangelistic video, please contact me at: Rob@housetohouse.com.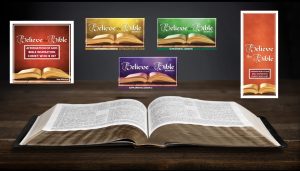 https://www.dropbox.com/s/wo94b4r7ju2qj4w/6%20Tips%20for%20Evangelism%20Compassion%20Cards%20%2810D%29.pdf?dl=0