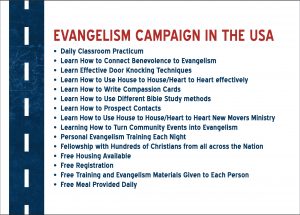 The Great Commission starts here, in our own nation! The only hope for the United States of America depends on the revival of the spirit of evangelism in our pews so that the church of Christ will teach the righteousness of God to our local communities. You do not have to travel around the world to find the gospel changing the hearts of men and women. Last year, in Rome, Georgia, we saw it working. Now we are ready to multiply this effort, but we need your help.
This summer you can be a part of American Mission Campaigns. On June 11-18, 2022, Covington Church of Christ will be hosting the first campaign. Karns and West End will be hosting the second campaign on July 23-30, 2022. The great thing about each event is that it can be FREE! We provide the evangelism materials, one meal a day, and housing with a local church member.  If you would rather stay in a hotel, we have group rates available on our website(amc.housetohouse.com).
AMC will contribute to changing the culture of the church of Christ in America. Best of all, AMC will provide many evangelistic tools and strategies that you can take home to help your home congregation grow and become an evangelistic church. Come and be with us!
To register today or find more information, go to amc.housetohouse.com. You can also email us at Rob@housetohouse.com or Austin@housetohouse.comfor more information.