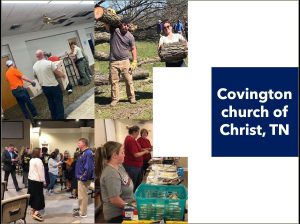 Reaching the Lost- Success Stories
Statistics
Total baptisms (2018-2022) reported from U.S. Congregation: 2,345
Total Seminars Conducted (2018-2022): 181
Personal Seminars in 2023: 11
Digital Enrollments for 2023: 20
Total baptisms reported from U.S. Congregations, 2023: 264
Upcoming Seminars
April 19-21 World Video Bible School, Maxwell, Texas
April 22-23 Bridgewater church of Christ, Katy, Texas
Featured Work: Covington church of Christ, Tennessee

Editor's Note: Recently a tornado ripped through the Covington area leaving many residents without homes, power, food, and other necessities. The Covington church of Christ was well prepared to help the community. For several years, they have been going through an "evangelism boot camp" with their enrollment in HTHSOE. They have baptized more than 20 people and focused intently on soul-saving outreach. They are a bright light in the Kingdom. The recent events only served to let their light shine brighter as they brought the compassion of the church of Christ to those suffering. Conversions are on the horizon!
Evangelism In the Storms of Life
Written by Wayne Dalrymple
We are continuing our efforts to reach out to the community in the aftermath of the tornado. We have had many opportunities to show the love of God to this community in different ways. Many of our members have worked tirelessly to help others by preparing food and cleaning up yards.
Two of our school's buildings were basically destroyed by the tornado. We were able to host all the teachers of those schools while the school board worked with them to plan for the rest of the school year. We also fed them lunch. Over the last two weeks, we have distributed supplies to people when they came to the building; we also served hot meals for breakfast, lunch, and supper.
On Sunday and Tuesday of this week, we went out to the affected areas and distributed supplies because there are some who will not come or are not able to come to our building. We also prayed with everyone who received help and gave out copies of HTH/HTH.
On Monday evening, a large group of members wrote cards to visitors and to the contacts we have made. Over the next few weeks, we will follow up with these contacts.  We will be sending cards and making visits as we hope to transition to Bible studies. We continued to have several visitors this Sunday. We will be prospecting these contacts and working toward a Bible study with them. One of these families is the Foster family. They are friends of the Matlocks, who are church members. The Matlocks were able to provide a generator for them when their power went out during the storm. They have visited the last two Sundays. They have several children. We hope to transition into a Bible study with them very soon. Also, the parents and uncle of Nikki, one of our new converts, have visited the last couple of weeks. We are excited at the opportunities God has placed before us!
PJ continued her study with Ashley last Wednesday. Ashley had trouble understanding that her baptism at age six was not valid. PJ and her husband, Robert, continue to study with her Ashley and hope to help her cross the finish line soon.
Congregational Reports
Blanchard church of Christ, Louisiana:  "We want to welcome the Blanchard church of Christ to the House to House/Heart to Heart School of Evangelism.  This small congregation is determined to apply what they have learned and grow.  They have dedicated elders and a preacher who are ready for the challenge to lead the congregation in training and execution."
Graceton church of Christ, Gilmer, Texas:  "We want to welcome the Graceton church of Christ to the House to House/Heart to Heart School of Evangelism. The attendance was excellent and the interest level of the members to reach the lost was very high. There were many visiting congregations who expressed interest to enroll in the school."
Glencoe church of Christ, Alabama: David Marker (elder) reports, "We have a good core group working tirelessly with our contacts and delivering New Member supplies. Those efforts are starting to pay off. This past Sunday, five who have received compassion cards were in attendance. Of those five, we have helped one couple through our benevolence program.  Ted Brooks, a deacon, and his wife Angela have encouraged them frequently. "We have a couple of prospects who have shown interest, and we will be following up with them as well. We are ordering the new invitation cards from HTHSOE. We hope more of our members will use those cards to create more contacts. We feel like that area has great potential!"
Hatton church of Christ, Alabama: Chris Miller (preacher) reports, "Another soul was added to the body of Christ this last week. A home health nurse who is over our Compassion Cards at Hatton met Robert Warren and put him on the contact list. He is 88-years-old, almost blind, and has no running water at his house, but said he wanted to be covered in the blood of Christ! Praise God!"
Lake City church of Christ, Florida: Jim Flegert (elder) reports, "This past Sunday marks a month since Rob Whitacre taught us about the HTHSOE plan for congregational evangelism. As a congregation, we had the opportunity to receive five names. Starting tomorrow, each one of these five contacts will be receiving five compassion cards each day for the next four weeks. Twenty-two of our members wrote compassion cards.  Next week, more will continue with different members. Meanwhile, TJ Gifford, our preacher, presented our second sermon on John 4. Next week he will present the first of three lessons on BTTB, utilizing the power point provided by HTHSOE."
Monroe church of Christ, Georgia: Charles Harris (regional instructor) reports, "My wife and I began a few studies last week, and they went well. We will continue studying with the same souls this week. One family visited our service because it was Easter. They had randomly chosen us to visit because we door knocked their neighborhood recently. I added them to the card list. The same family came back to services yesterday and expressed thankfulness for all the cards. They brought three more souls with them. After ignoring a comment from a member who said that the Easter and Christmas visitors do not really care, we now how a possibility to study with seven souls."
Carrollton church of Christ, Georgia: Dave Leonard (preacher) reports, "We are continuing to focus on moving our contacts to our prospect list and sending cards, and we hope to follow up with personal visits focused on setting up studies. Next Sunday, we plan to start going through BTTB as a congregation, so we can learn how to lead someone through a Bible study.  We will use the short instructional videos on the website to remind and guide us in the most effective use of each step of the program."
Lafayette church of Christ, Georgia: Jessie Teague (deacon) reports, "Sunday evening, Group 2 met to fill out compassion cards. About 16 folks filled out cards. It was a blend of previous cards plus new movers visits. Our Elders are organizing visits. One response was encouraging. Bill Pickle, who is not a Christian, had surgery. He is recovering very well.  He said he never knew if prayer really worked, but after all the cards he received telling him that folks from the church of Christ in Lafayette were praying for him, he had a renewed belief in prayer. He lives a distance away, but we have a starting point with him."
Honolulu church of Christ, Hawaii: Tagiilima Esene (regional instructor) reports, "Aloha from the Honolulu congregation. We are happy to introduce Bobby who was invited to church by Rick several months ago. He has been visiting with us since then. Today, after our study, Bobby made the decision to be baptized into Christ. Praise the Lord! Rejoice, Church!
"Every Sunday before our Bible class begins, we pray for all the names of the people on our bookmarks. Our members have been given the new training cards as a reminder that our auditorium on Sundays is one of the main places for evangelism.  The training cards teach and remind us to ensure we greet our visitors and gather contact information. A few of our visitors are being prospected with the offer of a meal invitation. One of our groups continues to work with our New Movers program. Please continue to pray for us."
Jerseyville church of Christ, Illinois (digital): Jake Medford (preacher) reports, "We did the lesson on the wedding feast and organized groups for the card campaign. We have a contact list to add to our HTH mailings, and now we are moving on to the Back to the Bible trainings!"
Coldwater church of Christ, Murray, Kentucky: Luke Puckett (preacher) reports, "This week we sent cards to a contact who has cancer. We have sent several cards over the past several weeks to her. We plan to follow up with her; we hope to study with her soon. We are also continuing to focus on those in our own pews who are not Christians."
Edgewood church of Christ, Maryland (digital): John Wilkie (minister) reports, "We saw God working when we had two baptisms this weekend. Stevenson Christian was baptized on Saturday, and Elijah Francis was baptized on Sunday. Stevenson Christian is an older man in his 60's who studied Back to the Bible."
LaPlata church of Christ, Maryland (digital): Eric Sykes (regional instructor) reports,  "We had a good turnout for the Evangelism Training Seminar this weekend. About 60 members attended.  Members from several local congregations attended as well, and they may be interested in a presentation of the evangelism training at their congregations. Ms. Malnati worshiped with us again this week. One of the sisters has befriended her and will visit her later in the week.
"My son and his wife completed Lesson 2 of Back to the Bible with one of her co-workers and her husband. They have scheduled Lesson 3 for later in the week. We completed Lesson 3 with our elder's daughter's fiancé; he said he was close. We will study Does it Matter? with him this Thursday.
Samford church of Christ, Steele, Missouri: Kyle Imel (deacon) reports, "We visited 14 contacts last week and have one active study and one that will happen soon. We have just over a ten percent success rate. The other studies are from Jeannie's husband and her daughter's boyfriend. I visited one that will be in a study soon. What she said was amazing (answered prayers no doubt). The three questions worked exactly as we hoped. She quoted many verses that we will study in the book. I got chills. She and her husband would have studied immediately, but she recently had a leg amputated, and she gets dizzy when she sits up in bed. I am 100 percent convinced that God answers prayers in a big way when it comes to evangelizing people."
West Hwy 160 church of Christ, West Plains, Missouri (digital): Marvin Hatley (elder) reports, "The congregation continues to work the evangelism model. We are using Bible bookmarks to identify contacts. Contacts are transitioning into prospects, especially through our compassion card efforts. The congregation has been devoting time and effort to the cards, sending about 126 cards this week. Transitioning to personal Bible studies is becoming more focused and intentional as Transition Thursday participants learn from each other's experiences. May God continue to bless the efforts of all involved in bringing the Gospel to the lost!"
Fordland church of Christ, Missouri: Josh Romo (preacher) reports, "We continue to send cards and receive very positive feedback from that effort. We plan to visit our prospects soon. We began our gospel meeting yesterday with Chris Butler studying the topic "Precious Faith" to motivate evangelism."
East Flushing church of Christ, New York (digital): Clarence Jenkins (preacher) reports, "By God's grace, we are continuing to send out compassion cards, and we have several ongoing Bible studies. We are also corresponding with a prospect who requested to be enrolled in the HTHSOE and have sent booklet number one to eventually have a virtual study.  We appreciate all prayers for our efforts in reaching the lost."
Carthage church of Christ, North Carolina (digital): Randy Chambers (preacher) reports, "We had one class cancelled last week. The prospect has become less available and has decided to visit her "old church" this past week. There is still communication but less availability.  My wife continues to stay in contact, reminding her of the things that were taught and received as God's truth.
"We are working with our new converts, teaching them to observe  'all things' commanded by God. We sent out compassion cards to contacts, and a wayward member was brought to our attention by a Christian visitor from Virginia. We are bringing new members and old that did not finish the SOE curriculum up to date. We shared the, "Let's Get It Started" video with them today.
"We have three new classes scheduled to begin this week using the BTTB Series. One is a virtual study with the daughter and husband of a member that was baptized on the first Lord's Day this year. We are thankful to God and give Him the glory for His wonderful grace. We are grateful for the brethren whose encouragement and prayers truly make a difference."
Hermitage church of Christ, Pennsylvania (digital): Mike Bevridge (preacher) reports, "Scott discussed the bookmarks with the congregation at the end of services yesterday as a follow-up to last week when they were distributed. He encouraged everyone to add ten names if they have not done so already. He asked the congregation to look at the back of the bookmark and  review the various situations stated there. Anyone on the list who meets one or more of the criteria on the back should be placed on a contact card.  We now have our first contact. Jerry preached the second lesson from the seminar.  Of course, it was excellent. The ladies have prepared three welcome baskets to have ready. My wife Kathy now has the Evangelism Process Charts framed. They look good. The next step, of course, is to hang them on the wall."
Madison County church of Christ, Jackson, Tennessee: Steven Sprouse (preacher) reports, "We received another letter thanking us for the cards and support. During our Wednesday night class, we are studying Fishers of Men by Bobby Bates. This past week we have had three Bible studies. One study was initiated by the back door method, and the other studies are due to compassion cards."
McKenzie church of Christ, Tennessee: Chance Steen (preacher) reports, "A new round of prospects have been chosen, and Group A will meet this Sunday to pass out cards. We are confident that more will become involved from this group and also from the next. Once the simplicity of the program has been seen, others should step forward to participate. In addition. I have been teaching the Back to the Bible class (how to study with someone using the material) on Sunday mornings and Wednesday evenings. We should finish all three books this next week.  Within each class, many questions were asked how to study with someone and how to handle questions asked by the student."
Hillsboro church of Christ, Tennessee: Shelby Moorman (preacher) reports, "We are  working with several contacts/prospects. We request prayers specifically for Levi and Tyler Stone. Yesterday, we delivered a basket to them, and they came to services tonight. Lana and I took them to Logan's. There is REAL potential for conversion here. They are newlyweds and recently bought a house in Hillsboro."
Karns church of Christ, Knoxville, Tennessee: Terry Clark (elder) reports, "Allan, one of our members,   has been studying with a contact named Derrick. Allan recently completed Book 3 of BTTB with Derrick. Some days passed, so Allan was planning to follow up, but before Allan was able to call, Derrick contacted him and asked for a ride to church Sunday night because he wanted to be baptized! We rejoice that Derrick was baptized this past Sunday night! We give thanks for our new brother in Christ, and we are thankful for our brother Allan who shared the gospel with Derrick."
White Oak church of Christ, Chattanooga, Tennessee (digital): Austin Fowler (regional instructor) reports, "Things continue to progress well at White Oak. We have sent cards to our new movers for the month of March on Wednesday night. We are still prospecting visitors and hoping to move them to the next step of a Bible study."
East Main church of Christ, Murfreesboro, Tennessee: Brad Rowley (elder) reports, "We are excited to report the baptism of Blayze Hargrove. To God be the glory! Blayze was baptized Wednesday by his grandfather, Wayne Liggett. We are thankful to have men like Wayne who has been very involved in multiple evangelism strategies; he is a great example for all of us at East Main. Last week we did not have any new contact cards. Our compassion card team number 3 wrote 70 cards. We had one Bible study last week. We are still hopeful for a couple of new Bible studies that should start this month."
New Union church of Christ, Manchester, Tennessee: Paul Fulks (elder) reports, "At New Union, we continue to review the bookmarks at the close of Sunday morning worship services. We ask members to submit contact cards for those who have had events occur in their life causing them to need compassion shown. We also include others we know (friends, families, and neighbors) in that same situation.
"We have congregational prayer specifically for those we are prospecting. Our members have been very consistent in completing and submitting new contact cards. This week we had four contact cards submitted.
"Card Team 3 met after Sunday evening services and completed 60 compassion cards. Last week, five members made five follow-up visits and contacts. Five new mover baskets were delivered this week. Three cards were sent to new movers who seemed receptive to attending. Additional new mover baskets were assigned to be delivered. We had three visitors on Sunday from the community.
"Two of our elders and our preacher meet every Monday for Mission Mondays to review contact cards and visits and make plans for follow-up and visits during the coming week. We also reach out to specific members to include them in assigning visits and follow-up. We use a spreadsheet to track contact cards received, compassion cards written, follow-up visits, assignments, and other pertinent information."
West End church of Christ, Knoxville, Tennessee: Adam Wilson (member) reports, "Nelly and her three children recently fled a bad situation in another state, and they are living out of their car in Knoxville. Denise McCallister and Heather Rutan (office staff) have developed a good relationship with the nearby high school and the counselors there refer families in need to West End. The church was able to supply Nelly with food and gas. The family joined us for worship Sunday, and several members were alerted to meet them via our visitation team group text. Heather and another family took Nelly and her children out to lunch and then spent the afternoon together. Please pray that the troubles Nelly left will stay away, that her family can feel Christ's love through the church, and that she will agree to a study that will lead her and her entire family to Christ. "
Bargerton church of Christ, Lexington, Tennessee (digital): Robert Pruett (member) reports, "We started our card writing ministry and will be sending out cards this week to our recent visitors thanking them and inviting them back. We are also working on welcome bags for visitors and the new movers program. We will be completing the advanced lesson next Lord's Day."
Highway 95 church of Christ, Taylor, Texas: Benjamin Dossey (preacher) reports, "We have had a great week. We rejoice because this past Wednesday evening, the Lord added Johnny Hall to the church through baptism into Christ. Additionally, we have a Bible study set up for this coming Wednesday evening with a friend of one of our members. This coming Saturday, we have our next meeting regarding our upcoming VBS as well as delivering new movers baskets to those new to the community."
Southwest church of Christ, Austin, Texas: John Garza (regional instructor) reports, "Last Friday, we utilized the students for a door-knocking day, using the special edition of HTH. We had a few interested prospects, and we will continue to reach out to them."
Fruitvale church of Christ, Texas: Carl McCann (elder) reports, "Our efforts to follow the Evangelism Model have led to opportunities for more involvement in people's lives. This includes sharing contact information with sister congregations who will use the Evangelism Model in their community. Our prayers are for the families who are impacted to find help and comfort in the Truth of God's Word."
Midtown church of Christ, Victoria, Texas: James Cammock (deacon) reports, "Our evangelism efforts continue to move along. We have a good, regular attendance in our Fundamentals of the Faith class. Also, I am writing a summary of each tool on our evangelism table for our weekly bulletin. I pray that these summaries will further prepare our brethren to use the material effectively."
Lackland Terrace church of Christ, San Antonio, Texas: Greg Campbell (preacher) reports, "Today we started a Back to the Bible study and, we will be switching to Believe the Bible study next week with the same person. We are hoping to get more soft contacts and do better with follow up of old contacts. Please continue to pray for us at Lackland Terrace. Also, one of the elders preaches at Lackland Air Force Base every Sunday. Another brother and that elder would like to hear any recommendations or best practices for using Back to the Bible in large groups. Though BTTB is geared toward personal Bible study, we want to know if we can apply it to groups."
Schertz church of Christ, Texas: Jay Stewart (elder) reports, "This week we began our spring Gospel meeting with Glenn Hitchcock. We had a few visitors and some that stayed for our fellowship meal that followed. Our contact efforts continue, and we are gaining ground on setting up a Bible study with a family that has attended for several weeks now. During the fellowship meal, we thanked Stan Crowley for his 20 years of service to the congregation. Next week will be Scott Springer's first day in the pulpit as our full-time minister."
Central church of Christ, Martinsburg, West Virginia: Robert Veil (preacher) reports, "We had two responses yesterday; one was a confession of very serious sin by one of our members. This has been consuming much of our time and energy, but it is good that it has finally been acknowledged and publicly confessed. We look forward to moving on in growth and progress."
NOTE: These reports are from Christians and congregations enrolled in the House to House/Heart to Heart School of Evangelism. These emails are sent to teach and provoke one another to remain focused on the mission of Christ. Each week, we share several reports and highlight one with more details. We hope you enjoy reading them.