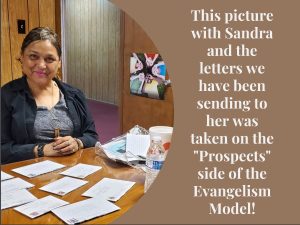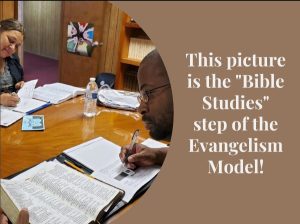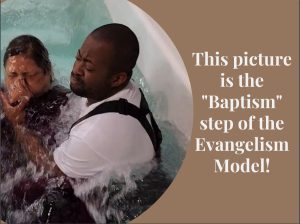 Reaching the Lost- Success Stories
Statistics
Total baptisms (2018-2022) reported from U.S. Congregation: 2,345
Total Seminars Conducted (2018-2022): 181
Personal Seminars in 2023: 9
Digital Enrollments for 2023: 20
Total baptisms reported from U.S. Congregations, 2023: 215
Upcoming Seminars
April 2-4: Dellrose church of Christ, Tennessee
April 14-15 Blanchard church of Christ, Louisiana
April 16-18 Graceton church of Christ, Texas
April 19-21 World Video Bible School, Maxwell, Texas
April 22-23 Bridgewater church of Christ, Katy, Texas
Featured Work: Lackland Terrace church of Christ,
San Antonio, Texas

Editor's Note:  The work of Greg Campbell at the Lackland Terrace church of Christ has been nothing short of phenomenal. During our training at the Southwest School of Bible studies last year, Greg was a student preparing to begin a new work at Lackland Terrace. I know this congregation as it lies in San Antonio, near where I was raised. Greg and his family demonstrated a determination to focus on evangelism.  It has not been an easy road. It has taken Greg time to train the congregation and show them a better way. He has overcome distractions and obstacles with multiple baptisms and growth. His report this week is a complete conversion story that inspired us at HTHSOE..
The "Huge" Effect of Compassion Cards
Written by Greg Campbell
Sandra Torres came to Lackland Terrace church of Christ as a regular visitor and was added to the compassion card list. She believed that she was a member of the church as she had been baptized multiple times. She wanted to place membership. When asked if she was a member of the church, she said she wanted to be a member of this church, as in this assembly (but not necessarily the kingdom of God—such is the case with denominationalism).
I asked if she would be willing to have a Bible study, and we studied Book 1 with one of the elders. We knew that her baptism could bring some challenges because she had surgery on her arm recently. However, the Bible studies had two weeks in between which afforded more time for her surgery to heal. Unfortunately, on the morning we studied Book 3, she had seen the doctor to test for things that she may be allergic to. The doctor put eight patches on her back, and they were not supposed to get wet for a couple of days. She was told that if they were to get wet the test would be over and they would need to test her again.
We called Rob for help, and he advised us to waterproof the area. We thought it might keep her from following through, but when she learned she was not yet saved, even after multiple baptisms, she understood the urgency of being baptized though she was worried about her patches. We were willing to wait if she wanted to wait until the patches were removed. She wanted her sins washed away. Therefore, three sisters (one who is often at the building doing whatever she can, the secretary, and my wife) waterproofed her patches and prepared her for baptism. She was baptized and very grateful. We have seen God do some amazing things in the hearts of those who believe and trust Him!
Sandra made a point to mention all the cards she received from us. She kept them and even brought them with her to the Bible study! Sending compassion cards is making a huge impact! It is a work of love that is luring souls into the arms of Christ! Please continue the good work you have been doing. This is one of the ways that we store treasures in heaven (Mt. 6:19-21), by storing souls in the House of God, the Church (1 Timothy 3:15). Brethren, this works. Continue to pray and continue to write compassion cards, and please continue to care about lost souls enough to get them in a Bible study so they may learn what the Lord expects from us."
Congregational Reports
Welcome Dellrose church of Christ, Tennessee:  We want to welcome the Dellrose church of Christ to the House to House/Heart to Heart School of Evangelism. We were very impressed with the attendance and focus of the members. We look forward to hearing from them soon.
Glencoe church of Christ, Alabama: David Marker (elder) reports, "This past Sunday we had a fellowship meal after morning services, and we utilized that as an opportunity to invite our contacts. We had visitors that we will be following up with. Also, we met this past week for Transition Thursday. We discussed the contacts that we have sent compassion cards to and made assignments. We are still gathering information from those visits. We have made some progress on one of our benevolent projects and Lord willing, we hope to pursue a Bible study."
Chase Park church of Christ, Huntsville, Alabama: Pat Cowden (evangelist) reports, "We have had several visitors over the last few weeks. On Saturday, we had one of these couples over to our house to eat (always eat) and to study. It went very well and are excited to see their interest in spiritual matters. We are at the conclusion of a study with a couple that should come to a decision point about Christ in the next week or so. Also, I have a study with a friend of the congregation who is extremely sick and whose house/property was hit by a tornado last week. We had several people show up at their house the next morning to chainsaw up some downed trees and clean up storm debris. The family was/is extremely pleased with the compassion shown them while multiple things hit all at once in their lives. Please pray for open hearts to receive and obey the gospel and for all our efforts to glorify God in a way pleasing to Him."
Hatton church of Christ, Alabama: Chris Miller (preacher) reports, "Studies continue, but in addition we got to see and hear more of the influence of this effort which will impact years to come.  With Lads to Leaders approaching, one of our young men, Bret Smith (11), is giving his speech which he wrote about Rise Up and Build.  In this speech he details the effort he learned from the school of evangelism and mentions what Rob taught down to the details.  His closing statement is to do the work of an evangelist!  We know the process works, and it's awesome to know the younger generation gets it too in order to carry it forward."
Fayette church of Christ, Alabama: Kaleb Hall (preacher) reports, "We are doing well brother… our teams are functioning better than ever. We are doing benevolence and follow ups on prospected souls. Participation on Mission Mondays has been excellent, and we are geared up for our first door knocking since having the seminar. It will be in two weeks in preparation for our Gospel Meeting."
Jacksonville church of Christ, Alabama: Keith Ritchie (preacher) reports, "Jacksonville had a visitor by the name of William Whitaker. William will be studying with me tomorrow morning at 11 A.M. William has also given me the name of another contact, Daphne Cunningham. At 2 P.M. I have a study with John Valdez, an 84 year old war vet. Tierra Harmen, a contact has come back to be with us again. We took Tierra out to eat to establish a relationship with her and she received so many cards. We are hopeful to have a study with her soon. Please keep our efforts in your prayers."
Mossy Head church of Christ, Crestview, Florida (digital): Phillip Gaither (member) reports, "We are scheduled to have internet installed on April 6th. We are watching lessons using the thumb drive.  We just watched the congregational plan."
Lake City church of Christ, Florida: Jim Flegert (elder) reports, "Another progressive step this week as we continue to focus on and develop the evangelism plan presented by the recent seminar. Our preacher TJ covered part one of John 4 during our morning worship. Sunday evening he presented the power point lesson covering the HTHSOE congregational plan. After the presentation members had the opportunity to sign up on 6 separate sign up sheets. The six categories included: GREET VISITORS, COMPASSION CARDS, HOSTING MEALS, MISSION MONDAY, BIBLE STUDIES, and
MISCELLANEOUS. As of this report we added three more coordinators for our program bringing our coordinators to five."
Peachtree City church of Christ, Georgia: Lew Foshee (elder) reports, "We have collected several contact cards from the congregation, and we are currently in the process of developing our prospect list from the cards received. Our compassion card coordinator and her team are continuing to mail cards to individuals that have been identified, in addition to members that have fallen away.  We are diligently working to assemble our entire team of coordinators, and Stan is continuing to preach the series of lessons on John 4."
Carrollton church of Christ, Georgia: Dave Leonard (preacher) reports, "104 cards were mailed out last week for our first week of compassion cards and we are already seeing some great results.  A family that had been unfaithful for a few months were restored on Sunday!  We also received an appreciation note from one of our prospects who is going through cancer treatments.  She expressed her gratitude for the thoughtfulness and prayers of the church.  Another batch of cards is going out this week and we are looking forward to following up!"
LaFayette church of Christ, Georgia: Jesse Teague (deacon) reports, "Team 1 met after Sunday PM services. We had 10 names of erring Christians to send compassion cards.  One had been disfellowshipped and the elders gave instructions specifically for that brother. There were 3 additional names for "group cards." We had 18 members working on the cards.  The new system with preparing cards early and having them ready is working well! Godspeed!
Beattie Road church of Christ, Albany, Georgia: Brian Howard (preacher) reports, "This past Sunday we studied Book 2 of B2B with Joan Kosola and her daughter Kristen. Joan visited a few Sundays ago and said she was seeking. Without the follow up phone call made during the week, it is very likely the first study would not have happened. She was hesitant, but persistence paid off. I offered to study with her during the Bible study hour on Sunday mornings, which has worked out very well. Please pray we can continue studying and that they will make the decision to obey."
Rabun County church of Christ, Tiger, Georgia (digital): McKinley Pate (preacher) reports, "Our members continue to invite others to come to services and are always looking for ways to show compassion.  Recently one of our members struck up a conversation with a person over a game of pickle ball.  The person had recently moved to the area a little over a year ago and was fed up with the way religion was headed.  She felt that her denomination was ousting God and embracing sin.  She stated that she wanted to find a church that stayed with the Bible.  Our member saw the opening of the door and invited her to services.  She came and was greeted with love and now we are in the process of sending cards to her.  We continue to send out House to House and have our advertised meal with "the preacher" at a local restaurant each week.  We also continue to study with the new convert and his love for God and new found appreciation for the truth continues to shine.  His fire for evangelism is contagious and is lifting all up.  To God be the Glory!"
Honolulu church of Christ, Hawaii: Tagiilima Esene (regional instructor) reports, "Aloha from the Honolulu congregation! We continue to pray for our new mover's program to produce contacts. One of our church groups delivered some welcome bags for those souls who have recently moved into our community. Currently, we only have one ongoing Bible study. The soil is good, and soon this study will come to a close. Our other two studies are currently on hold and are to be continued at the proper time. This week we had a visitor from the local community who decided to come in person after checking us out via our zoom services. He shared that he really enjoyed our services and the lessons he heard. A meal invitation will be extended this week to this visitor. This would be the third visitor (locally) who has visited our congregation after zooming in on our services. Zoom is one way we are receiving visitors. The main highlight this week was honoring our Senior Saints. Our senior saints are an important part of the work that we do. We had several local visitors join us during this event. Contact information was collected and prospecting will begin. Please continue to keep us in your prayers."
Jerseyville church of Christ, Illinois (digital): Jake Medford (preacher) reports, "We completed the second lesson on John 4 this past Sunday. We are working through the checklist and have the cards out and ready. We will start on our congregational list next week and we are combining our contacts from previously completed efforts."
Beloit church of Christ, Kansas: Dustin Dougherty (regional instructor) reports, "We had our book 3 study on Friday with the couple that I'd been studying with.  When we did the pre-study survey, he had selected that salvation came before baptism, which I internally questioned, but figured we'd address it when we got to book three.  When we got to page 5 under the What Must I Do to Be Saved? heading the question of "At what point in your conversion experience where you saved?" he wrote at or during baptism.  When we got to page 9 with Romans 6:3-5 and were answering the questions I told them I wanted to go back and review their answers from page 5, that is when I saw he had marked at baptism.  I brought out the survey and asked him to clarify his answers, he was bewildered that he had marked before as he knew better when he was baptized a few years ago and had answered all of the salvation questions correctly when answering the questions in book 3.  So it was a great study with a brother and sister who are setting a great example to their 2 small children.  I'm still working on cultivating several, praying it will lead to studies soon."
Paintsville church of Christ, Kentucky: Zach Collins (preacher) reports, "This past Sunday, we received wonderful news. First, a wayward member of many years responded to the invitation and decided to restore himself back to the Lord. This decision came as a result of cards that we had sent him in response to a recent visit he and his family had made to our congregation after many years. We also received news of a Bible Study that we will be taking part in next Tuesday with a friend of one of our members. Please pray for our restored brother and this Bible study next week!"
Parkway church of Christ, Fulton, Kentucky: Will Hester (preacher) reports, "We have had 3 restorations within the last week. We also have 2 potential studies on the way. In connection to all of this, our "RESTORE God's People" seminar takes in 2 weeks. We plan to cast the net far and wide with advertisements! Our hope is to gain contacts through this event and bring new souls to Christ! Please pray for this endeavor. The relaunch is still a work in progress, but we are well on our way!"
Coldwater church of Christ, Murray, Kentucky: Luke Puckett (preacher) reports, "We have been utilizing the online tools, which are great and helping us to focus on our goal. This past week we looked at those in our pews who aren't Christians. We identified some of our teenagers who haven't obeyed the gospel yet. I have set up a study with one of those teenagers. We will also try and set up a study with another one of them as well. We continued to send out compassion cards and following up with visits."
Aberdeen church of Christ, Maryland: Will Brown (preacher) reports, "We are overjoyed to report two ladies obeyed the gospel yesterday. Due to scheduling conflicts, I was only able to get through one lesson with one of the ladies. The other lady attended for several months and heard the gospel. Furthermore, the women are sisters of one of the members who continued the studies with them in my absence. It reminded me of 1 Corinthians 3. One of us planted and another person watered, and God gave the increase. This week was very encouraging for our church. We are on lesson two in the Sunday morning Bible Class. Pray that our Sunday morning plan continues to lead to more people obeying the gospel. God continues to do great things here."
LaPlata church of Christ, Maryland (digital): Eric Sykes (regional instructor) reports, "We are preparing to teach our first evangelism seminar at LaPlata.  We have been studying and preparing to provide the same quality training that HTHSOE represents. Please keep my wife and I in your prayers.
"In addition, I'm preparing to conduct lesson 2 of Back to the Bible this Thursday with my elder's daughter's fiancé. Me and Sandy took a visitor and her son to lunch Sunday. This was her third Sunday in a row visiting LaPlata CoC. She hung up on me the first time I called her. But after we sent her compassion cards for a few weeks, after the passing of her husband, and after we sent her cards thanking her for visiting…she's visited LaPlata three weeks in a row…she brought her neighbor for the first two weeks and brought her son this week. Her neighbor will be back next week. After lunch, she said she wants me and Sandy to visit her soon. We are going to take her up on her offer. Thank you for all that you do."
Samford church of Christ, Steele, Missouri: Kyle Imel (deacon) reports, "Tim started preaching the red book from BTTB series yesterday. We wrote compassion cards to 15 contacts. The men met yesterday evening to discuss the work. Regarding the study, we've been through the first two books. Sickness and his job has prevented us from doing third so far. We are also going through them with the daughters boyfriend. He's doing good. We have done them in Bible class on Sunday morning with him. I wasn't there last Sunday and they started the red book with Tyler (boyfriend) but didn't finish it. They had to leave for a commitment. He was not there yesterday. He lives about an hour away so we haven't finished it yet."
West Hwy 160 church of Christ, West Plains, Missouri (digital): Marvin Hatley (elder) reports, "Congregational training continues to progress on Wednesday nights.  Transition Thursdays have been well attended with members desiring to contribute to and set up personal Bible studies with prospects.  We are sticking to the model with optimism and prayer. Thank you for your continued efforts for the Lord's Kingdom!"
Fordland church of Christ, Missouri: Josh Romo (preacher) reports, "Began preaching from Back to the Bible book 2. Continue to send cards. We now have 17 on our Prospect list. We are trying to nail down when to do our first transition meeting. 104 cards were mailed out last week for our first week of compassion cards and we are already seeing some great results.  A family that had been unfaithful for a few months were restored on Sunday!  We also received an appreciation note from one of our prospects who is going through cancer treatments.  She expressed her gratitude for the thoughtfulness and prayers of the church.  Another batch of cards is going out this week and we are looking forward to following up!"
East Flushing church of Christ, New York (digital): Clarence Jenkins (preacher) reports, ""We continue to pray for the contacts on our bookmarks and send out compassion cards to contacts, new movers, and those on our HTH mailing list. The HTHSOE Certificate for reaching the goal of 10% of our membership in baptisms was presented to the congregation. We are encouraged in our efforts to seek and save the lost."
Carthage church of Christ, North Carolina (digital): Randy Chambers (preacher) reports, "Greetings brethren, we pray that all is well with the family of God. We had a productive week working together with God in His kingdom. Members studies with a husband and wife for several weeks which resulted in two souls being added to the church of Christ. The BTTB series was used for the studies, along with "How To Close the Study" and parts of Does It Matter.  Brother Bates suggestions to close using the Affirmative Technique worked.
The husband got it and he was ready but the wife needed Gentle Persistent (persuasion). After emphasizing the urgency of the matter, we were able to baptize Latosha and George into Christ for the remission of their sins and the Lord added them to the church. We welcomed them to the Work and the Fellowship and gave them a copy of "The Beginning of Your Confidence" book and invited them to be a part of our First Principle's Class on Sunday Mornings. They came and were ready to learn. We thank God for the Message and the Method that equips us to bring lost souls to Christ. Glory Be to God!
"We continue send prayers up for all the new converts, the brethren who is laboring tireless in the brotherhood, and especially to the Whitacre family for their love and dedication to teaching faithful congregation throughout the country, how to be more effective in our efforts to reach and teach the Lost."
Coweta church of Christ, Oklahoma: Keno Shrum (elder) reports, "Hi Rob, we finished lesson 3 with Lela and she responded with a desire to be baptized. She had been baptized earlier in life at a denomination but was taught she was saved before baptism. During lesson 3, she recognized that she was not baptized with a proper understanding of what the scriptures teach on salvation. She read 1 Peter 3:21 and became clearly aware that she needed to be baptized scripturally. We are so happy for her in her new journey with Christ! As always, you and your family are in our prayers as you train the saved to teach the lost!"
Rogersville church of Christ, Tennessee: Ethan Tate (preacher) reports, "This past week we had spent time with another family we had been sending compassion cards to. They are wanting to visit with us! We will be working closer with them this week to see how we can encourage them even more. We also had a group of ladies get together to care for a family in need in the community. We are hoping to begin a Bible study with them soon as we learn a little more and build a closer relationship. Please be praying for these and any who will be coming our way for the upcoming holiday. We will have a few extra visitor items prepped just in case."
Madison County church of Christ, Jackson, Tennessee: Steven Sprouse (preacher) reports, "We continue to hear good things about the church because of the compassion cards. On Sunday we had two groups of visitors. One from the cards. The church is excited."
McKenzie church of Christ, Tennessee: Chance Steen (preacher) reports, "Our final group met down front Sunday morning to start sending out cards for the week.  After this week we will begin to follow up to those we mailed cards to with a visit to their home.  We have had 2 baptisms last week.  Jakob Crgic & Kristina Addison put on Christ in baptism – Gal. 3:27."
North Bradley church of Christ, Cleveland, Tennessee:  Jeff Archey reports, "One of our new converts, Brenda and her daughter has put together are welcome bags to use as part of evangelistic outreach.
White Oak church of Christ, Chattanooga, Tennessee: Austin Fowler (regional instructor) reports, "I am out of town in Texas this week speaking at the schools of preaching in Texas about House to House. Luke Griffin was willing to fill in for me while I was gone. I am thankful he did so. He sent me a picture of the crowd on Sunday for Bible class. I looked to see who was there and noticed that we had a visitor come again for the second week in a row. Luke also texted me saying that there were a few more visitors that came for worship. I am excited about the one who came back. I believe she will be a great candidate for a Bible study soon. They also had 46 present for worship on Sunday! This is the second highest attendance we have had all year. We have been averaging 37 so this was great news to hear while I was gone."
New Hope church of Christ, Middleton, Tennessee: Cole Wade (preacher) reports, "I spoke to some of our visitors that have been coming for a while, and we are making plans to eat together very soon. The plan is for this meal to lead to a Bible study! Also, we have a very curious visitor who has many questions about the church, and plans are being made to set up a study with him. We are very busy, and we are continuing to foster good relationships with people!"
East Main church of Christ, Murfreesboro, Tennessee: Brad Rowley (elder) reports, "Sunday our compassion card team wrote 91 cards. As mentioned before the cards and the welcome kits are getting our visitors attention. Last month we had 5 new members. We have several more families that are visiting regularly. We had four new contact cards last week from our visitor strategy. Mark Isenberg started a new Bible study last week. We had a total of two Bible studies last week.
West End church of Christ, Knoxville, Tennessee: Adam Wilson (member) reports, "Never let what feels like a missed moment blind you from the opportunities that surround you. Matt Ward (member) and his wife, Kristen, put a friend of the family (cancer and loss of his wife) into the contact card ministry. By the time Matt and Kristen had hoped to study with him, Jim's health had declined to the point that he was no longer coherent. They chose to visit anyway, and they had the chance to meet Jim's relative, Cameron, a young man searching for God. Cameron asked if he could visit West End and then he joined us that Sunday. While Matt was showing him around the church, a "wingman" was introduced to Cameron and asked if they had started the three studies yet. Matt used that question to set up a time for study and they have already finished the first book! Please pray for Matt and Cameron. Pray also for Jim's family as he passed away last week."
New Union church of Christ, Manchester, Tennessee: Paul Fulks (elder) reports, "At New Union, we continue to review the Bookmarks at the close of Sunday morning worship services.  We ask members to submit contact cards for those who have had events occur in their life causing them to need compassion shown.  We also include others we know (friends, families, and neighbors) in that same situation.
We have congregational prayer specifically for those we are prospecting.  Our members have been very consistent in completing and submitting new contact cards. This week we had 4 contact cards submitted. Card Team 1 met after Sunday evening services and completed 52 compassion cards. Last week 5 members made 8 follow-up visits and contacts. Two New Mover Baskets were assigned for delivery. We had three visitors on Sunday to whom we are sending cards and will attempt to follow up with a visit.
Two of our elders and our preacher meet every Monday for Mission Mondays, to review contact cards and visits and make plans for follow-up and visits during the coming week.  We also reach out to specific members to include them in assigning visits and follow-up. We use a spreadsheet to track all contact cards, follow-up visits, assignments, and other pertinent information.
Covington church of Christ, Tennessee: Wayne Dalrymple (elder) reports, "This weekend served as another reminder of just how fragile this life is. We experienced tornadoes in our area that killed one and injured dozen others as well as causing major damage to property, including basically destroying an elementary school and a middle school. Our building and property sustained minor damage. We have a few members who sustained significant damage, but thankfully, no one in our church was hurt. We are now taking advantage of this opportunity to reach out to our community and show God's love to everyone. Our church building is the headquarters for serving food to volunteers and people who were affected by the storms. We shifted the time of our worship service Sunday morning to earlier so that we could get out and help with cleanup. Many of our members helped with cutting up and clearing trees from neighborhoods around our building. We had dozens of volunteers and displaced families come by for food throughout the day Sunday, and we are continuing to serve all week. I'm sure we will have opportunities to help some financially as well. We know of several congregations who are helping us this week as well, both physically and financially. Please pray for our church and our community. Pray that God will open doors for us to reach many with the gospel as a result of this."
Highway 95 church of Christ, Taylor, Texas: Benjamin Dossey (preacher) reports, "The congregation is excited about our ongoing efforts through the new movers program as we seek to build relationships with those who have responded positively to those efforts. VBS is also something that the congregation gets excited about with seeing little ones running around. A few of the prospects have young children, so we are hopeful that our upcoming VBS will be of interest to them and give us further opportunity to reach the community."
Northern Oaks church of Christ, San Antonio, Texas: Mel Hutzler (elder) reports, "We had a baptism Saturday night with Cristina Coronado being baptized. We appreciate her desire to do so. We also have a few other Bible studies taking place and another one to begin soon. Relationships are being made in prospecting and we continue to work in evangelism. We have HTH going out & the New Mover's Program continues. Visitor information is taken down steadily and many cards are being sent out. We attach evangelism to all our activities and have some events coming in the near future."
Southwest church of Christ, Austin, Texas: John Garza (regional instructor) reports, "Things are continuing to go very well at Southwest. We have seven Bible studies taking place with the lost. We have two new Bible studies beginning soon, one today and one Sunday. I have two friends in Austin that I began spending time with, and I hope and pray to get the opportunity to study with them. We are still working on four potential prospects at an assisted living. Last week, I met with a couple of evangelism coordinators to better fulfill reaching those who visit, and we have a good plan coming all together. At Southwest, we are definitely creating an intentional atmosphere of evangelism."
Fruitvale church of Christ, Texas: Carl McCann (elder) reports, "Our Missions Monday group met, with 18 people in attendance. We had a marvelous meal and discussed the importance of our mission. We are determined to do everything we can to help folks know and obey the truth. We are learning that "prospecting" folks can be a tedious task, but it is an important work that must be done. May God be glorified by our efforts."
Midtown church of Christ, Victoria, Texas: James Cammock (deacon) reports, "Last Friday evening we had our Family Game Night. In the spring and summer months we get together to eat and play games at the church building. In the spirit of doing all things with evangelism in mind, our elders encouraged the congregation to invite non-Christian friends and family to the event. Several people were invited, and one of them came! This visitor has also been attending worship, so it was great to visit with her outside of the formal worship setting."
Central church of Christ, Martinsburg, West Virginia: Robert Veil (preacher) reports, "We are in full swing in preparation for our annual ladies day this Saturday. This is an evangelistic opportunity, which usually draws ladies from throughout the region."
NOTE: These reports are from Christians and congregations enrolled in the House to House/Heart to Heart School of Evangelism. These emails are sent to teach and provoke one another to remain focused on the mission of Christ. Each week, we share several reports and highlight one with more details. We hope you enjoy reading them.