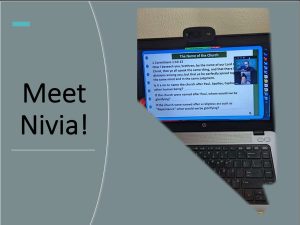 Reaching the Lost- Success Stories
Statistics
Total baptisms (2018-2022) reported from U.S. Congregation: 2,345
Total Seminars Conducted (2018-2022): 181
Personal Seminars in 2023: 4
Digital Enrollments for 2023: 20
Total baptisms reported from U.S. Congregations, 2023: 129
Upcoming Seminars
February 26-28: Carrollton church of Christ, Georgia
March 5-7: Peach Tree City church of Christ, Georgia
Featured Work: Our First Student Conversion
Editor's Note: The House to House/Heart to Heart School of Evangelism offers two enrollment options, individual and congregational (
evangelism.housetohouse.com
). Our student enrollment is open to all people. Almost all of these are Christians, but recently, we received requests from a few non-Christians. Obviously, we cannot train someone how to evangelize when they themselves need the gospel. Therefore, we require all non-Christians to go through a virtual study using
Back to the Bible.
These studies are taught by an HTHSOE graduate. We currently have three such studies. The report below will warm your heart and fill your spirit with joy.
A Digital Bible Study
Written by Ernest Benjamin
I was fortunate to be introduced unexpectedly to Nivia. Rob asked if I could conduct a virtual Bible study using Back to the Bible. There was a lady (Nivia) who wanted to enroll in HTHSOE. She was a member of the First African Methodist Episcopal Church in Los Angeles, California, but currently resides in Las Vegas. Knowing that I was affiliated with the African Methodist Episcopal Church prior to obeying the gospel, Rob thought I might be able to help Nivia feel more comfortable.
Rob sent her a copy of all three BTTB lessons and an email letting her know that she would be contacted by someone to set up a study. I contacted Nivia as soon as Rob gave me the green light. After a few introductory emails, we scheduled the initial study to be conducted via Zoom. The study went well. We were both able to put faces with names and learn a bit more about one another. During the study, we both had a copy of the BTTB lesson, but I also had a digital copy of BTTB on the screen to ensure that we were on the same page.
Nivia was humble, honest, and willing to surrender her will to God's revealed will in Scripture. After we completed lesson one, we set up our next lesson for the same day the following week. Once again, we were able to pray and study together virtually, even though we were many miles apart. I was able to learn more about Nivia, her family, and her background. The following week, after the completion of Lesson three, Nivia realized that she was lost and needed to be baptized into Christ. I called Rob, and he put me in contact with churches in her area. I reached out to the brethren there, and they were eager to assist in the saving of a precious soul. Nivia was baptized into Christ that same day, February 14, 2023.
At my local work in Chesapeake, I started a new study with a young man last Thursday.  I will conduct Lesson 3 with a gentleman tomorrow. Things could not be going any better. HTHSOE is providing us what we need to reach the lost in our community!
Congregational Reports
Glencoe church of Christ, Alabama: David Marker (elder) reports, "During our mid-week service, Brooks and I went over the instructions for visiting with our New Mover prospects. We felt that reviewing the material with the congregation would be more effective as we welcome newcomers.  We began on Thursday to make assignments, and we hope to finish up with those 42 contacts this week. Those visits are already paying off. Jared Whitacre gave a positive report to the congregation on the visits he and his sister Hannah made. The fact that a young man like Jared made the report has inspired some of our older members. On Friday night, one of our deacons, Ted Brooks and his wife, hosted a New Converts fellowship in their home. We had 19 in attendance, and seven are HOT contacts. Everyone had a good time playing games, eating, and enjoying each other's company. The Brooks were great hosts and made this an enjoyable night. Ted also teaches the New Converts class on Sundays, and we are getting good feedback from his class! We have a lot going on, but our energy is great, and the momentum is growing with the excitement within the church. There is nothing better than seeing Christian brothers and sisters working together to help build up the local church. We are working and praying for a great harvest!"
Hatton church of Christ, Alabama: Chris Miller (preacher) reports, "We continue to receive a lot of feedback from those receiving our cards and acts of kindness. Weekly we receive thank you cards that we read from the pulpit. Visits are consistently being made, and Bible studies are underway. I think the biggest hurdle to overcome for most who make visits is finding the courage to ask the three questions to get to the point of scheduling a Bible study. We are working on this issue, and through encouragement, we believe many will grow bolder in making this step."
Canal Heights church of Christ, Demopolis, Alabama: Bryan Cook (preacher) reports, "Our monthly door knocking efforts were thwarted by weather. Because of this cancellation, we made changes to our Mission Mondays. Prior Missions Mondays would have been cancelled if door knocking was cancelled. Now we are having our Mission Mondays regardless of door knocking, but we still schedule the two events to complement each other. One thing that has helped our congregation to stay on track with cards is asking the same compassion card question for four weeks. This puts the focus on the same people for the entire time. Our focus this year is to do a better job of measuring the numbers of Bible studies and push to increase that number. We are starting the training over from the beginning and rotating through the material again but emphasizing the online school more. That is still in progress."
LaFayette church of Christ, Georgia: Jesse Teague (deacon) reports, "We had a few of our core team out of town for a youth event and a marriage seminar (in Pigeon Forge), but we still kept the emphasis on building contacts and turning them into prospects. I believe the continued emphasis was significant. I am attaching a picture of our tables set up in the foyer. I have noticed some of the materials being used, and I hope that is an indicator of results to come. It is worthy of noting that the elders had some cleaning and painting done in the baptistry area. It looks brighter, better, and ready for use, showing expectations of things to come."
Riverbend church of Christ, Dalton, Georgia: Austin Fowler (regional instructor) reports, "Jason Duggin has been studying with his niece, Britney Bates. He studied with her over the phone. Wayne England, an elder at the Antioch Church of Christ in Columbia, Tennessee opened their building. Clay Bates, Britney's uncle, baptized Britney into Christ on February 4.  He hopes to start a study with Britney's brother Nick and his wife Mary. Jason Duggin's son, Lowry, asked Aiden to join the wrestling team. A month later, he asked Aiden to come to the church assembly. Aiden has been attending worship since. Three weeks ago, Lowry asked Aiden if he would like to learn about how to make sure he was saved. Matthew led the study, and Lowry was the partner. Aiden was a good student and was very receptive. Aiden was baptized into Christ after Lesson 3. His mother was able to attend, and although she has no religious affiliation. She was touched by his heartfelt decision."
Woodstock church of Christ, Georgia: Greg Garner (deacon) reports, "Our congregation meets on the Sundays to conduct the Actively Caring Teaching Serving workshop. The Compassion Group created 23 compassion cards and sent out ten cards last week. The Visitation Group delivered seven coffee stations to the new movers within our community. The Service Group is regrouping and working on more visitor cards. The Youth Prison Ministry had 13 girls in attendance. The Practical Applications Class had eight attendees. WCOC met two visitors yesterday who had been invited by Matt Amos."
Monroe church of Christ, Georgia: Charles Harris (regional instructor) reports, "Two studies in completely different settings have produced the same results. Ephesus Hopkins contacted HTHSOE a few weeks ago. He is a member of the Church of God denomination. We were able to do a virtual study of BTTB 1. (He lives in Maryland, and I am in Georgia.) The study went well, and he is reaching out to family members and friends to see if they would be interested in studying Book 1 with me as well. Ephesus and I are scheduled to study Book 2 this week. Congregational Evangelism is taking off here. Recently we advertised a Bible correspondence study in the local newspaper. Several signed up. We are using material that Allen Webster put together. Carolyn Coleman is one soul who signed up, and she has developed interest in a one-on-one study. Since then, she has gone over the material with her neighbors. Hopefully, I can study with them soon as well."
Adairsville church of Christ, Georgia: Rick Lawson (preacher) reports, "Austin Gunnels studied Back to the Bible with his coworker, Jeff Dunn. Austin brought him to the building on Saturday evening and baptized him into Christ! Timothy Gunnels (pictured with his dad and sister, Anna) led, This World Is not My Home while the men were drying off."
Honolulu church of Christ, Hawaii: Tagiilima Esene (preacher) reports, "Our eldership had a meeting Sunday to get our work groups up and running. The goal of the work groups is to help members become more active in service to the Lord. We have two Bible studies ongoing with many prospects in the making. We are also supporting the gospel meeting at the Wahiawa church of Christ this week."
Jerseyville church of Christ, Illinois (digital): Jake Medford (preacher) reports: "We finished the second lesson titled, Let's Stay with the Message using the video training series on Sunday. So far, we have two Bible studies scheduled. Please keep praying for us as we learn and grow."
Westside church of Christ, Muncie, Indiana: Mike Gors (preacher) reports, "Almost everyone who has received cards have expressed appreciation. We have only a couple of Bible studies so far. We continue to get a few contacts per week. We had a baptism that came from my Tuesday night men's group. The contact attended for a while. He was wrestling with deep denominational roots, but finally said he wanted to be baptized correctly on January 11. We had a Bible study set up that a lady in our congregation scheduled, and she asked me to conduct the study. That study is progressing slowly. We also have a Bible study with a man who has been attending for a little while. Our progress is steady and positive; baptism is eminent. There is a young lady who has been attending with a boyfriend now for about a month. She is interested in a study, but we have had scheduling issues. I will be at CYC when she is available. So, I continue to text with her, and we hope to schedule a study when I return from Tennessee."
Beloit church of Christ, Kansas: Dustin Dougherty (regional instructor) reports, "I am thankful to read reports with such awesome numbers. We were finally able to schedule a study on Friday with our new young couple. I am looking forward to the study with them."
Coldwater church of Christ, Murray, Kentucky: Luke Puckett (preacher) reports, "We focused on our four new converts to ensure their growth. The New Converts class is set up and working. We had one lady who contacted House to House for information. I took her the info she requested. We were unable to meet because she was sick, so I left the information on her door. We immediately created a contact card for her and began sending her cards. We will follow up with her."
Paintsville church of Christ, Kentucky: Zach Collins (preacher) reports, "One of the greatest blessings for a preacher is to see new converts serving. Our new converts are serving communion, reading Scripture, leading singing, and even delivering an invitation. Our new converts class has been one of the most exciting classes in the church! This past week, one of our new converts (Josh) met with a director of a school of preaching to pursue the future path as a preacher. Continue to pray for Josh as he seeks to find how he will be most useful in the Lord's church!"
Parkway church of Christ, Fulton, Kentucky:  Will Hester (preacher) reports, "The elders have decided that after CYC this weekend, we (men, elders, preacher, and deacons) will meet next Thursday to plan for a reboot of the program. It was the consensus of those who met on Sunday that we had failed in the implementation of several key areas. We will continue with the work." Editor's Report: We had our virtual meeting with this congregation on Sunday afternoon. The elders and preacher are committed to take what they have learned and re-launch their evangelism work using the new HTHSOE website. They did a great work last year, and now more souls will be reached in 2023.
Hwy 160 church of Christ, West Plains, Missouri (digital): Marvin Hatley (elder) reports, "Our congregation continues to train using the HTHSOE training materials. All three of our compassion cards groups have now had the opportunity to write cards. I have attached a picture that a prospect sent to one of our elders. It shows his living room wall where he is displaying the cards he received from us. He is overwhelmed and so appreciative of the concern that the congregation has shown for his on-going battle with cancer. His words last Thursday were, 'We received more love and words of prayer today.' The cards are definitely having an impact on this family. It is an amazing thing to see our congregation coming together to make personal evangelism its priority. Several Bible studies are still ongoing. May God continue to bless the efforts in our area."
Fordland church of Christ, Missouri: Josh Romo (preacher) reports, "I continued preaching from John 4, and we talked about how the bookmarks are going to work. We had a prayer for those listed on our bookmarks, and the elders have decided to use our second hour on Sunday to train the congregation over coming weeks."
Samford church of Christ, Steele, Missouri: Kyle Imel (deacon) reports, "Tim preached Lesson two from John 4. We silently prayed after the sermon for our contact lists. The leadership met to iron out details and answer questions. We will begin contact cards next week."
East Flushing church of Christ, Flushing, New York (digital): Clarence Jenkins (evangelist) reports, "We continue to pray for our contacts on our bookmarks. We passed out the new HTHSOE Visitor Training Cards to each member, and then we watched the corresponding RTL update video after worship services. The brothers began looking at the HTHSOE Leadership Curriculum together. Some logged into the program for the first time so that we may reboot, revise, and improve in seeking to save the lost."
Carthage church of Christ, North Carolina (digital): Randy Chambers (preacher) reports, "We sent out several compassion cards. We have two Bible ongoing studies using BTTB. We have had several visitors. We continue to encourage and teach the process. I have plans to teach new members and those that missed the training last year."
Linville Forest church of Christ, Kernersville, North Carolina: Kelly Brown (preacher) reports, "Yesterday, we had three baptisms. Bob and Linda Austin have been studying with one of our elders, Steve Hare. They decided to be baptized. Aubrey Shammel, a 12-year-old student, decided to be baptized after going through Back to the Bible in our Bible class. In the past three weeks, we have had four baptisms. I will send pictures."
Coweta church of Christ, Oklahoma: Keno Shrum (elder) reports, "We have been busy reaching out for Bible Studies. Jamie has been talking to our dog groomer about the Bible. We invited her to worship and to our house for dinner and a Bible study for quite some time to no avail. Jamie persisted with casual invites. Sunday, the groomer's mother came to worship service. Today, Jamie took our pooch back to the groomer and invited her and her family to dinner and a study Friday evening. This time they happily accepted, so we are looking forward to studying with them. Moral of the story: persistence pays off!"
York church of Christ, Pennsylvania: Mark Raschke (deacon) reports, "Jere and Debbie teamed up to visit one of our contacts who has been receiving our compassion cards. Fred and Pam attempted a visit to another contact. Two other teams will be going for visits this week. We have continued to send compassion cards and are still receiving new contacts from our members. We continue to receive thank you notes from those who have appreciate our efforts, and we are also working through correspondence  courses with one contact who cannot visit us currently. We continue to encourage an in-person visit, either at her place or at the church building. We have one gentleman who continues to visit after originally finding us via HTH and then receiving a few rounds of compassion cards. He has not agreed to go to lunch yet, but he did show up to Wednesday Bible study and was interested in Back to the Bible. He seems to be reading directly from the Bible on his own for the first time. There is another couple who are long-time attendees but not members. Fred keeps working on them, and the husband said that he is 'this close' to deciding about becoming a Christian. Please pray for Barry and Jenette to have softened hearts."
Madison County church of Christ, Jackson, Tennessee: Steven Sprouse (preacher) reports, "We sent out 100 cards last week to ten prospects. We are continuing our BTTB training and organizing for our first Mission Monday."
Bethel church of Christ, Martin, Tennessee: Brad Brewer (preacher) reports, "We have been beset the last couple of weeks with a great deal of sickness in the congregation. We have continued to send out cards to the New Mover addresses that we have received."
McKenzie church of Christ, Tennessee: Chance Steen (preacher) reports, "We had 3 baptisms this week.  Logan had been studying with his grandpa and on Sunday morning he asked me about baptism.  After our morning service, Logan responded to the Lord's invitation seeking to be baptized for the forgiveness of his sin.  Our second baptism happened on Monday evening. Chris has been attending with us for a while now, but recently began to question where he stood spiritually with the Lord. We talked on his lunch break about the Scripture. Chris called me when he got off work desiring to be baptized into Christ. Allie, one of our youth desired to be baptized Sunday night. At 10:30 Sunday night Allie put on Christ in baptism.
"Our members are on a mission to collect contact information. We hosted a dinner for the community—just come and eat. In so doing, we turned this into a true evangelism work. We managed to feed 137 people in our community.  All 137 names and addresses will be put into our card/outreach program. Please pray for our efforts."
West End church of Christ, Knoxville, Tennessee: Adam Wilson (member) reports, "Three more contact cards were received. On Sunday, the congregation prepared 150 compassion cards to be mailed to ten contacts this week. Jeremy Weekley (preacher) has been making strong connections during his follow-up visits, and a second contact has agreed to study with him! I admire and appreciate his dedication because it has taken several attempts over a couple of months to finally connect with this contact. The young adults at West End have embraced the Back to the Bible series, and it is so encouraging to see their efforts. Ty Sweeney (member) is on the second study with a classmate and her husband who has visited our congregation several times. Please pray for these studies and for our members to continue to find ways to study with the souls in their lives."
East Main church of Christ, Murfreesboro, Tennessee: Brad Rowley (elder) reports, "Last week we had one new contact. We had a total of six Bible studies. Our compassion card team wrote 90 cards last Sunday. We are looking forward to our next Mission Day; we plan to train more folks to help in the visitor strategy. We have a new couple who has decided to be identified with East Main. Our visitor team did an excellent job welcoming them. Mark Isenberg had four students in the new convert class."
New Union church of Christ, Manchester, Tennessee: Paul Fulks (elder) reports, "We continue to review the bookmarks Sundays. We ask members to submit contact cards for those who have had events occur in their lives that would show a need for compassion. We also include others we know (friends, families, and neighbors) in that same situation. We have congregational prayer specifically for those we are prospecting. Our members have been consistent in submitting new contact cards. This week we had two contact cards submitted. Card Team 3 met after Sunday evening and completed 50 compassion cards. Last week four members made a total of three follow-up visits. We had two visitors on Sunday, and we are sending cards to them. We hope to follow up with visits. Two of our elders meet every week for Mission Mondays to review contact cards and visits and make plans for follow-up during the week."
Covington church of Christ, Tennessee: Wayne Dalrymple (elder) reports, "We had more visitors Sunday than we usually have. Some were invited by friends or family, and at least one came on his own. His name is Shelvie Rose. He is an older gentleman who came by himself. When we asked what brought him to our congregation, he said he is searching for the truth. We cannot have a hotter contact than that! We will try to set up a study with him this week. Another couple came who are friends of some members. The husbands (visitor and member) had something to do after the service, but the wife, Claudia, stayed to eat lunch with a group of us at the building. We had a good conversation. She is a retired chiropractor, and several of our members know her. This couple is apparently not currently attending any type of church. I think this is a good opportunity as well.
"On Sunday evening, Jeff concluded his training with Does It Matter. He went through the last section about counting the cost. He stressed how we cannot assume that just because someone wants to be baptized for the right reason after the study that they will be faithful afterward. We must ensure they understand the commitment they are making to the Lord. After the service, Charles Wolfe and I went to visit his brother who has a form of Leukemia. We will visit with him in the future to prospect.
"On Monday, we met to write compassion cards to our visitors and several who are having health issues. One of the grown children of some members is married and has a son who is having some major health issues. He had to have emergency surgery Monday. Several members have visited them in the hospital. This grown son has not been faithful to the Lord, and his wife is not a Christian. However, they are currently participating in the Dynamic Marriage class led by members at our building. There has been positive progress in prospecting this couple, and we think they will be attending services regularly after the child is out of the hospital. We think we might have an opportunity to study with the wife. Please pray for open doors."
Greenfield church of Christ, Tennessee: Clint Monroe (elder) reports, "Group 3 is sending out cards to four families new to the community. The elders are coordinating the upcoming visits with new mover baskets for these families. We will be starting our New Converts class in April. We will start with five new converts to help them grow in the faith."
Bargerton church of Christ in Lexington, Tennessee (digital): Robert Pruett (member) reports, "We completed Lesson 2 today, using the video resources from HTHSOE. We were blessed with great attendance with many visitors. Our attendance was higher today than it has been in a while. Excitement is building, and it is great to see. We will start Lesson 3 next Sunday, Lord willing."
Freewill church of Christ, Gainesboro, Tennessee (digital): Andrew Scott reports, "We now have our evangelism room and table ready to go. My dad built the frame for the poster; it is just the addition we needed to enhance the room. The members have been engaged and are eager to learn more as we proceed through our training. We have a few basic lessons to go before we start training in Back to the Bible. I pray many souls will be saved. To God be the glory."
Northern Oaks church of Christ, San Antonio, Texas: Mel Hutzler (elder) reports, "We have multiple Bible studies going on at the moment. We have several members who are hospitable and are prospecting future Bible studies. We continue with our mail-out and new movers' program. We have training taking place each Wednesday. The card writing continues to go well, and visitor information is gathered all the time. We look forward to these Bible studies progressing so we can see more people come to Christ."
Fruitvale church of Christ, Texas: Carl McCann (elder) reports, "The Fruitvale church of Christ continues to WORK. We are working the plan and using the tools of the School of Evangelism. Our efforts have resulted in several visitors in the past few weeks, and our prospects appear interested in biblical matters, which is extremely encouraging. Pray that these prospects will turn into Bible studies with souls added to the Kingdom. To God be the glory."
Schertz church of Christ, Texas: Jay Stewart (elder) reports, "We established a training date for our door knocking on March 18 with the door knocking campaign to take place on March 25. We are soliciting volunteers and assembling our script and training material to make it as simple as possible on the members. Our other activities this week were member-focused encouragement and interviewing a prospective preacher to replace Stan Crowley. We are hopeful that we will have a replacement hired by mid-April."
Midtown church of Christ, Victoria, Texas: James Cammock (deacon) reports, "We continue to write compassion cards, and the brethren are becoming more and more familiar with the program. We are never short on contacts. We are adding our recent converts to the compassion card teams. We pray that this encourages them to think evangelistically and helps strengthen them in the faith."
Central church of Christ, Martinsburg, West Virginia: Robert Veil (preacher) reports, "We rejoice with the angels (Luke 15:10) that Tammy Dwyer was baptized for the forgiveness of her sins on February 13. Tammy had been studying with a couple of our members and is physically facing severe health challenges. She is unable to attend services in person, but she can tune in to our live stream broadcasts."
NOTE: These reports are from Christians and congregations enrolled in the House to House/Heart to Heart School of Evangelism. These emails are sent to teach and provoke one another to remain focused on the mission of Christ. Each week, we share several reports and highlight one with more details. We hope you enjoy reading them.