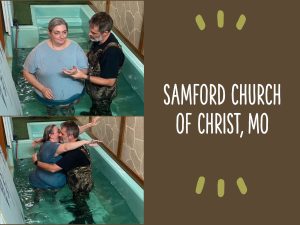 Reaching the Lost- Success Stories
Statistics
Total baptisms (2018-2022) reported from U.S. Congregation: 2,345
Total Seminars Conducted (2018-2022): 181
Personal Seminars in 2023: 6
Digital Enrollments for 2023: 20
Total baptisms reported from U.S. Congregations, 2023: 192
Upcoming Seminars
March 19-21: Lake City church of Christ, Florida
March 23-24: Florida School of Preaching, Lakeland, Florida
Featured Congregation: Samford church of Christ, Missouri

Editor's Note: Four weeks ago, HTHSOE went to Samford. The brethren received the training with great joy. The elders were completely engaged. They selected Kyle Imel (deacon) to coordinate the effort. He is doing an outstanding job. During a meal in his home, he mentioned a friend they wanted to teach, but they do not know how to approach her. We suggested using the "back door approach." It worked perfectly. We want to highlight the work they are doing and ask for your prayers.
A Back Door Bible Study
Written by Kyle Imel
"Jeannie brought up God every time we talked. She is the bus monitor on the school bus route that I drive. Because she talked so much about God, she was my number one prospect. I had no idea, however, how ready to hear the gospel she was.
"Rob came to the Samford church in Steele, Missouri, on February 5-7 to train us in the School of Evangelism. On February 8, the day after the Whitacres left, Jeannie began talking about God and the truth while she was on the bus. She said, 'I know when I find the truth, I am going to know it.' I was stunned by the way God was answering my prayer for an open door to present the gospel. I knew I had access to the truth, and I wanted to help her find it. I told Jeannie that we were starting a new project at Samford and asked if she would let me practice with her and go through these little books. She said, 'Yes,' and we set a date.
"The first meeting was on a Monday evening, and she sent me a text and asked if her daughter could come. Of course, I said yes, so now we were studying with two souls. I had burned the pork steaks I had grilled. After apologizing for the burned food and eating them anyway, we started Book one of Back to the Bible. She knew the information and did not disagree with anything. She came from a Baptist background and understood the difference between the two laws.
"During the second meeting, she was curious why the Baptists did not have elders, why they did not observe the Lord's Supper every Sunday, and why they were even called 'Baptist.' She asked people at the Baptist church, but none gave her satisfactory, biblical answers. You could tell she was beginning to question everything she thought she knew. Her daughter was there again and was curious.
"Last Friday we went through the third book. Her daughter was not there. We read 1 Peter 3:21, Acts 2:38, and Mark 16:16. I asked her if her previous baptism had been for the forgiveness of sins; she said no, she did not guess it was. I said, 'We can go right now and baptize you for the forgiveness of sins.' She laughed and said, 'Where are we going to go?' I told her we could go to the church building and baptize her, and she threw the pen she had in her hand on the table and said, 'LET'S GO!' So, we went! We never even got to the first close built into the book.
"We are going through the third book with her daughter this week, and we started a study with her husband this past Sunday when he came with her to worship. Back to the Bible works! There are people ready to obey; we just must show them the way. Jeannie is proof of that!"
Congregational Reports
Congratulations to Raz Conte, Seattle, Washington, HTHSOE Graduate:
"My son Glendon and Liezl got married 14 years ago. She considered herself a member of a Roman Catholic Church. During those years, I was able to conduct a personal Bible study with her twice, but she was not ready to be baptized. In February 2021, I heard about House to House Heart to Heart School of Evangelism. I ordered the starter kit and studied it diligently. I watched Rob's scheduled seminars on YouTube, and they made me more excited, so I ordered additional books and materials. I am convinced that HTHSOE is the perfect toolbox I can use to train others.
"My son's family spent Christmas with us December 2021. During those two weeks, I had the opportunity again to share the gospel using Back to the Bible. We finished the three lessons in three days. It was a great experience for me to practice using the booklets and the visualized charts that resulted in baptism. Liezl was baptized by my son in our bathtub because the church was closed and restricted due to Covid-19. Liezl now is a happy Christian and growing with the help of World Video Bible School videos."
Glencoe church of Christ, Alabama: David Marker (elder) reports, "We continue to challenge our members to be more involved, especially with submitting contacts. To keep our focus, we have introduced a virtual service on Tuesdays that allows us to learn more about the nuts and bolts of this process. So far, we have had good feedback. We are excited that we had a couple of visitors this past week as a direct result of following up with the New Mover program. We have a couple of benevolent projects that we are praying will pay off. The bottom line is that we have folks that continue to look for opportunities, and we are simply praying that God will bless our efforts!"
Hatton church of Christ, Alabama: Chris Miller (preacher) reports, "God continues to give the increase as Aaron Jones obeyed the gospel this past week. Several studies continue; visits were assigned at our Mission Sunday meal the first Sunday of the month."
Canal Heights church of Christ, Demopolis, Alabama: Bryan Cook (preacher) reports, "This last Saturday was our monthly door knocking day, and the weather did not knock us out of going this time. The weather was perfect, and everyone we met was glad to see us. We are planning our mission Mondays for the following days after door knocking. This will be our opportunity to do follow up on all the things we have been working on. This is a time to start members on the online evangelism school. We were worrying about the funds for the monthly mailings and had a generous donation to come in that will pay for much of our evangelism budget. Things are looking up for the church. God is showing us that He is still with us in our efforts."
Mossy Head church of Christ, Crestview, Florida (digital): Phillip Gaither (member) reports, "This past week we continued our training. We watched lesson three titled, What about the Manner? We are looking forward to mobilizing soon!"
Peachtree City church of Christ, Georgia: Lew Foshee (elder) reports, "We formally kicked off our evangelism effort in earnest on Sunday.  Our minister started a series of lessons on John 4, and he will continue those for several weeks. The elders provided an overview of the seminar at the conclusion of our worship service; they reiterated the importance of every person's role in our evangelism effort. They readdressed the evangelism model and discussed the importance and utilization of the HTHSOE bookmarks. Evangelism Model cards and HTHSOE bookmarks were handed out to every member of the congregation. Members were asked to prayerfully consider ten names that could be placed on the bookmarks and return the cards next Sunday. We are conducting an organizational meeting Tuesday night that will be comprised of our ministers and elders. The intent of the meeting is to delineate the steps that must be taken to organize quickly and then sustain momentum as we progress through the evangelism model. We will be diligently searching for congregational coordinators that can excel in each of the respective areas listed on the evangelism checklist. We have received tremendous feedback regarding the seminar, and there is a great deal of enthusiasm in the congregation about what can be accomplished. We are fervently praying that we will be successful in our evangelistic efforts!"
Carrollton church of Christ, Georgia: Dave Leonard (preacher) reports, "We used the material from John 4 Sunday morning to learn evangelism from our Lord. One of our elders encouraged us in listing our individual contacts and praying daily for them. We took time to quietly pray for our own lists, and then we were led in a collective prayer. The elders, deacons, and preachers met in the afternoon to discuss the program and to consider coordinators. We are excited and ready as we move forward."
LaFayette church of Christ, Georgia: Jesse Teague (deacon) reports, "We are adjusting a few things to fine tune what we are already doing:
Be more assertive about asking for names from the contact cards.
Have teams meet one Sunday per month rather than all at the same time.
Assign the organization of the cards during the team meeting to a particular person.
Assign a person to accumulate the prospect list data from compassion cards.
In the hopper, but not fully discussed yet, is having more regular meetings for the core team to start going through the training available on the HTHSOE website. If we have other members to add, the elders will give me the names, and I will forward them to you so the accounts can be set up."
Monroe church of Christ, Georgia: Charles Harris (regional instructor) reports, "Ephesus Hopkins and I will be studying again through Zoom Tuesday. We have communicated a few times since our last study, and he has a great interest in seeking the truth. In between our Sunday morning and evening services, we have been having an evangelism class titled, Sinners, Saints, and the Savior. We spent the first three classes going over things we can do to get a Bible study. We have covered the importance of having a contact list and prospecting those on the list as well as considering compassion cards and being a servant. We have covered techniques like learning to listen for words in a conversation that may help us transition to a spiritual conversation. We have stressed the importance of using the seven HTHSOE principles throughout the process of reaching out to the lost.
"We worked through BTTB 1 using the Map of Revelation visual. We are slowly working with the booklets and addressing ways to anticipate possible questions and how to handle them. Those in the class have expressed thankfulness many times. Several are gaining confidence about teaching others the gospel. One of my goals for the work here is to help change our culture into an evangelistic one. These evangelism classes are helping to achieve that goal. A few months ago, we started an addiction recovery ministry, using a biblical approach. We have weekly meetings at a local community service facility. I want to help souls overcome their addictions. However, the main goal of having these weekly meetings is to get Bible studies. Monday my wife and I will be studying BTTB1 with Angela; we met her recently."
Woodstock church of Christ, Georgia: Greg Garner (deacon) reports, "WCOC collected one contact card that we can prospect this week. Our congregation meets on Sunday evenings to conduct the Actively Caring Teaching Serving (ACTS) workshop. The Compassion Group created 26 compassion cards and sent out ten cards last week. The Visitation Group created 12 coffee stations. The Service Group is planning a service work for the next ACTS workshop. The BTTB Practical Applications Class had seven attendees. WCOC had one visitor Sunday for worship. The elders and the minister are continuing to contact the eight lost souls to discuss conducting Bible studies with them. WCOC has five Bible studies in progress."
Riverbend church of Christ, Dalton, Georgia: Jason Duggin (elder) reports, "I will be mailing BTTB to a nephew in Tennessee and to a teacher I had at a junior college. I hope to go over these materials by phone calls in the upcoming weeks. We have been sending cards and visiting Jason Sumner's mother, Carole. We hope to encourage her to come to the faith."
Honolulu church of Christ, Hawaii: Tagiilima Esene (regional instructor) reports, "Rejoice, Church! Another soul obeyed the gospel. Chelsea made the decision to put on Christ in baptism. Praise the Lord!"
Jerseyville church of Christ, Illinois (digital): Jake Medford (preacher) reports: "We have finished videos five and six this weekend. We had lower attendance than usual, but overall, we were encouraged. I believe we are ready to set up for the online access."
Beloit church of Christ, Kansas: Dustin Dougherty (regional instructor) reports, "I am so thankful for the overwhelming good news and great reports we see here. We had to postpone our Book 2 study on Friday due to sickness, but we hope to reschedule for this coming Friday. I will go to the McPherson church of Christ on April 30 to preach so the congregation can meet me. We hope this will result in a larger attendance when I go back to do a seminar a little later this year."
Paintsville church of Christ, Kentucky: Zach Collins (preacher) reports, "Last Sunday, we had a couple visit from a denomination. They have family members that are members of our congregation and had watched our live stream. Though the husband does not attend consistently, he liked that we preached a lot of Bible, and he wanted to visit our congregation. They were met with a new visitors' bag and will receive cards this week. One of our elders invited the husband, who loves to play golf, to join him this week. Please pray that we can continue to prospect this family and move them into a Bible study!"
Parkway church of Christ, Fulton, Kentucky: Will Hester (preacher) reports, "We are beginning the process of re-organizing all of our compassion cards. They will now be located within our library and easily accessible. Our plan is to make sure that we are better prepared to win souls. On an awesome note, I am about to begin a one-on-one Bible study with an inmate at Fulton County Detention Center. Pray for an open heart that is willing to hear the Good News!"
Coldwater church of Christ, Murray, Kentucky: Luke Puckett (preacher) reports, "This past week we continued to study with our new converts and are following up with them for possible new contacts. We sent several cards to some prospects and past visitors. We will continue to send them cards and follow-up calls and visits with hope of a Bible study."
LaPlata church of Christ, Maryland: Eric Sykes (regional instructor) reports, "We are going to conduct a gospel meeting-style congregational training. I will teach the first lesson, Let's Get Motivated, on Friday night with Lessons 2 and 3 Saturday morning, Lesson 4 on Saturday afternoon, and Lesson 5 on Sunday morning. Our Compassion Cards trial run is working well. A lady visited our congregation after we sent her a few dozen cards when her husband passed. She called me Saturday evening to find out what time worship service started on Sunday. She had been telling her neighbor about our congregation and how we greeted her when she visited a few weeks ago with her son and granddaughter. They came to worship yesterday and truly enjoyed the service. They promised to return. I wanted to take them out to eat, but with Sandy having Covid, I thought I should wait for another time. We will start the congregational training in the next few weeks. We cannot afford to miss opportunities. The harvest is plenty, and soon, God willing, we will complete the congregational training. The harvesters here will no longer number among the few!"
Kensington Woods church of Christ, Hattiesburg, Mississippi: Chris Donovant (evangelist) reports, "Last week we had five baptisms: Stevie Longino, Michelle Morrow, Hadleigh Stafford, Coleman Tipps, and last but not least, my favorite—Liam Donovant. So far this year, we have baptized 15. All of our studies are just coming together."
Hwy 160 church of Christ, West Plains, Missouri (digital): Marvin Hatley (elder) reports, "The congregation's personal Bible study training continues each Wednesday night using HTHSOE materials. Lord willing, Thursday will be our first Transition Thursday as we make organized efforts to transition our prospects to Bible studies. Our visitor-greeter training will take place this week, adding a vital element to our contact/prospect making efforts. Contact cards continue to produce a good number of prospects. Our Group 3 compassion card members wrote cards to 15 prospects Sunday. Our congregation desires prayers for the ongoing efforts to win lost souls for God's kingdom."
Fordland church of Christ, Missouri: Josh Romo (preacher) reports, "I preached from Matthew 22. We had our second leadership meeting. We are sending compassion cards to 11 congregational contacts, and we plan to have our visitor bags ready to go this week."
East Flushing church of Christ, New York (digital): Clarence Jenkins (preacher) reports, "The congregation sent individual compassion texts after worship service. They were sent to Karter as combined texts, with a picture of the congregation as well. We appreciate the love, prayers, and encouragement of Rob Whitacre and his family, the churches of Christ enrolled with the HTHSOE, and the Glencoe Church of Christ and their elders David Marker and Brooks Boyd. May we continue in prayer for Karter's recovery and the strength, support, comfort, and spiritual state of Taylor and Jarrod. Regarding Karter, Taylor sent a reply later Sunday night: 'Wow, we are overwhelmed with love and joy! We are so thankful for each one of you! We appreciate the prayers and support! You all have been so helpful in this very stressful time, and we are forever grateful for that! Karter is doing incredibly well, and his recovery is great. We are so blessed to have such amazing people reach out with loving hands through all of this! Again, thank you so much! We are forever thankful for you all and love you!'"
Carthage church of Christ, North Carolina (digital): Randy Chambers (preacher) reports, "We are encouraging the use of contact cards to establish relationships and find prospects in our local areas. We have two ongoing Bible studies with a family and an individual study. We pray that God will bless the efforts of the teachers and open receptive hearts from prospects. Please pray that we are able to get all our members on board and involved in this great work of evangelism.
Coweta church of Christ, Oklahoma: Keno Shrum (elder) reports, "We have begun a study with a wonderful woman named Lela. She visited a few weeks ago and has been attending every Bible class and worship service since. She has a strong desire to follow God, but she has a lot of questions that stem from all of the denominations she has attended throughout the years. We have another study with her Tuesday. I feel she is close to accepting God and responding scripturally. We appreciate prayers for her."
York church of Christ, Pennsylvania: Mark Raschke (deacon) reports, "We finished our second round of visitation to various prospects. We continued to write compassion cards, as has become our habit. Some volunteers donated supplies and put together new mover baskets for us. We had a prospect who visited for the first time, so we gave her a visitor basket. Fred continues to preach wonderful moving sermons about the need for evangelism and conversion via baptism, as taught in Scripture, each Sunday. We have had some powerful sermons brought by other men on Sunday evenings. Perhaps the best development this week concerns a prospect who has become a regular visitor. Originally, she found us via HTH, and then we gave her a visitor bag, compassion cards, visits, conversations at the building, and offers for meals. This Sunday, she asked how to become a member and agreed to a study on Tuesday. We laid groundwork to schedule studies with some teenage sons of a longtime member. We appreciate all prayers for our work to fulfill the great commission!"
Rogersville church of Christ, Tennessee: Ethan Tate (preacher) reports, "In the past few weeks, we have had multiple families visiting and sharing multiple meals. We have sent compassion cards for weeks and have now been asked by a contact for a Bible study! We are excited to have earned the Bible study and now we ask for prayers! We have had positive responses from others who have received cards. Lord willing, we will make visits this week to meet them and begin building relationships. Over the past few weeks, we have had lessons focused on seeing opportunities around us, and that has really helped the congregation make new contacts. We are excited for the outcomes of these things and ask for prayers as we continue to labor for God's glory."
Madison County church of Christ, Jackson, Tennessee: Steven Sprouse (preacher) reports, "We are visiting our prospects and getting prepared to implement the New Movers program. We hope to have a Back to the BibleBook 2 study soon. We continue to send out cards. I have begun teaching Fishers of Men by Bobby Bates. We have finished training on the Back to the Bible lessons."
McKenzie church of Christ, Tennessee: Chance Steen (preacher) reports, "We are having classes to teach the Back to the Bible material on Sunday and Wednesday evening.  On Sunday morning, an older member, a sweet lady, attended the class. A younger member asked if she realized what the class was about. She replied, 'Yes, I want to know this material so I can teach others.' This program is a blessing and a motivator for our congregation! We have 11 contacts on our prospect list to whom we are sending Compassion Cards."
White Oak church of Christ, Chattanooga, Tennessee: Austin Fowler (regional instructor) reports, "Last week, I told you that two of our members were meeting with a man who needed some help. They hoped to schedule a Bible study after helping him. I am happy to say that Ron and Martin are having a study with him. They are eating lunch tomorrow at Ron's house and going to do Back to the Bible Lesson one after lunch. We are continuing to get things in order. The men discussed getting a visitation program started. I am excited about them taking the lead and reaching out to the community."
West End church of Christ, Knoxville, Tennessee: Adam Wilson (member) reports, "The congregation discussed the green book in the Back to the Bibleseries Sunday. We look forward to the growth and opportunities that will come from equipping our brothers and sisters with this simple but powerful tool! We have one study ongoing led by our preacher Jeremy Weekly. A second contact agreed to help Mark Newby, an elder, with our compassion card contacts. Prayers for both, please!"
New Hope church of Christ, Middleton, Tennessee: Cole Wade (preacher) reports, "We continue to remind the church of the goal of saving souls. Sermons are being delivered to emphasize the importance of evangelism, and we studied 1 Thessalonians 2:1-16 Sunday. It was a wonderful study that reminded us of the care we should have for the lost, coupling evangelism with the power of God's word. I have had several people reschedule Bible studies lately due to illness. Hopefully, God will open a door soon!"
East Main church of Christ, Murfreesboro, Tennessee: Brad Rowley (elder) reports, "We had a visitor, Andy Polk, who met with the elders yesterday so he could be identified with East Main. Andy has been visiting for several weeks. He commented that he has never had so many cards and calls. We constantly get positive feedback regarding our card ministry. We had one service project last week with a prospect, Shatika. She needed to relocate and find another apartment. Tim Hayes (deacon) moved Shatika to a temporary location and put her belongings into a storage unit. Teresa Mingle, one of our members, is working with Shatika. We hope a Bible study will start soon. Our compassion card group wrote 88 cards last week. We are thankful for five Bible studies with multiple folks last week. We had four people in our new convert class taught by Mark Isenberg, one of our elders."
New Union church of Christ, Manchester, Tennessee: Paul Fulks (elder) reports, "At New Union, we continue to review the Bookmarks at the close of Sunday morning worship services. We ask members to submit contact cards for those who have had events occur in their life causing them to need compassion shown. We also include others we know (friends, families, and neighbors) in that same situation. We have congregational prayer specifically for those we are prospecting. Our members have been consistent in submitting new contact cards; we received four contact cards this week. Card Team 2 completed 51 compassion cards. Last week four members made seven follow-up visits and delivered four New Movers Baskets. A couple were well received, so we are planning a follow-up visit. We had one visitor Sunday to whom we are sending cards, and we will attempt to follow up with a visit. Two of our elders and our preacher meet every Monday for Mission Mondays. They review contact cards and visits and make plans for follow-up visits. We reach out to specific members to include them in assigning visits and follow-up. We use a spreadsheet to keep up with all contact cards, follow-up visits, assignments, and other pertinent information."
Covington church of Christ, Tennessee: Wayne Dalrymple (elder) reports, "We finished our gospel meeting with Neal Pollard Wednesday. We had several visitors each service, including Dustin's mother, Beth. I think we are close to having a study with Beth. On Sunday, we visited Lori, one of the new movers who had received a basket to previously. She was having cold like symptoms, so we did not go in. We offered to bring her some food since she lives by herself. She declined, saying she had already eaten, but she would keep us in mind if she needed food later. We are continuing to prospect her. Logan, Lauren, and their children came to services Sunday. Logan is the son of one of our members. He was baptized as a teenager but has not been faithful for much of his adult life. Logan and Lauren are currently participating in our Dynamic Marriage class. Lauren is not a Christian but seems to be warming up to the point that we might have a study with her. Ashley, a friend of PJ, a member, visited Sunday for the second time. We will be prospecting her. Please continue to pray for these precious souls."
Bargerton church of Christ, Lexington, Tennessee (digital): Robert Pruett (member) reports, "We finished Lesson 4 Sunday. We look forward to finishing these initial lessons so we can start applying them. I am pleased to report that at our night service, Gail Gatlin came forward and was baptized into Christ. Ms. Gail is 92 years old. She said that she had some concerns regarding her salvation and wanted to be baptized. This makes two baptisms we have had in the last couple of months after only having a handful in the last six years. To God be the glory!"
Highway 95 church of Christ, Taylor, Texas: Benjamin Dossey (preacher) reports, "We continue to build relationships with the family who visited from the New Movers program. We will deliver the next round of baskets next week. Additionally, we are beginning to prepare for our summer VBS in earnest."
Northern Oaks church of Christ, San Antonio, Texas: Mel Hutzler (elder) reports, "We had a few delays on some of our Bible studies; hopefully, they will resume shortly. Our New Movers Program visits continue to go well. HTH mail outs are sent to those in our community. Our deacon in charge of evangelism has an ongoing class to train members every Wednesday night. Visitor information is taken every week and gift baskets are made and handed out. We have Enhanced Bible Studies going on at the moment. Next, we have camp, SYS, VBS, door knocking, and a gospel meeting."
Southwest church of Christ, Austin, Texas: John Garza (regional instructor) reports, "What is the power of a sign? We may question the worth of having a sign in the front of the building with Scriptures, but the Southwest congregation knows our sign has contributed to leading a soul to Christ. Last Thursday, Tena Kitchen was baptized into Christ. For many years, she drove past the building, reading our sign with its Scriptures. She decided to visit, and because of the love of the brethren, she was immediately intrigued by the church of Christ. Two evangelistic sisters immediately recognized her as a visitor and invited her into their home for a meal. They invited her to a personal Bible study, and now, she is a sister in Christ. In the Words of Dee Greyson, 'Sandra and I rejoiced to find such a fertile heart that saw the truth, even though for many years she had believed wrong ideas (Pentecostal). When we studied baptism, she did not hesitate to tell us she wanted to be right with God.' They went straight to the building, and Cody baptized her. Dee has this to add, 'She came up smiling, knowing she was right with her Father." According to Sandra, 'She has an open heart and is ready to continue studying.'
"Tena's conversion illustrates a few things we should consider. First, souls are searching for the truth, and any effort is worth the price to bring about the salvation of a soul that is worth more than this world. Second, the product of teaching how to evangelize is simple and effective. Both Sandra and Dee sat in my recent study on how to evangelize, and they successfully planted and watered the seed, but God gave the increase. Finally, God is patient, not willing that any should perish, but we have to do our part and teach them the powerful gospel of Christ, which is able to save their soul. To God be the glory."
Eisenhower church of Christ, Odessa, Texas: Allen Weakland reports, "Things are progressing steadily with three of our studies. One study has been difficult, but the congregation plans to write more cards and to set up an in-person visit with the young family. Monday night we are starting a new study with another young couple who has visited the last two Sundays. It looks very promising; we plant and water, but God gives the increase."
Midtown church of Christ, Victoria, Texas: James Cammock (deacon) reports, "We began a new converts Bible class Sunday entitled "Fundamentals of the Faith." Since God has blessed us with a number of baptisms lately, our new brothers and sisters need to learn fundamental doctrines such as: the authority of the Bible, the organization of the church, worship, the person and work of Jesus, and how to study the Bible. It is a classroom environment, so the brethren take turns reading Bible passages, answering questions, and are asking questions themselves."
Great Basin church of Christ, Delta, Utah: Brandon Glover (evangelist) reports, "She was baptized in the Latter-Day Saints years ago, but she knew something was not right. She started receiving and reading HTH. She came to worship yesterday and wanted to be baptized. I told her I would baptize her, but we should study with her first. We went through Does it Matter and then baptized her into Christ."
Central church of Christ, Martinsburg, West Virginia:  Robert Veil (preacher) reports, "We had our annual Friends Day on Sunday, and had about 20 visitors! This is a great opportunity to reach out to a greater number of visitors than usual. I have a study this coming Thursday evening with the mother of one of our recent converts.
NOTE: These reports are from Christians and congregations enrolled in the House to House/Heart to Heart School of Evangelism. These emails are sent to teach and provoke one another to remain focused on the mission of Christ. Each week, we share several reports and highlight one with more details. We hope you enjoy reading them.