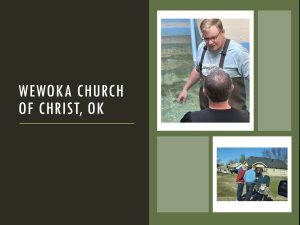 Reaching the Lost- Success Stories
Statistics
Total baptisms (2018-2022) reported from U.S. Congregation: 2,345
Total Seminars Conducted (2018-2022): 181
Personal Seminars in 2023: 15
Digital Enrollments for 2023: 20
Total baptisms reported from U.S. Congregations, 2023: 334
Upcoming Seminars
May 15-17 Iuka church of Christ, Mississippi
May 18-19 Memphis School of Preaching, Tennessee
May 19-21 Looxahoma church of Christ, Mississippi
May 22-26 Georgia School of Theology, Warner Robins, Georgia
Featured Work: Wewoka Church of Christ, Oklahoma
Editor's Note: Gage Coldwater is the preacher for the Wewoka church of Christ in Oklahoma. Since arriving there, the congregation has almost doubled in size. Gage is committed to evangelism. He strongly believes in the HTHSOE model and loves using Back to the Bible and Does It Matter. He is also the director of the Manna Project. Gage is actively working to get Back to the Bible translated in multiple countries around the world and to train his manna project teachers to use and teach Back to the Bible.
Bible Studies Equal Baptisms
Written By Gage Coldwater
The work here at Wewoka is going great. We have been blessed to have had four baptisms in the last few months. We are also in studies with several more individuals who have been coming to worship and Bible study with us.
We had three baptized in one week. They were all from one family and had been coming for quite some time. The first to be converted was the dad, Billy. Billy and I have studied several times without any progress. Then, one night after worship he approached me and told me, "I am ready!" We had a quick review of the plan of salvation, and I baptized him that night. The next day he baptized his oldest teenage daughter; two days later he baptized his other daughter.   We also had another woman who has been attending for about a year. I had preached through the Back to the Bible series again this year, and after the last sermon, she wanted to be baptized.
We have baptized 12 this year. We certainly need to work harder in other efforts such as sending more cards, making more visits, and looking for more new prospects. Please pray for our work here that we continue to reach souls with the gospel.
Welcome Winfield church of Christ, Alabama:  We want to welcome the Winfield church of Christ to the House to House/Heart to Heart School of Evangelism. The congregation has a rich history of faithfulness. The elders were very focused and determined to help the congregation grow in soul winning.
Glencoe church of Christ, Alabama: David Marker (elder) reports, "We have been emphasizing the need for participation in our evangelism efforts, especially submitting contacts. We had a virtual meeting this past Tuesday with the congregation to give an update on our progress and the challenges that are before us. It is crucial that we continue to express that sense of urgency. Brooks Boyd is doing a good job challenging us on a consistent basis from the pulpit.
"This past Sunday, Rob Whitacre challenged every person to be more involved. We  need to get our priorities in order. I have no doubt that everyone left that service more motivated to get involved. We had more folks came to write the compassion cards on Sunday afternoon.
"It was also encouraging to see a number of visitors for both Sunday morning and our afternoon services. Our efforts are beginning to pay off. It is also important for us, as leaders, to make sure we are leading, challenging, and motivating our members to never give up or grow disheartened. The fields are white unto harvest."
Hatton church of Christ, Alabama: Chris Miller (preacher) reports, "Prayers needed for "John" as he made a big step Sunday to visit for the first time. He is the father of a recent convert through the HTHSOE program.  There are so many good things happening  and so many great opportunities."
Mossy Head church of Christ, Defuniak Springs, Florida: Phillip Gaither (member) reports, "We were amazed to hear the outstanding news of 36 baptisms! Thank God and I thank God for you and your team. Sunday we finished watching our Zoom meeting and Michael is going to start the John 4 sermons."
Lake City church of Christ, Florida: Jim Flegert (elder) reports, "We are slowly increasing our number of contacts. The number of compassion cards going out is also increasing. Next Monday, we will have our Mission Monday orientation with 16 members at 6:00 p.m. with a meal to set the pattern for the following Monday for our first Mission Monday. Our special class for training our members to conduct BTTB studies will start the following Sunday. At the present time, we have three Bible studies led by various members."
Riverbend church of Christ, Dalton, Georgia: Jason Duggin (elder) reports, "We had a visitor on Sunday evening that we are prospecting and have added to our card ministry. We also have a tentative Back to the Bible study over the phone with some folks in Oklahoma; we hope to begin this week. We have three prospects right now.  We are working to grow our list!"
Peachtree City church of Christ, Georgia:  Lew Foshee (elder) reports, "Our family and outreach minister (Chris Parker), is making a concerted effort to move our program forward, since we asked him to be the overall coordinator for our evangelism program two weeks ago. We conducted a tremendously successful Walk4Water event on April 28th.  We had a strong emphasis on community outreach for the event this year, and we ended up with 445 people in attendance; and 193 of the participants were not members of the church!  Our compassion card team is in the process of sending cards to the 193 participants, and we are prayerful that their efforts will lead to further contacts and Bible studies. We continue to fervently pray for the success of our work, and for you and your family as you travel around the country doing tremendous work for His kingdom!"
Monroe church of Christ, Georgia: Charles Harris (regional instructor) reports, "My wife and I studied BTTB Book 2 with Yvette and Brianna. We will be studying the third lesson with them on Tuesday. Our study of BTTB Book 3 with Carolyn has been rescheduled to this Friday due to her health problems. Hopefully, by next week, we will have three new sisters in Christ.
"One of our neighbors, Summer, has been a member of the Methodist church for many years. While she and her husband, Bob, are very kind and friendly, I have not been able to make much progress concerning Bible study. Bob has had cancer in the past, and now it has returned. We are sending cards to him. Bob has kept every card on his nightstand. Summer has made the comment that the Monroe church of Christ has reached out more than her own church. Yesterday, Summer attended Sunday morning service. I pray that this can lead to Bible studies with her and Bob."
Carrollton church of Christ, Georgia: Dave Leonard (preacher) reports, "We started the second lesson of BTTB on Sunday morning.  We filled out cards for visitors and an erring member who is dealing with health issues. We are outfitting a room with a shelf system for organizing our evangelism materials and are involving different members in the areas of work."
LaFayette church of Christ, Georgia: Jessie Teague (deacon) reports, "After evening worship this week, Group 1 met this week to send out compassion cards. During evening worship, one of our elders prayed for each person on our card list. What a blessing to have committed and active elders. We will knock doors Saturday for our new movers."
Woodstock church of Christ, Georgia: Greg Garner (deacon) reports, "WCOC has one contact to prospect this week. Our congregation meets on the second, third, and fourth Sunday evenings to conduct the Actively Caring Teaching Serving (ACTS) workshop (i.e. Evangelism). The Youth Prison Ministry is meeting with Dekalb RYDC to establish a Bible study class. We welcome into the fold Bob Erickson and Susie Bishop as they were baptized on May 1 by Matt Amos. That is our eighth baptism for the year. WCOC has two Bible studies in progress."
Matt Amos (preacher) adds, "They were our next-door neighbors! They welcomed us into our physical neighborhood, and we invited them into the neighborhood of God! He was an elder in the Lutheran church, but he was tired of the craziness in that group and did not realize that New Testament Christianity was so simple and clear! Great folks!"
Honolulu church of Christ, Hawaii: Tagiilima Esene (regional instructor) reports, "Aloha from the Honolulu congregation! I am so excited to report about our latest efforts as a congregation in soul-winning and soul-keeping. Our elders have really led the charge in our work groups. We are currently covering multiple avenues for creating contacts, moving contacts to prospects and bringing prospects to Bible studies. By the will of God, our congregation will increase.
"One group is working with our new movers program. They are door knocking in our community and inviting those who have recently moved to our neighborhood to come to church. One group is working on greeting and welcoming our visitors with a nice gift bag that contains information on the church and the biblical plan of salvation. In recent weeks, we have had visitors come back, and we are currently prospecting them.
"One group is focusing on strengthening our shut-ins and encouraging members through visits, calls, cards, and multiple efforts. I am seeing the joy on our members' faces as they actively participate in doing the work given to the church. Though some are not as active as others, it would be hard to remain on the sideline. Seeing faith in action motivates other to participate. We appreciate all prayers."
Jerseyville church of Christ, Illinois (digital): Jake Medford (preacher) reports, "We completed lesson 3 of the Back to the Bible as a congregation. We had our first reports come back of how many cards were sent; everyone participated. We already have our second group sending cards for this week, and we have one individual who is very close to being baptized!"
Parkway church of Christ, Fulton, Kentucky: Will Hester (preacher), "It has been a little while since we sent a report. As we approach the summer, we plan to do a complete "system reboot" of our evangelical program. Besides the compassion cards, we plan to take advantage of a community-wide yard sale by handing out free Bibles with information on the church. We hope that this effort gives us contacts that will eventually turn into prospects. One thing we have learned through the "reboot" is that we have to be patient. We cannot force the brethren to change their approach until we are willing to change ourselves in the church leadership."
Paintsville church of Christ, Kentucky: Zach Collins (preacher) reports, "This past week, we continued to see the increase at our family in Paintsville! On Thursday evening, we had another soul obey the gospel, Lily! She will be in our teenage new convert class. This makes 16 baptisms in the last three weeks. On Sunday morning, our new convert class and teen class were full. We had to pull more tables and chairs into the teen room! In our Sunday morning service, we had over 12 visitors. At the conclusion of our evening service, we held our annual "Senior Salute" for our 2023 High School Seniors. One of our seniors is also one of our newest Christians! This was an excellent way to reach the families of these high school graduates. God continues to bless our congregation with growth!
"During our gospel meeting, we challenged our members to invite visitors. The members stepped up, and the number of visitors increased nightly with the exception of one night: Monday – 37 Visitors, Tuesday – 33 Visitors, Wednesday – 35 Visitors, and Thursday – 49 Visitors."
Blanchard church of Christ, Louisiana: Pat Cella (elder) reports, "Things are going well in Blanchard. We are following the curriculum. Sean is preaching his lessons from John 4. We have assigned coordinators for our new movers, House to House Heart to Heart, and the evangelism table. We also passed out our training cards this week."
Aberdeen church of Christ, Maryland: Will Brown (preacher) reports, "We are still working through the Back to the Bible Lessons. We are on number 3. We have two Bible studies going on and continue to prospect contacts using compassion cards."
LaPlata church of Christ, Maryland (digital): Eric Sykes (regional instructor) reports, "We still have two active Bible studies, and both entering Lesson three of Back to the Bible. We just started Bible studies with a couple of new converts who have not attended worship services in over six months.  We are super excited about restoring this young family and getting them back on track. We received our congregation's evangelism training materials last week. We trained the congregation to greet visitors, and we are preparing visitor bags. This week, we are training people to use their bookmarks as well as contact cards, the prospect list, and the use of compassion cards."
Fordland church of Christ, Missouri: Josh Romo (preacher), "The evangelism model is working well! We have two ongoing Bible studies with more visits to be made with prospects, and so hopefully we will add to that number of Bible studies quickly! We continue to have visitors as a result of the compassion cards and received our first visit this past week from sending out House to House."
Samford church of Christ, Steele, Missouri: Kyle Imel (deacon) reports, "We are staying on course. We had two studies scheduled for last week, but both were postponed. We will complete those studies next week. One will be going through the blue book, and the other will be start book one. We have Senior night Sunday, and it will be completely evangelistic with the hopes of getting several contacts from the seniors' families, friends, and teachers."
West Hwy 160 church of Christ, West Plains, Missouri (digital): Marvin Hatley (elder) reports, "The HTHSOE model is being implemented a little bit more each week. This week, plans are being made to begin our mentoring program. The "Growing in Christ" new converts class has been meeting for a few weeks, and contact cards are producing prospects. The congregation prepared just over 150 compassion cards to be mailed this week. An on-going virtual Bible study that has been active for some time is nearing its closure. Lord willing, it will produce fruit this week. We have been energized by the addition of our new brother and sister in Christ last week. What a blessing to see honest and sincere hearts respond to God's word and His plan of salvation.  We are thankful for HTHSOE."
East Flushing church of Christ, New York (digital): Clarence Jenkins (preacher) reports, "We watched the "Prospects: Never Go Empty Handed" YouTube video in preparation for going door-knocking. We have several ongoing Bible studies and look forward to God adding the increase. We appreciate all prayers."
Coweta church of Christ, Oklahoma: Keno Shrum (elder) reports, "This week, we are going to make contact with a man who received our compassion cards last week. We hope to  gain a Bible study. We are also trying to develop a program with our local courts so we can work with people doing community service for misdemeanor charges. These are often young people with a speeding ticket or some other minor charge. Rather than mowing the yard or cleaning the building, we are going to offer Bible studies as a way to fulfill their community service hours. They typically receive 10 to 40 hours, so that would allow ample time to go through BTTB. We will see how it goes, but we are excited to give it a try."
York church of Christ, Pennsylvania: Mark Raschke (deacon) reports, "This week, we had three of our prospects visit our Sunday morning services, after being invited to our monthly fellowship meal. Some of them have indicated that they would like to attend our congregation more regularly with their families. We will continue to prospect them with the goal of setting up Bible studies. We held our monthly visitation meeting and assigned teams to visit three more of our prospects. We also had a new visitor on Sunday evening who received a visitor bag and filled out a contact card."
North Meadville church of Christ, Pennsylvania: Rick Marendt (elder) reports, "We are sending cards to four people. There are some Bible studies still in progress, and the Lord added two more souls to His kingdom this past Wednesday as they were baptized."
Karns church of Christ, Knoxville, Tennessee: Terry Clark (elder) reports, "A week ago Sunday, one of our families invited a young lady to attend Sunday morning services. Our members let the church family know in advance that Ashley would be visiting. Many Karns members greeted her and made her feel welcome, and another family took her to lunch after services. Ashley and her daughter Jayden returned Sunday night, and more members greeted her and took time to get to know them. Ashley showed great interest in the Lord's church and agreed to a Bible study on Wednesday. Two of our members, a husband and wife, studied with Ashley and she was baptized before our Wednesday class period. After our midweek Bible study, Jayden was baptized. We rejoice in their decision to become Christians! We give thanks for all the Karns church family members that played a role in welcoming them, taking them to lunch, and ultimately sharing the gospel through a Bible study."
Madison County church of Christ, Jackson, Tennessee: Steven Sprouse (preacher) reports, "We are having visitors each week, which gives us more prospects to receive compassion cards. We have three ongoing studies conducted by three different teachers. We are planning a friends and family day in June; we will send a special invitation to all of our prospects."
Rogersville church of Christ, Tennessee: Ethan Tate (preacher) reports, "This past week, we worked heavily on compassion cards. We have reworked how we are sending cards out and are praying this will improve the process. We have also been blessed to work throughout the past day to get contact information regarding a lady who had been doing a correspondence course with a congregation in Jackson, Tennessee. The lady had requested a baptism! However, we have not been able to contact her in the past 24 hours. We are praying that this door will open, and we will have a new sister in Christ."
New Hope church of Christ, Middleton, Tennessee: Cole Wade (preacher) reports, "We have started a young adult class on Sunday mornings for adults to review basic Bible history and doctrine! Sandy Yopp is teaching the class, and he has reported that it has been very beneficial. We have a lot of our adults attending and participating in the course. This is just another course that helps our adults affirm their faith and be able to teach it to others!"
McKenzie church of Christ, Tennessee: Chance Steen (preacher) reports, "Group B met Sunday to get their cards for the week.  We are hosting another Community Dinner this week. We hope to make more contacts from our community to add to our evangelism program. We currently have seven contacts."
White Oak church of Christ, Chattanooga, Tennessee (digital): Austin Fowler (regional instructor) reports, "Saturday, we had our monthly men's meeting. It was very encouraging to talk about the feature at White Oak. These men are determined to make White Oak grow. Sunday was an encouraging day at White Oak. We had 40, and our Sunday morning continues to grow each month. We had two visitors on Sunday. One was a returning visitor, and the other was a first-time visitor of a faithful member. We are continuing to prospect them to get into studies with them, hopefully. Ron Payne is working on rescheduling his study. She was not there on Sunday, and he would call and check on her and reschedule the study."
Old Jefferson church of Christ, Smyrna, Tennessee: Bob Horn (preacher) reports, "Compassion cards were signed for three people yesterday. I preached the "Quantity, not Quality" sermon and began teaching the Back to the Biblematerial for class."
East Main church of Christ, Murfreesboro, Tennessee: Brad Rowley (elder) reports, "Last week, compassion card team number one wrote 65 cards. We had four Bible studies last week. One of these studies is near completion. We pray for an open heart to obey the gospel. We rejoice in the restoration of Tracey Kelly who has been studying with Mark and Debbie Isenberg.  We had 19 folks at Mission Day. We discussed several ideas to encourage more participation in sharing contacts. One idea we will try is to give updates and share success stories during Bible classes. We hope this will involve more people. Our pulpit minister Jon Mitchell is preparing lunch to follow the AM worship. Jon invites visitors and new members to lunch. Since this effort has been successful, in June we will reorganize our We Care Teams to also prepare lunch for visitors and new members. We will rotate teams to supply lunch each Sunday. The elders met with some new members Sunday, Thomas and Emily Cooper. Give God the glory!"
Covington church of Christ, Tennessee: Wayne Dalrymple (elder) reports, "We are continuing to work the plan. We had two families (Beasleys and Dietels) present last Wednesday who had not attended in months (in one case) or years (in the other case). We hope they will be restored soon. We had one of our biggest crowds since the pandemic last Sunday. We had several visitors. One of the delinquent families was present again. The Fosters visited as well as a lady named Olean. Brenda also visited again with her grandchildren. She also brought her son with her who has just moved down from Detroit, Michigan. The Matlocks are still trying to secure a Bible study with the Fosters, but they are still reluctant. Brother Frank Brown is working on setting up a study with Brenda. He prefers using the Jule Miller filmstrips.  We met Monday night to write cards and set up visits. We also brainstormed ways to grow our outreach and involve more of our members in this outreach."
New Union church of Christ, Manchester, Tennessee: Paul Fulks (elder) reports, "At New Union, we continue to review the bookmarks at the close of Sunday morning worship services. We ask members to submit contact cards for those with a need for compassion.  We also include others we know (friends, families, and neighbors) in that same situation. We have congregational prayer specifically for those we are prospecting.  Our members have been very consistent in completing and submitting new contact cards. This week we had one contact card submitted.
"Card Team 1 met after Sunday evening services and completed 33 compassion cards. Last week, five members made six follow-up visits and contacts. New Mover Basket assignments were made for approximately ten addresses. We had Bible studies with three individuals on the Back to the BibleLesson two booklet.
"Two of our elders and our preacher meet every Monday for Mission Mondays to review contact cards and visits and make plans for follow-up and visits during the coming week. We also reach out to specific members to include them in assigning visits and follow-up. We use a spreadsheet to track contact cards received, compassion cards written, follow-up visits, assignments, and other pertinent information such as phone calls and texts."
Dellrose church of Christ, Tennessee: Mike Hovis (member) reports, "Jerry preached a lesson yesterday on sacrifice with emphasis on sacrifices we may need to make for the sake of our new efforts of evangelism. We continue to ask the congregation each week for contacts who have experienced life events. We pray silently for our contacts. There are no new prospects this week. We are still getting volunteers to sign up for the different roles that are needed."
Northern Oaks church of Christ, San Antonio, Texas: Mel Hutzler (elder) reports, "We continue to make visits based on the new movers program.  The HTH publication ongoing training program meets on Wednesday nights. Cards are sent regularly; visitor information is taken down, and we have a few Bible studies. We had a church picnic recently and had a few visitors from the community to attend. We are prospecting them. We have VBS, Summer Youth Nights, and Bible camp coming up. We hope to attach evangelism to these and other events we have coming up."
Fruitvale church of Christ, Texas: Carl McCann (elder) reports, "We are grateful for the work that the Whitacre family is doing in the Kingdom. Fruitvale is continuing to work, which has resulted in several visitors at services recently and prospects being reached in the community. Please continue to pray for us."
Bridgewater church of Christ, Katy, Texas:  Bob Lanham (elder) reports, "The main update is we had visitors from other congregations during the seminar, they have continued to come and on Sunday two families submitted information to place membership and we will meet with them. One other family is planning to do the same.  We distributed prospect cards and waiting to get those back from members. Wade started the lessons so that is in progress and will continue. Also, Michael Lopez was baptized since you all were here and he attended the seminar and had been visiting, so thankful for that." In addition, Brother Al Washington (member) reports that he has a Bible study in progress.
Midtown church of Christ, Victoria, Texas: James Cammock (deacon) reports, "Our Family and Friends Day this past Sunday was a great success. We had nearly 30 visitors! Brandon preached on the problem of sin and how Jesus is the solution to that problem. We had a potluck lunch after worship, and many of our visitors stayed for that, allowing us more time to welcome them. We will be following up with our visitors through cards and visits in the coming weeks."
Graceton church of Christ, Diana, Texas: Johnny Willeford (elder) reports, "The Graceton congregation in Diana, Texas, enjoyed a wonderful Lord's Day yesterday. We had five visiting families and celebrated our one senior high school graduate at our first Sunday Fellowship Luncheon. Visitor's bags were handed out to three of those families. A family that has been visiting with us for several months placed membership also. Scott preached the third sermon from John 4. The elders and deacons have been working on appointing coordinators in the different areas of evangelism. Training will start very soon for the coordinators. We have set a date for our VBS in late July, and plans are underway for that event. Our Compassion Cards Team A is set to start writing compassion cards this coming Sunday evening. We have received names and addresses of 12 local residents that will start receiving cards next week. A Back to the Bible study has been set up for this week, and a couple more are being planned. We pray these efforts are successful and fruitful."
Central church of Christ, Martinsburg, West Virginia: Robert Veil (preacher) reports, "We are in the midst of an exciting gospel meeting with Allen Webster. We had three responses to the invitation Sunday, including one couple who placed membership and requested prayers. We also have a new Bible study that began last week. This study is utilizing the Owen Albright study sheets for now."
HTHSOE: Austin Fowler (regional instructor): "Tonight, I had a Bible Study with Caleb. Caleb reached out to us through our School of Evangelism website to learn how to evangelize better for the church he preaches for. Come to find out, Caleb is not a member of the church. During our email conversation, he stated, "The majority do not return to the Bible. They return to their imagination and twist God's word to what is best for their understanding." I asked him if he would like to go through Back to the Bible. He agreed. We went through Book One tonight. I learned a lot about Caleb. He told me about his raising, conversion story, and the church he attends.  He had a lot of enthusiasm. I would ask questions for clarification and would always quote the verse to answer the question. At the end of the study, he stated he had learned a lot, been enlightened, and thanked me for the study because many churches do not teach this, and what you have taught is straight from the Bible. We plan to meet next week at the same time to go through book two."
NOTE: These reports are from Christians and congregations enrolled in the House to House/Heart to Heart School of Evangelism. These emails are sent to teach and provoke one another to remain focused on the mission of Christ. Each week, we share several reports and highlight one with more details. We hope you enjoy reading them.
For additional HTH speaking appointments, go to:
https://housetohouse.com/house-to-house-speaker-schedules/