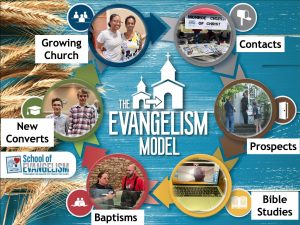 Reaching the Lost- Success Stories
Statistics
Total baptisms (2018-2022) reported from U.S. Congregations: 2,345
Total Seminars Conducted (2018-2022): 181
Personal Seminars in 2023: 18
Digital Enrollments for 2023: 20
States Reporting: 16
Total baptisms reported from U.S. Congregations 2023: 360
Upcoming Seminars
May 22-26 Georgia School of Theology, Warner Robins, Georgia
June 4-6 Foristell church of Christ, Missouri
June 10-11 Southside church of Christ, Grand Rapids, Michigan
Featured Congregation: Lake City Church of Christ, Florida
Editor's Note: The Lake City church of Christ is modeling the HTHSOE model as well as anyone else in our school. They are creating contacts, prospecting them through compassion, and transitioning into Bible studies using Mission Monday's. In addition, they are preparing for Bible studies by continuing in-depth training. This report by one of their elders is a great example of how the model works when you work it!
Compassion Prospects the Heart
Written By Jim Flegert (Elder)
This past Monday, 18 of our members met to experience Mission Monday Orientation. Our leadership wanted those members who had volunteered to participate to have an opportunity to meet, have a meal together, discuss, and then practice through role playing the procedure of Mission Monday visits. This orientation was very helpful to all who attended, giving them the confidence to proceed one week later with our first Mission Monday.
This past Sunday, we started an important new Bible class for our members who are interested in receiving a more in-depth study of BTTB.
One of our members who had turned in a contact card on a young man several weeks ago received a text from that young man's mother. She wanted to express her son's gratitude for all the Compassion Cards he had received from our congregation. Ralph, one of our elders, read her text to the congregation, and her son will be one of our visits with our first Mission Monday. I have copied it below:
"Good morning, Ms. Janet. I cannot begin to tell you how much you and your church family have blessed us. Zachary has been overwhelmed with the last couple months, and these precious messages of support, courage, and prayers for God's healing have made a tremendous impact on his recovery and mindset. He has allowed himself very few moments to reflect while he works through the surgery and healing process. At the same time, he is trying to find his new normal. The encouraging cards have been a God send. We have read each and every one of them. We have a long road ahead, but we know that God has not forgotten him nor forsaken him, and we are blessed beyond measure that he is still with us. Zachary is very fortunate. I truly believe God's hedge of protection was around him. Every time he would leave, we would pray for God to protect him and to keep him safe. Please pass our sincere appreciation on to those who have helped us through this time. We think he has a few more surgeries to go through, and knowing God is in control will make this journey possible. Zachary wants to write a thank you note and will be trying to do it left-handed (which is stressful to him), but he said he is up for the challenge."
Welcome Looxahoma church of Christ, Mississippi: "We welcome the Looxahoma church of Christ to the House to House/Heart to Heart School of Evangelism. We provided training for the congregation in 2019, but we did not have the tools and curriculum we had today. Over the past few years, they have had several baptisms and kept in contact. They even sent monthly support to help the work. They are now officially enrolled and have all the training and tools. The attendance was excellent, and the leadership is focused to roll out our congregational evangelism model."
Glencoe church of Christ, Alabama: David Marker (elder) reports, "As a result of our members working together in our evangelism efforts, we have had numerous visitors the last several weeks. We are continuing to work with our new movers in delivering gift bags. We hope to finish that this week.
We have been very busy planning and coordinating a luncheon for our city employees. We met in the fellowship hall at our building, and many guests expressed appreciation for our efforts. The event went really well, and we are considering doing it again in the fall when we have our gospel meeting.
"On a final note, in the last week we have had a baptism and a couple to place membership. We are hoping to set up a study with one of our visitors who has been attending our services for several weeks. We will also meet this Thursday for Transition Thursday."
Winfield church of Christ, Alabama: Jerry Span (deacon) reports, "On Sunday May 21, 2023, Winfield church of Christ kicked off the Evangelism Model Process by the following: 1) Jerry Spann presented a lesson to the congregation about the roles of Bringers, Teachers, and Keepers. He pointed out that every member of the congregation can be a Bringer by helping us gather contacts. 2) We passed out bookmarks and contact cards to the congregation, asking everyone to fill them out and bring them back next Sunday. 3) We presented a brief explanation about keeping this bookmark in a Bible or pocket as a reminder to pray for those on the list and/or request help for any who might turn into Prospects for a Bible study. We will provide more information in upcoming Sundays. This was repeated at the Sunday evening worship service. We passed out 200 bookmarks."
Canal Heights church of Christ, Demopolis, Alabama: Bryan Cook (preacher) reports, "We are excited to report that an individual who has studied with several people came forward to be baptized. (He is third from the left in the attached picture). This has been in the works for a while. The congregation surrounded him and sang a hymn of encouragement after the baptism. Besides the wonderful news of adding a brother to the kingdom, our VBS plans are in full swing. We will take full advantage of this event for evangelism. We will teach Back to the Bible in the adult auditorium class. We appreciated all prayers."
Fayette church of Christ, Alabama: Josh Taylor (member) reports, "We have just concluded our monthly Mission Monday. We had a great turnout, and it is good to know how many of our number our focused on seeking and saving the lost! In the last week, we have gained a new sister in Christ as she obeyed the gospel. She has been attending services recently with a friend who studied with her, and she decided to obey the gospel. While not directly in our model, I believe our focus on evangelism helped pave the way for it, and God gave the increase. Next week, we will conduct our second with two of our contacts. We welcome all prayers.  May God be glorified!"
Hatton church of Christ, Alabama: Chris Miller (preacher) reports, "This week we repaired a driveway that was impassable for home health for a gentleman who has completed all three books of Back to the Bible. We are hopeful he will obey the gospel soon. We also sent a group to clean house for a recent convert. The house was unlivable, but much progress has been made. "
Mariposa church of Christ, Citrus Heights, California: Nathan Franson (preacher) reports, "What a day to rejoice! Dan and Avery Bout are a father and daughter who put on Christ in baptism this morning. This is a wonderful family who has been attending for quite some time. Now they are able to grow closer together in the most profound and spiritual way."
Mossy Head church of Christ, Defuniak Springs, Florida (digital): Phillip Gaither (member) reports, "Good morning. We are proceeding through the checklist on the website and had the second John 4 lesson. Lord willing, next Sunday we will fill out contact cards."
Warner Robins church of Christ, Georgia: Daniel Stearsman (preacher) reports, "Dorothy Futch (Dot) has been coming to the ladies' class regularly. She also studied with Jocelyn Berry, the wife of one of our elders. She said recently she had a big decision to make, and she made it Sunday after lunch on our Bring a Neighbor Day! Friends in class describe Dot as thoughtful and well-studied. We rejoice with heaven!"
Riverbend church of Christ, Dalton, Georgia: Jason Duggin (elder) reports, "We keep working with visitors, getting contacts, and sending cards. We have a few potential prospects in the works but nothing concrete at the moment."
Monroe church of Christ, Georgia (digital): Charles Harris (regional instructor) reports, "Several months ago, we advertised a Bible Correspondence Program in the local newspaper. Carolyn Coleman signed up. We sent her multiple cards. After completing a couple of the correspondence lessons, she called to thank us for all the cards. This allowed me an opportunity to ask if she would like to study in person. Carolyn agreed, and my wife and I began studying BTTB with her. After studying BTTB Book 3, Carolyn recognized what she needed to do, but she felt overwhelmed. We met again the following week, and this time she left as a sister in Christ."
Peachtree City church of Christ, Georgia: Lew Foshee (elder) reports, "The number of members involved in our evangelism program continues to grow. We added two additional coordinators this week who are crucial to our efforts; they will facilitate the success of our program. Our compassion card team continues to send multiple cards to the 193 visitors we had at our Walk4Water event. We are reaching out to individuals on our contact list, hoping to initiate Bible studies in the near future. We continue to reiterate the priority and criticality of our evangelism program to the congregation at every service."
Carrollton church of Christ, Georgia: Dave Leonard (preacher) reports, "We are studying the BTTB series on Sunday mornings and meeting to view the online videos and send out compassion cards on Sunday evenings. We have four Bible studies in progress. Our work room for our evangelism materials is coming along. We are training several visitor teams to greet and obtain contact information. Working through the program is exciting!"
LaFayette church of Christ, Georgia: Jesse Teague (deacon) reports, "Group 2 met this week to send out compassion cards.  We had about 13 members present, and they worked hard! They also enjoyed the fellowship. We sent out cards to erring members, new-movers door knocking contacts, and some who had recently lost loved ones.
"Our VBS starts June 5, and we are planning to make this more evangelistic than ever before.  We will knock doors for community outreach the weekend before VBS starts, and we are emphasizing the plan of salvation more during the week."
Woodstock church of Christ, Georgia: Greg Garner (deacon) reports, "Our congregation meets on the second, third, and fourth Sunday evenings to conduct the Actively Caring Teaching Serving (ACTS) workshop (i.e. Evangelism). The Compassion Group created 38 cards last night. Youth Prison Ministry is conducting eight Bible studies in Dekalb County, Georgia. WCOC has ten Bible studies. On May 17, 2023, we welcomed to the fold Joshua Weot; he was baptized by Russ Bone, his uncle."
Honolulu church of Christ, Hawaii: Tagiilima Esene (regional instructor) reports, "Aloha from the Honolulu congregation! We continue to improve our culture of focusing on souls. This past Sunday, I scheduled a Bible study with a family who has been visiting with us for quite some time. Please pray for our Bible study with these four souls. Also, another meal invitation led to a Bible study that is now ongoing. Our members continue to welcome our visitors through our "lei ministry" and welcome bags for visitors. We have camp this coming week and look forward to a week of encouraging and building up the youth."
Jerseyville church of Christ, Illinois (digital): Jake Medford (preacher) reports, "Happy Monday! We had another soul return to the congregation this week as a result of the card campaign. We have been updating our prospect list weekly and pushing on here."
Central church of Christ, Paducah, Kentucky (digital):  Adam Faughn (preacher) reports, "Last week, we received a call from a couple from the state of Texas. They used to live in the Paducah area and had a relative–the wife's sister–still living here. As it turns out, they had been studying with her long-distance and anytime they were in town and it also turns out they knew about Central, though they had never worshipped here. Still, last Tuesday, we were blessed to aid the brother-in-law in baptizing Debbie Pythrom into Christ, and she is now with us at Central. It is an amazing story of God's providence and the power of His Word!"
Coldwater church of Christ, Murray, Kentucky: Luke Puckett (preacher) reports, "We have focused on our seminar with Jeff Archey this past week." We focused on a few prospects and will be trying to visit them soon."
Parkway church of Christ, Fulton, Kentucky: Will Hester (preacher) reports, "We are continuing the training and preparation of the restart. Our first event will be in two weeks. We plan to hand out Bibles at the community yard sale. Our hope is that we can also take advantage of hosting West Kentucky Summer Youth Series next week by inviting the community to be with us. We believe that this will be a great outreach event that can pique the interest of potential contacts/prospects. We appreciate all prayers."
Paintsville church of Christ, Kentucky: Zach Collins (preacher) reports, "It is encouraging to see individual and collective growth. This past Sunday, one of our new converts, a Christian for only a few weeks, read Scripture for our morning worship service for the first time; he did an excellent job!"
"Each week, our attendance is climbing. In the past few weeks, it has increased by ten people each week, having at least 15 visitors. This is a result of our members and new converts working to bring more visitors with them regularly. Recently, we were also made aware of an elderly lady with ties to the church all her life, but she had never become a Christian. We have offered a Bible study, but she wants to wait. However, she has been asking many questions! Please continue to pray for God to give the increase to the seed we are sowing and watering. To God be the glory!"
Blanchard church of Christ, Louisiana: Pat Cella (elder) reports, "One of our prospects who has received cards came to visit worship service this week and stayed for our fellowship meal. Things went very well. We hope to schedule a Bible study with her in the near future."
LaPlata church of Christ, Maryland (digital): Eric Sykes (regional instructor) reports, "Last week, the elders delivered part one of the sermon "Jesus: The politically Incorrect Evangelist" and handed out bookmarks to the congregation. Everyone was given instructions on what to do.
"We still have three open Bible studies. We are currently only prospecting two people, but I am certain that number will increase dramatically after this week as we take the names from the bookmarks and add them to the congregational prospect list.
"We have completed our evangelism table, and we are putting the racks together to display the compassion cards.
"I am so excited to be here at the La Plata Church of Christ and to watch God's plan fall into place. The family here is supercharged and extremely excited! We appreciate all prayers to take this energy level out into our local community and start a movement for Christ that spreads across this nation like a wildfire!"
Iuka church of Christ, Mississippi: Robert Wimbish (elder) reports, "Lance preached the first of three lessons yesterday from John 4. When he finishes the third lesson, he will begin a series of three or more lessons based upon the Back to the Bible study booklets. Dwight introduced the contact bookmarks yesterday prior to Lance's sermon. I will follow up next week with encouragement and examples. Mikey will provide the third presentation relating to the bookmarks. We are working to set up a website with Matt and beginning the New Movers program for our zip code, 38852. We are framing one of the two by three foot posters to place in the lobby. We hope to build a bookshelf to place in the lobby to hold HTH materials.
"Tracy and I are having a BBQ at our house next Saturday, and we have invited the whole congregation to join us. This will be the third year in a row for this event, but it will be a little different this year. I have over 40 contacts on my list, and at least nine have committed to attend the BBQ; several others may come. I have given their names to several members who will meet these visitors and listen to them."
West Hwy 160 church of Christ, West Plains, Missouri (digital): Marvin Hatley (elder) reports, "The congregation continues to cultivate prospects with compassion cards, sending out about fifty-five cards this week.  Transition Thursdays have been essential to the intentional transformation of the congregation.  Brothers and sisters have been developing the courage and confidence to take the Gospel to our community.  The HTHSOE model and training has been the catalyst needed to help our congregation overcome the passiveness that can immobilize evangelism. Thank you for your continued work and encouragement – it is so much appreciated!"
Fordland church of Christ, Missouri: Josh Romo (preacher), "I finished preaching through the Back to the Bible booklets yesterday. We are visiting people, and we still have two ongoing Bible studies."
Samford church of Christ, Steele, Missouri: Kyle Imel (deacon) reports, "Samford sent 35 compassion cards to four contacts this week. We made these contacts during senior night on May 14. A study was held this past Thursday. Stacey invited her brother, so a new contact was made. He went through the blue book with us because that is what we were studying with Stacey.  We are planning on going through the green book with him tonight. We are scheduled to study the red book on Thursday night with everyone."
East Flushing church of Christ, New York (digital): Clarence Jenkins (preacher) reports, "Jamie Gonzalez had been faithfully attending worship services with her parents since 2022. Though very young, she is very advanced for her tender young age. She had been reading and studying her Bible and has memorized the names of all the books in the Bible. On April 7, 2023, Jamie asked to study the Back to the Bible book.   When we arranged the study, she told her brother, 'I am so hyped about this. This is the best day of my life!'
"We began the study with Jamie the next day. After carefully, joyfully, and systematically studying, Jamie completed all three books on May 16. She understood the authority of Christ, the church of Christ, and salvation in Christ. She stated she was ready to be baptized into Christ. Yet that Tuesday night, Jamie was uncomfortable with being fully immersed because of the water in her eyes and the thought of holding her breath while going under the water. Later that evening her mother thought of buying her a snorkel to see if that would work. Praise the Lord! Jamie was baptized into Christ on the evening of May 18, 2023. To God be the glory!"
Carthage church of Christ, North Carolina (digital): Randy Chambers (preacher) reports, "We are using the BTTB series to teach Bible classes. One prospect was not ready to be baptized after completing the third lesson on Friday, so Cynthia will continue studying with her, using the other closing techniques. We continue to encourage others to use their contact cards to identify prospects. We continue emphasizing the Lord's work and using the SOE program as a tool for our success."
York church of Christ, Pennsylvania: Mark Raschke (deacon) reports, "This week, we continued to send cards to new contacts and make visits to our prospects. We will be sending invitations this week to all our prospects for our upcoming fellowship meal."
Madison County church of Christ, Jackson, Tennessee: Steven Sprouse (preacher) reports, "One of our prospects, Joseph Birdwell, went with us to the Ark Encounter last week. It was a great way to get to know someone with the six-hour trip. He has worshipped with us two weeks in a row. He had not been to church since his baptism twelve years prior. We have our Transition Tuesday this week and are sending invitations to all our prospects for a friends and family day on June 4, 2023."
Rogersville church of Christ, Tennessee: Ethan Tate (preacher) reports, "This week, we had a successful study through book one of Back to the Bible with one of the two families we are currently prospecting. We are excited for the next study to happen next week! We are still looking for more contacts to turn into prospects, along with looking for ways to create community events for the congregation. We appreciate prayers as we labor for the summer months and keep motivated throughout the middle of the year!"
McKenzie church of Christ, Tennessee: Chance Steen (preacher) reports, "Group D received card assignments after the morning service. The Elders met before the evening service to determine the next round of contacts. Ten contacts were chosen and given to Group A to have those cards ready for this coming Sunday. We had a community meal on Thursday evening producing several new contacts. Those names will be included in our program."
Old Jefferson church of Christ, Smyrna, Tennessee: Bob Horn (preacher) reports, "Steps are going in the right direction little by little. We had the two baptisms last week, and we received a new contact from one of our members yesterday.
"I had the sad call to visit a family where a suicide took place last week. If ever there was a time for cards of compassion, it is for this young widow. We pray that good may come from this tragedy.
"One of the more recent ones to come back to the kingdom has now volunteered to work on a more presentable and useable website. We are continuing to teach the BTTB lessons in class, and they create good discussions as members learn. All in all, good steps with forward motion are taking place."
East Main church of Christ, Murfreesboro, Tennessee: Brad Rowley (elder) reports, "On Sunday, our card team 3 wrote 62 compassion cards. We received four new contact cards. Jon Mitchell, our pulpit minister, started a new Bible study with a young man, and Billy Hutchins is also setting up a new Bible study. Mark Isenberg had a new movers basket contact who asked for a Bible study. Mark is trying to set a date for the study. We had a total of three Bible studies last week, and Jon Mitchell is helping with a Bible study through Dillion Pewitt.
"Wayne Lankford, our associate minister, is still working on new contacts from old directories. The elders met with Eric and Kellie Felker, another family new to East Main. We are so thankful for new members. We had 13 folks at Mission Day last week. Avery Bayes and Seth Ferguson are working on a plan to encourage our college students and youth to serve on Mission Day by delivering baskets."
Covington church of Christ, Tennessee: Wayne Dalrymple (elder) reports, "Covington is still working the plan. Things seem to be going slowly right now, but we hope to have several studies going this summer. We are prospecting several families who have been visiting frequently over the past several weeks. Also, we will follow up with many families we have helped in the aftermath of the tornado. Lori postponed our appointment to help her with organizing her house. We hope to reschedule very soon. Frank is still working on a study with Brenda."
New Hope church of Christ, Middleton, Tennessee: Cole Wade (preacher) reports, "Recently we delivered around 160 meals. Our attendance is around 90-95 each Sunday. We will soon have a discussion/study about the Lord with someone who is facing several struggles. Our classes are going very well, and we are keeping our contacts updated as we serve them!"
New Union church of Christ, Manchester, Tennessee: Paul Fulks (elder) reports, "At New Union, we continue to review bookmarks at the close of Sunday morning worship services. We ask members to submit contact cards for those who have had events occur in their life causing them to need compassion. We also include others we know (friends, families, and neighbors) in that same situation. We have congregational prayer specifically for those we are prospecting. Our members have been very consistent in completing and submitting new contact cards. This week we had four contact cards submitted. Card Team 3 met after Sunday evening services and completed 62 compassion cards.
"Last week, five members made four follow-up visits and contacts. We delivered new mover baskets to three new addresses. We had two Bible studies this past week, and four others are in various stages of progress.
"Two of our elders and our preacher meet every Monday for Mission Mondays to review contact cards and visits and make plans for follow-up and visits during the coming week. We also reach out to specific members to include them in assigning visits and follow-up. We continue to use a spreadsheet to track contact cards received, compassion cards written, follow-up visits, assignments, and other pertinent information such as phone calls and texts."
Dellrose church of Christ, Tennessee: Mike Hovis (member) reports, "Group 1 met before Sunday evening worship service to write the first round of compassion cards. We have four contacts right now. We wrote a total of 40 cards, including four prepared by Millie, a four-year-old who colored a picture and signed her name to her cards. A picture of group 1 hard at work is attached. Group 2 will meet next Sunday to write the next round of compassion cards.
"On Sunday morning, a family who just moved into the community visited our services. They are looking for a church home. Wes got their contact information. Jerry and Pat asked them out for lunch, but they took a rain check. Pat made sure they got a visitor bag. We also invited them to our Fellowship meal last night, but unfortunately they did not attend the evening worship service. We will send this family a visitor card this week.  "Members delivered three new mover baskets this week. Unfortunately, no one was home. Items to assemble visitor bags will be purchased this week. Each Sunday morning, we ask our members for contacts who have experienced life changes. We have a moment of silence to pray for our contacts at that time."
Southwest church of Christ, Austin, Texas: John Garza (regional instructor) reports, "We continue to have eight studies at various stages in the Back to the Bible series. Unfortunately, we have one person who has not responded to having another study. On the bright side, a young lady I studied with at the end of last year has returned to worship with us again, and she will be studying Does It Matter this week with some of our young ladies of the Bible school!"
Northern Oaks church of Christ, San Antonio, Texas: Mel Hutzler (elder) reports, "We
have the evangelism program moving along and things have been going well. We always have a few hiccups here or there. We have a few members in Bible studies, and my son Josh has introduced me to a few of his friends. We invited them to church and took them out to eat. So far, we have had two Bible studies with his friends, and we hope to study with a family later on. Our deacon of evangelism is teaching an ongoing class on evangelism. We have others in Bible studies as well. We are writing a lot of cards and making visits. We also have a lot of evangelistic events coming up."
Bridgewater church of Christ, Katy, Texas: John Siefert (elder) reports, "We are having visitors and multiple contacts with them. We also are still having discussions with visitors that have been coming here for four weeks. We are getting members assigned to the various jobs. Wade returned Sunday and is continuing classes as a follow-up to the recent seminar."
Midtown church of Christ, Victoria, Texas: James Cammock (deacon) reports, "Our Fundamentals of the Faith class continues to go well. As people are being baptized, they are joining the class. We are also following up with people who visited on Family and Friends Day."
Highway 95 church of Christ, Taylor, Texas: Benjamin Dossey (preacher) reports, "We are looking forward to delivering our new movers baskets this Saturday. VBS is right around the corner for us so we will be promoting it in conjunction with our new movers baskets.  We will also be swinging by to follow-up with some of our compassion card contacts this Saturday as well."
Graceton church of Christ, Diana, Texas: Johnny Willeford (elder) reports, "Group B met for the first time Sunday evening to write compassion cards. We have already heard from some who received cards the first week. Some adjustments will have to be made between our compassion card groups. We had a large number of children in Group A and none in Group B.
"Several of our members have already submitted names for our second month of prospects. Our pulpit minister Scott Dykowski continues to present lessons on the Evangelism Model and training members on the different areas of the model. The Family Bible School Day (VBS) planning continues for July. Our thoughts and prayers are always with our brothers and sisters in Christ."
Central church of Christ, Martinsburg, West Virginia: Robert Veil (preacher) reports, "Our Wednesday evening Bible study with Allison and Wendy continues. Also attending that study are Jeff and Dottie. Sunday morning's sermon was entitled, "Preach the Word!" In the evening, the sermon was entitled, "Hearing the Gospel." This was an evangelistic sermon aimed primarily at non-members. These videos are available on our website, www.ccocwv.organd are archived at YouTube."
HTHSOE: Austin Fowler (regional instructor): Eileen Ramos from Chula Vista, California, was baptized into Christ a few days ago. She is an incredible Bible student. Eileen messaged the House to House Instagram account, asking for ways to serve the Lord. With the help of David Webster, Matt Wallin, and Aaron Gallagher, we managed to turn this into a Bible study via Zoom. Aaron studied through the three dispensations and the differences between the Old and New Testaments. We finished with an in-depth look at Acts 2. Eileen said she had never heard anyone give answers straight from the Scriptures as Aaron did. In our next study, David and I used the Back to the Bible study booklets on PowerPoint.   When she finished lesson three, Eileen wanted to be baptized. It was a true team effort!
"I have also been studying with a denominational preacher in Africa who reached out to the school of evangelism; he wanted to learn how to evangelize his community. We went through Lesson 2 on Tuesday night. It went very well. On Wednesday morning, he texted me and said that they are no longer going use instrumental music, and they are changing the name of the church from Remnant Church to the Church of Christ. We are scheduled to study Lesson 3 tomorrow night. I am reaching out to some other preachers in the area in case he wants to be baptized."
NOTE: These reports are from Christians and congregations enrolled in the House to House/Heart to Heart School of Evangelism. These emails are sent to teach and provoke one another to remain focused on the mission of Christ. Each week, we share several reports and highlight one with more details. We hope you enjoy reading them.
For additional HTH speaking appointments, go to:
https://housetohouse.com/house-to-house-speaker-schedules/