Statistics
Total baptisms reported from U.S. Congregations in 2021: 649
Seminars in 2021: 52 in 11 states
Total baptisms reported from U.S. Congregations so far in 2022:592
Personal Seminars in 2022: 37 in 12 states
Digital Seminars in 2022: 13

Upcoming Seminars
October 23-25 Highway 95 church of Christ, Taylor, Texas
October 26-28 Fruitvale church of Christ, Texas
October 30-November 1 Midtown church of Christ, Victoria, Texas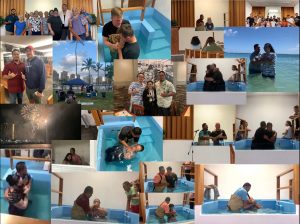 Featured Work- Honolulu church of Christ, Hawaii
It Works When It Should Not!
Written by Rob Whitacre
 
There are many more reasons why evangelism should not work in Honolulu than why it should work. If excuses were accepted, this congregation would be exempt. Let me list them: It is located in a large city, and (we are told) evangelism does not work in urban areas. The city is a top tourist destination, thus providing a large number of transient visitors weekly. The building is in the downtown area where homelessness abounds, and it is fenced and gated for security reasons. The congregation is culturally diverse, which can create divisions. Despite these negative issues, this congregation is full of love and unity, and it is growing at a much faster rate than many other urban congregations enrolled in HTHSOE.
           
This congregation went through our training May 22-29. During this time, we met some of the most hospitable brethren in all of our travels. The congregation is a close family with deep concern for their community. Attendance was outstanding. Bible studies commenced immediately. Baptisms occurred before we left. The meeting with their elders demonstrated love for the lost and a desire to lead the congregation in the one mission. The elders, preacher, and members embraced evangelism training and made a commitment to follow the HTHSOE model.
           
Their preacher is unique. The congregation is his home. His family in woven throughout the membership. His love for souls is contagious. Before we left, Lima said, "I understand the process, and I give you my word that we will follow it. It works, so why should we change it? We will just adapt it to our congregation. I know it will work."  This has resulted in sixteen baptisms! The latest report from Lima will stir your spirit with Kingdom joy!
 
"Aloha from the Honolulu congregation! We started a new outreach last month. Every second Friday of the month, we meet at the Ala Moana Park for singing and fireworks. This past Friday was our second time. While we sang songs, a lady named Christy decided to join us for our singing and devotional. She said she was attracted by the singing of praises. Christy is searching for the Lord. We invited her to worship with us, and she came to our service last Sunday. Cards were written by our members and are on the way to her. We will work with the Lord to lead her to the cross of Christ. Please pray for our efforts. Our singing and fireworks meeting is just another avenue for producing contacts. I encourage churches to do something similar at any public park nearby.
           
"The highlight this past week was the decision made by DoAnne and Tony to put on Christ in baptism. I had the privilege to perform their wedding in 2021. Last week I was so honored to baptize them into Christ. Tony and DoAnne are already doing their part to reach their loved ones. One of our new converts is working to study with her son. Several members have invited their children to come back to the Lord, and some of them have attended on the last two Sundays. We are working on several prospects and hoping to build the door to walk them into a Bible study. There are currently two ongoing Bible studies and two pending. All the glory to our Father who works in us and with us. We appreciate your prayers."
 
Congregational Reports
 
Central church of Christ, Martinsburg, West Virginia: 
We welcome the Central church of Christ to the House to House/Heart to Heart School of Evangelism. Our visit with these brethren was full of spiritual riches. They are a close family, ready to reach the lost in their community. Their preacher is Robert Veil, the former state prosecutor for Maryland. He and the elders provide strong teaching and leadership. They have a talented membership who have never missed a goal. Now they are ready for the most important goal in their history: to become a potent soul winning body! In their first report, Robert writes, "We had an excellent day yesterday, tying into the themes of the seminar. As I mentioned, I will be away next Sunday, so we are going to plan a roll out in two weeks on October 30."
Edgewood church of Christ, Maryland(digital): We want to welcome the Edgewood church of Christ to the House to House/Heart to Heart School of Evangelism. We first met this congregation when her leadership attended our training seminar in Aberdeen, Pennsylvania.They are a church plant who recently moved into their building and are now ready to evangelize. We will receive their first report next week
 
East Flushing church of Christ, Flushing, New York (digital): Clarence Jenkins (preacher) reports, "We started using the provided tools such as the tips for evangelism schedule and the HTHSOE evangelism checklist. We assigned a point of contact for HTHSOE and have our coordinators in place. We currently have five ongoing Bible studies, a new converts class, and two long distance new convert studies. Thank you, everyone, for your ongoing prayers, as we are also praying for you. To God be the glory as we all seek to reach the lost."
 
Bona church of Christ, Missouri: Corry Orr (preacher) reports, "This week the elders have divided the congregation into four groups to send cards each week. We are working with new contacts to begin prospecting what we hope will be fertile ground for Bible studies. The sense of urgency to save souls is an incredible motivator, and we have found it is contagious from one member to the next. Please continue to pray for the congregation at Bona as we continue to focus on the one mission to save souls!"
 
East Ridge church of Christ, Chattanooga, Tennessee: Charles Cochran (preacher) reports, "I had lunch with a visitor to our services. He is an Uber driver who had been invited by one of our members as she rode with him. He had also been invited by someone from another congregation to visit the church of Christ. He has been here the last two Sundays and is telling others about the church! I have a study scheduled with him on Wednesday morning. One of our elders and his wife plus another couple are returning from a trip to Nicaragua. They went to encourage the preachers and churches we support. My evangelism class is going well. We are studying how to teach Back to the Bible. I have 10 in the class. Luke Griffin gave the charts from the studies to the class and discussed them and other tools of evangelism."
 
East Main church of Christ, Murfreesboro, Tennessee: Brad Rowley (elder) reports, "East Main elders and ministers continue to meet each week to develop a schedule to blend our current evangelism program with the 50-week schedule. Last Sunday, Russell Cherry (elder) announced the Mission Monday strategy to the congregation. Two of our elders, Mark Isenberg and Cecil Morris, are gathering training videos and tips for Mission Monday. We will kick off our new bookmarks November 6. Jon Mitchell, our pulpit minister, is preparing the sermon series recommended by HTHSOE. Our compassion card teams are busy writing cards to the door knocking contacts. East Main continues to have several ongoing Bible studies. We are thankful one of our elders, David Brown, started a new Bible study with one of our members
who has been attending East Main for some time."
 
Hatton church of Christ, Alabama: Chris Miller (preacher) reports, "Members continue to share the excitement in our one mission effort. This is week 3 of sending compassion cards to our initial list of 12 people. Approximately 45 cards have been mailed to each contact so far. Our plans are to make visits to these contacts next week. I also began preaching from the Back to the Bible material Sunday, which received a lot of positive feedback. We added three more new people to our contact list. We have a current Bible study in progress, and we are prayerful that it will soon result in a conversion."
 
West End church of Christ, Knoxville, Tennessee: Adam Wilson (member) reports, "The love of Christ is POWERFUL! After 45 compassion cards and a handful of meals, an erring Christian worshipped with us Sunday and brought his girlfriend. Two families then took them to lunch. The girlfriend in particular was blown away by how kindly they have been treated by the church. The congregation wrote 135 cards to nine contacts Sunday evening. At Monday Night for the Master (our version of Mission Mondays), the congregation had groups preparing compassion cards as well as a session with Seal Team training in the Back to the Bible series. We also made another round of visits to the America Mission Campaign contacts. Please join us in praying for more contact cards because there are souls to love, serve, and save!"
 
Sunrush church of Christ, Chillicothe, Ohio: Jerl Webb (elder) reports, "We recently had our three-month virtual meeting to evaluate our progress. We discussed the importance of concentrating on contacts. If we do not have contacts, then the plan will not work. We stressed this to our members Sunday. We met after evening service to organize our compassion cards. We have 17 contacts, and our main focus is showing them compassion. Rob stressed that if we have positive results with these 17 people, it will encourage more of our members to get involved. Please continue to pray for our efforts."
 
North Meadville church of Christ, Pennsylvania: Bryon Shultz (preacher) reports, "We cannot forget that we have to pace ourselves and have to adjust to what we can handle. We are just now rolling out the new movers' baskets, for example, because we wanted to make sure we had a good handle on the card system. Now we will roll out the new movers' initiative. We will continue working hard."
 
New Union church of Christ, Manchester, Tennessee: Paul Fultz (elder) reports, "Charles Williams, our local preacher, presented a lesson on the second half of Lesson 3: Back to the Bible at Sunday. We had a response by a young man who had attended for a number of years but had been a member of a denomination. He said he was not sure that he had been baptized for the remission of sins years ago. He said, 'I want to make my baptism certain.' He made a confession of his belief and was baptized. The congregation rejoiced at this first conversion from our evangelism efforts! Card Team 3 met Sunday evening and wrote 71 cards. We have had excellent participation in writing cards. We receive much positive feedback from those who have received cards. Attitudes about the church are being improved. Evangelism efforts by the congregation are increasing."
 
Karns church of Christ, Knoxville, Tennessee: Terry Clark (elder) reports, "One elder is using BTTB booklets to conduct a Bible study with two coworkers. They have completed the first booklet. We are prayerful that these students will be receptive to obeying the gospel as they read and hear God's Word. On Wednesdays, our compassion card group gathers to send cards of encouragement. Our prayer is that the cards will touch hearts and help build relationships that will lead to souls being saved. The middle and high school age, college age, young adult, and adult Sunday AM Bible classes continue to go well as we use BTTB as the Fall curriculum. We have had many productive discussions! We are blessed to continue to have many non-Christians in attendance who are hearing God's Word being taught."
 
Covington church of Christ, Tennessee: Wayne Dalrymple (elder) reports, "While we are not always seeing visible results in baptisms every week, the church is patiently working the plan. We will try to set up a Bible study with Teresa this week. We have been prospecting her for almost a month. We had a few visitors Sunday, including Brenda and her two children, Aaron and Reagan. Brenda is a Christian who has not been attending her previous home congregation for a while. Her children, both teenagers, are not Christians. They stayed for our youth devotional and enjoyed themselves. Also on Sunday morning, Jason visited with us. Teresa referred him to us. He came asking for assistance. I talked with him and took his information. I then invited him to visit again Wednesday, and we set up a Bible study for Sunday. We plan to eat lunch and then study. Jeff has finished most of book 3 with a man who postponed the study because he has some issues. Jeff had a study with someone else Tuesday. On Monday, we met to write cards and to assemble new movers' baskets. Some were delivered as well. I am also following up on a couple of studies done a few weeks ago. One is with Brenda. We went through Back to the Bible, but she has not made the decision to obey Christ yet. I will offer to study with her using Does It Matter? Please pray for these souls."
           
Greenfield church of Christ, Tennessee: Clint Monroe (elder) reports, "The elders continue to educate our groups and adapt our process with compassion cards. The elders will also train members to greet visitors and deliver new movers' baskets. We have two ongoing Bible studies along with some Bible correspondence courses. Potentially, two more Bible studies will start soon. The elders are encouraging our teens who have not obeyed the gospel. This week the Greenfield congregation, along with ten other congregations in the county, will host a four-night community worship with hopes of gaining several contacts. Our topic is 'Jesus Is the Way.'"
 
Parkway church of Christ, Fulton, Kentucky: Will Hester (preacher) reports, "We continue to have visitors each Sunday. Our ladies' group went to the TRANSFORM Ladies Conference in Pigeon Forge, Tennessee, at the LeConte Center. They had a great time and loved listening to these speakers. They also enjoyed their time together in the cabin laughing, learning together, and loving the sweet company of fellow sisters in Christ."
 
Fayette church of Christ, Alabama: Kaleb Hall (preacher) reports, "Several visits were made last week, and others will follow this week. Our new movers' group will be delivering baskets Saturday."
 
Highway church of Christ, Benton, Arkansas: Steven Ford (preacher) reports, "This was another good week of cultivating contacts, sending compassion cards, and working our various assignments. The congregation has hit its stride."
 
Woodstock church of Christ, Georgia: Greg Garner (deacon) reports, "WCOC collected two contact cards, so we can prospect this week. Our congregation is meeting on Sunday evenings to conduct the evangelism workshop. Last week, the compassion cards group sent 40 cards. Last night, they created 45 cards. The kids made 15 pictures to go with the cards. On October 15, a service group created a follow-up visit list from the National Door Knocking Campaign. Nine individuals were categorized as prospects and received What Must I Do to Be Saved? with a compassion card. This service group is also in the planning stages of a service work for a critically ill individual. The visitation group visited 20 new movers. Of the 20, we are still waiting on eight results, and three have become prospects. We had six attendees in the Practical Applications class. This class is working with the Does it Matter booklet. We have three Bible studies in progress."
 
New Hope church of Christ, Middleton, Tennessee: Cole Wade (preacher) reports, "We delivered meals yesterday, and we had a great visit with one recipient. Through questioning, we learned that family needs help; they are not doing well since moving into the county. We are exploring ways to serve them and get a Bible study. We also connected with a visitor Sunday and made sure to leave a loving impression. Our expectation is to get to know this person better and see how to get a Bible study or help with physical needs. Continue to pray for us!"
 
Rogersville church of Christ, Tennessee: Ethan Tate (preacher) reports, "Last week, we reviewed our evangelism strategies. With the beginning of a prison ministry, we need to work in different groups to address both compassion cards and setting up Bible studies with inmates. We ask for your prayers as we start on this new addition to evangelize. We also had two families visit this past Sunday, which gave us prospects the community! We will reach out to them this week."
 
Aberdeen church of Christ, Maryland: Will Brown (preacher) reports, "This week we are organizing for Trunk or Treat. We hope to get contacts to prospect by having customized contact cards. More members are bringing in new movers' baskets so we can deliver them to our large new movers' list. We have had several visitors this week that are looking for the Lord's church. We have two ongoing Bible studies. We continue to organize and increase our Bible studies. Please pray for the success of our efforts."
 
Northern Oaks church of Christ, San Antonio, Texas: Mel Hutzler (preacher) reports, "We continue to have more families place membership. We are getting them involved in our evangelism program. We have a community event coming up that will help us get to know those from our local area. We ordered more cards and evangelism material. We are still need organizing our new movers' program. We have many from our area asking about the program and our evangelism tools."
 
Shertz church of Christ, Texas: Jay Stewart (elder) reports, "A young man came forward to study with Brother Crowley. He had been working with a brother who attends Northern Hills, so when Stan met with him, it was quickly determined he was ready to be baptized. We welcomed Gilbert to the Lord's body. We had a productive fellowship meal with one new visitor staying, and we prepared over a dozen encouragement cards for our contacts and members with needs. We continue to work with the sister of a member to interest her in a study."
 
Paintsville church of Christ, Kentucky: Zach Collins (preacher) reports, "Last Sunday, we had 20 visitors during worship. This was a direct result of our evangelistic efforts. Our members are inviting friends and family and speaking to them about Jesus. We also had a man request a Bible study from Arkansas after he viewed our livestream. Whether it is in our community or abroad, I am encouraged by our evangelistic efforts. As always, pray for us!"
 
Riverbend church of Christ, Georgia: Austin Fowler (member) reports, "We were scheduled to study with Fransisco and Mabel Wednesday, but Mabel was sick. We are trying to reschedule. We are going to add Mabel to our compassion card list to receive get well cards. Hopefully, next week we will be able to get another study with both of them."
 
Carthage church of Christ, North Carolina (digital): Randy Chambers (preacher) reports, "The Carthage congregation continues to be motivated in our efforts to win souls and keep souls saved through teaching and encouraging the brethren to use the method we have been studying the last three months. We have been mailing cards to contacts as well as calling and visiting them to build relationships that we pray will turn into Bible studies. One contact agreed to a Bible study yesterday. We are inviting contacts to our upcoming Fall festival, and we are praying and working to reap benefits from this event."
 
Canal Heights church of Christ, Demopolis, Alabama: Bryan Cook (minister) reports, "This week we focused on getting visits accomplished. The card program is definitely softening hearts, and we have had several send word that they are grateful. We hope visits with our warm contacts will turn them to hot prospects. Instead of asking for new topics of prayer for our bookmarks we are encouraging visits for the next few weeks. We have renewed our focus on several people to see where we may have dropped the ball, giving another opportunity to reach out to them. Recently, we updated our directory and are using this to reach out to those that have not been attending. By hand delivering the binder, we can ask how they are doing and tell them that we miss them. They all have received cards prior this. We are excited about the new direction of the church."
 
Monroe church of Christ, Georgia: Charles Harris (preacher) reports, "We are slowly changing the culture here into an evangelistic one. Unfortunately, we have not had any baptisms in a few weeks, but we are building our contact list and focusing more on those precious souls. Three families have placed membership with us in the past two weeks. They have all said similar reasons for wanting to be a part of the work here. They have seen that we trying to be evangelistic. Last night, we had our largest youth devotional yet. We are looking forward to watching those future soul winners grow."
 
Coweta church of Christ, Oklahoma: Keno Shrum (preacher) reports, "Thursday, a brother and I taught Lesson 1 from Back to the Bible with a man from Coweta. This man has had many struggles. I explained that we are not equipped to fight Satan and the troubles of this world on our own. We must bring God into the fight. Our God is active, and He will lead the charge in our fight against Satan's trials and temptations. So, he agreed to study Lesson 1, and he really seemed to enjoy it. Next Thursday, we are scheduled for Lesson 2. Please keep this study in your prayers.
"On another note, ten days ago our son-in-law was involved in a horrendous crash while driving one of our dump trucks. He was rear-ended by a young man driving at 70 mph. Unfortunately, the young man was distracted by the map on his phone and did not see the stopped truck. When I got to the crash, I expected to find the young man deceased. By the grace of God, he lived, and after five surgeries he is doing well, all things considered. Several days after he woke up in the hospital, my wife and I along with our son-in-law delivered a big stack of compassion cards to him from members of our church family here. He was asleep, but we visited with his mother for a few minutes and exchanged phone numbers. It is our prayer that an opportunity will be provided to engage him in a Bible study once he heals enough to do so. We request prayers for his healing."
 
Chase Park church of Christ, Huntsville, Alabama: Pat Cowden (preacher) reports, "We had to move our door knocking to Saturday due to a death in the family. Ten people knocked on about 175 doors and had 32 people that spoke to us. Of those there were around ten who showed interest, two who were not interested at all, and two allowed us to pray with them about specific needs. One contact, Nancy, was receptive saying she was searching for a church. She was active in a denomination pre-Covid but had not been attending anywhere during the pandemic. She kept up with private daily Bible reading and was looking for somewhere to visit. She said she would come to our Gospel Meeting next week with Neal Pollard. We look forward to cultivating this relationship and studying with Nancy. We have five studies nearing completion. Please pray for us and our efforts in the kingdom of our Lord."
 
Siwell Road church of Christ, Jackson, Mississippi: Derek Broome (preacher) reports, "We had a door knocking on October 1. We knocked about 250 doors and set up several Bible studies. We have one study this Thursday and two more that we are trying to schedule. One study was with a husband and wife, Carlos and Toya Ball. They were baptized into Christ on Friday afternoon. We just finished our gospel meeting with Aaron Gallagher. We had a great response within the congregation and from people in our community. Several members have already been contacted by friends and family, and they are intrigued after hearing Aaron's lessons. We now have some new contacts."
 
Beloit church of Christ, Kansas: Dustin Doughtery (preacher) reports, "We just finished a four-day Gospel Meeting with Paul Mays, and it was so edifying and encouraging. We are praying that the meeting lit a fire for our congregation to do more. On Friday night, we had a genuine Acts 2:37 moment following the second lesson of the evening. The sister that brought this contact is going to study with her, using Back to the Bible. We just completed book 3 of another study, and we expect to baptize this couple soon."
 
LaPlata church of Christ, Maryland: Eric Sykes (member) reports, "I request prayers as I study Back to the Bible with two people in Maryland via Zoom. Also, we are going to have a Bible study using Does it Matter this afternoon with one of Sandy's childhood friends here in Chicago."
 
Eisenhower church of Christ, Odessa, Texas: Allen Weakland (preacher/elder) reports, "God has provided so much for us to focus upon, and that has kept us on track. Our study with Caesar and Rosalinda continues to be wonderful; please keep this young couple in your prayers. We are in the planning stage to add a monthly visitation that will be a follow-up to our card sending mission. The congregation is excited it about this because they want to put a face to the cards that are being sent. May God be praised."
 
Westside church of Christ, Muncie, Indiana: Mike Gors (preacher) reports, "Over the last couple weeks, we have sent 72 cards to six contacts and made 15 follow-up visits from the past month of cards sent. Though we have not had any Bible studies, we have had four visitors who returned to worship with us. This is their third week with us." Editor's note: We just sent Mission Monday to help them transition these contacts into Bible studies!
 
NOTE: These reports are from Christians and congregations enrolled in the House to House/Heart to Heart School of Evangelism. These emails are sent to teach and provoke one another to remain focused on the mission of Christ. Each week, we share several reports and highlight one with more details. We hope you enjoy reading them.